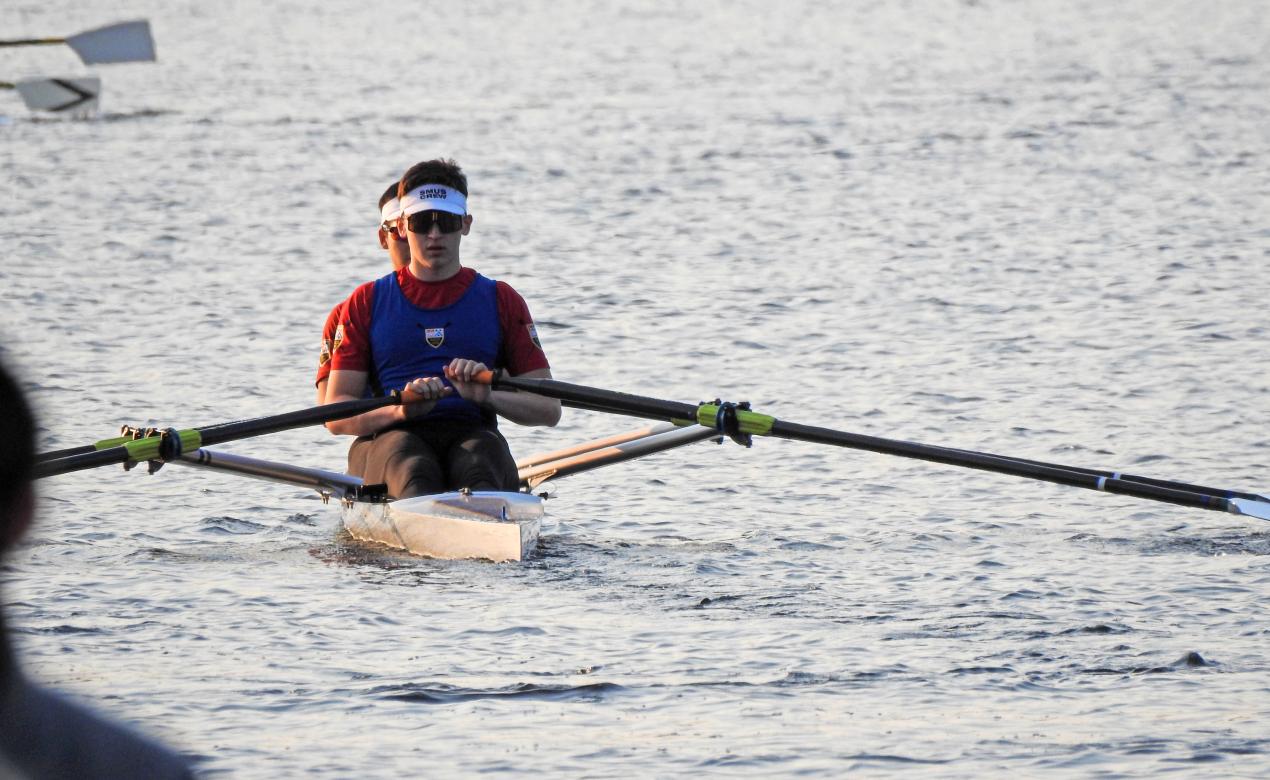 Fall sports came to a head these past two weeks, with Island qualifiers in sight (or now complete) and BC championships on the horizon.
Cross Country
On October 19, on a hot, dusty day in Port Alberni, the Senior School Cross Country team raced in the Island championships. As always, the age grade fields were stacked with strong runners. In the Senior Girls division, Clare Moore performed strongly, while Charles Gosselin closed well to qualify as an individual for the provincial finals.
At the Junior level, Avery Geddes also finished impressively to place 8th overall in the Junior Girls race. On the Junior Boys side, Owen Sandquist-Sherman fought hard to stay with the lead pack, eventually to be rewarded with an impressive bronze medal placing. Congratulations to both for claiming a starting spot at provincials, slated for November 5 on the challenging Royal Roads course.
On the Middle School Cross Country circuit, on the Mighty Mount Tolmie course, SMUS runners claimed top two podium finishes in Grade 6, 7 and 8 races. Congratulations to Gabby M., Lauren A., Alex M., Matthew N., Josh H. and Liam W.
Field Hockey
Senior Girls Field Hockey continued its excellent season by winning the ISAs in glorious fall weather.
In pool play, the Blue Jags, led on offence by Eva Cuddihy and Ava O'Connor, recorded convincing wins over Shawnigan Lake School and Southridge. 
In a de facto semi-final versus host Crofton House, both teams engineered multiple scoring chances, only to be thwarted by even better defence. In the end, superior goal difference propelled SMUS into the final against Collingwood. Goals by Cuddihy and Amanda Adams capped a fine all-round team effort and confirmed a positive 2-0 result.
The team then finished league play with a comfortable 1-0 win over Glenlyon Norfolk School before moving smartly through the AA Island tournament at the University of Victoria. Goals by Maya Djurickovic, Allegra Nelson, Adams and Avery Geddes saw the Blue Jags turn aside Shawnigan Lake before then comfortably accounting for Brentwood College School 4-1.
Rowing
Rowing enjoyed its first competition of the term, taking part in the October Sprints at Elk Lake. In perfect conditions, mixed crews took part in two full days of racing. Numerous positive performances included five gold medals from 18 events. Next up is the City Championship regatta on November 5-6.
Rugby
Two Grade 9 Boys Rugby teams traveled to Vancouver for an ISA Jamboree. Four wins and a draw from eight games was a fair reflection of the day's play, with all team members contributing. Declan Longridge, Will Zielinski, Liam Pope-Lau showed well. 
Then, in front of enthusiastic home support, the team scrambled past St. George's. Longridge, Eliot Tait and Parker Sheehan all proved dangerous in attack, with scrum half Dani Pelyhe also prominent. On defence, centre Des Grant set the tone with some stiff tackles. SMUS now looks forward to an October 27 game against Collingwood.
Soccer
At the Middle School, the Grade 7/8 Girls Soccer squad, led by Anna B., Bella M. and Talia K, defeated Glenlyon Norfolk School 5-1, while the Grade 7/8 Boys lost close and competitive games to St. George's and Monterey Middle. Sebastian E., Andrei M. and Alex M. showed well in the latter contests.
The Senior Boys looked to make up ground in the league table, facing three opponents in a three-day stretch. A Cole Pontefract hat trick, in addition to a brace by Samuel Bruninx, saw SMUS through to a 6-0 win over Edward Milne. However, both Lambrick Park and Claremont then won the necessary physical battles and capitalized on counterattack opportunities to emerge victorious by 4-2 and 3-1 margins. Winger Campbell Wilson showed strong form all week. 
Following the back-to-back-to-back stretch, the team split a pair of games. First, SMUS, thwarted by outstanding goalkeeping, lost 2-1 to GNS. Bruninx connected from the penalty spot for the Blue Jags lone goal.
However, in a dramatic about face, in a contest with huge playoff implications, SMUS bounced back to drop City top seed Royal Bay in a thriller. An early goal by Wilson settled nerves, before Bruninx registered a stunning hat trick, finding the net three times in a breathless four-minute spell. A 4-1 lead proved just enough to withstand two late opposition markers. With the victory the Blue Jags advance to both the Colonist Cup quarterfinals and the Island AA tournament on November 7-8.
The Junior Boys faced tough competition as they looked to secure a qualifying spot in playoffs.
First up was a narrow loss at Oak Bay. Down early by three goals, the Blue Jags, through Marcus Lam and Laurids Goedde, closed to within one before running out of time, before another loss to Claremont.
The team then bounced back to defeat Reynolds 2-1 and GNS 7-2. Goedde and Will Zielinski paced the attack, with midfielders Joe MacKenzie-Elrick, Davis Hardy and Gonzalo Gonzalez Aguirre on good form.
Squash
SMUS competed in the Vancouver Island Open. Once again, Lucas Quon flashed his credentials in the top tier, beating adult entrants from all across the province. Roshan Pathak and Rory Davison won their respective divisions, while Amya Naimi claimed a silver medal.
Then, several athletes competed in the BC Junior Open, a national selection event featuring competitors from all across Canada. Quon, competing impressively in the U19 event, first gave an extremely strong performance against the Canadian No. 1 before then reaching the consolation final. Stuart Kerr, at U17 level, turned in a fine fourth-place overall finish, taking out several higher-ranked opponents on the way. Pathak and Alex Hann also performed strongly. 
Volleyball
At York House, the Senior Girls Volleyball team took part in the prestigious Western Canada Independent Schools tournament. Led by Makena Anderson and Ava Gillespie, ably supported by Maya Brinham and Skye Farish, the team finished 3-4 in pool play but then exacted some revenge versus Strathcona Tweedsmuir in a riveting quarterfinal. The victory moved the Blue Jags into the semi-final, where a powerful Little Flower Academy outfit proved too strong. SMUS then fell to Crofton House in the bronze medal matchup.
The Junior Girls went 10-2 in league play, in games against Edward Milne, Reynolds, Vic High, Belmont, Oak Bay and Mount Douglas.
The team then took part in the Spectrum Invitational, battling well against provincial top seed Earl Marriott. Throughout, the squad played its best games of the season, led well by Isabelle LeRoy, Nicola Bevington, Mya Beare and Crystal Cai. 
Then, with Nya Tsang on form, well supported by Kate Fraser, Emily Wu and LeRoy, the team reached the semifinal of the SMUS-hosted ISA tournament before falling to a well drilled Crofton House outfit. Then, in a packed gym, SMUS battled on even terms with Brentwood through three sets, just missing out on a bronze medal finish.
The Junior Girls Development team continued to show improvement. Stellar serving by Emily McMillan, Kate McQueen and Sienna Shanks, allied to key spikes from Drew Edgell and Indigo Edgington, saw SMUS win six of its 10 league games.
The team then followed that up by winning a City invitational crown. Pema Dolkar, Cindy Chen and Lola Emperingham produced several game swinging service runs, as SMUS battled back to win in the final.
The Seniors Boys closed the stretch 10-2 in league play before playing provincially ranked Mount Douglas to five sets in the Oak Bay tournament. Kaden Fuller, Ryan Killoran, Ethan Woods and Leupold Wang all figured prominently.  They then went 4-0 in matches versus Esquimalt and Parkland. Once again, power hitter Wang and setter Killoran led the way. 
At Junior Boys level, Zachary Ding, Brody Harris and Tommy Hong performed strongly in league games against Pacific Christian School, Esquimalt and Spectrum. They then took part in the Spikes and Aces event at Spectrum. The team finished 3-2, defeating Oak Bay, Cedar and Reynolds before narrow defeats to Mark Isfeld and Dover Bay.
Of note was stellar serving by Connor Kipling and Jack McQueen, excellent net play by Braxton Lechner and Elliot Mairet, as well as outstanding digs by libero Martin Winnett.
Vivat!