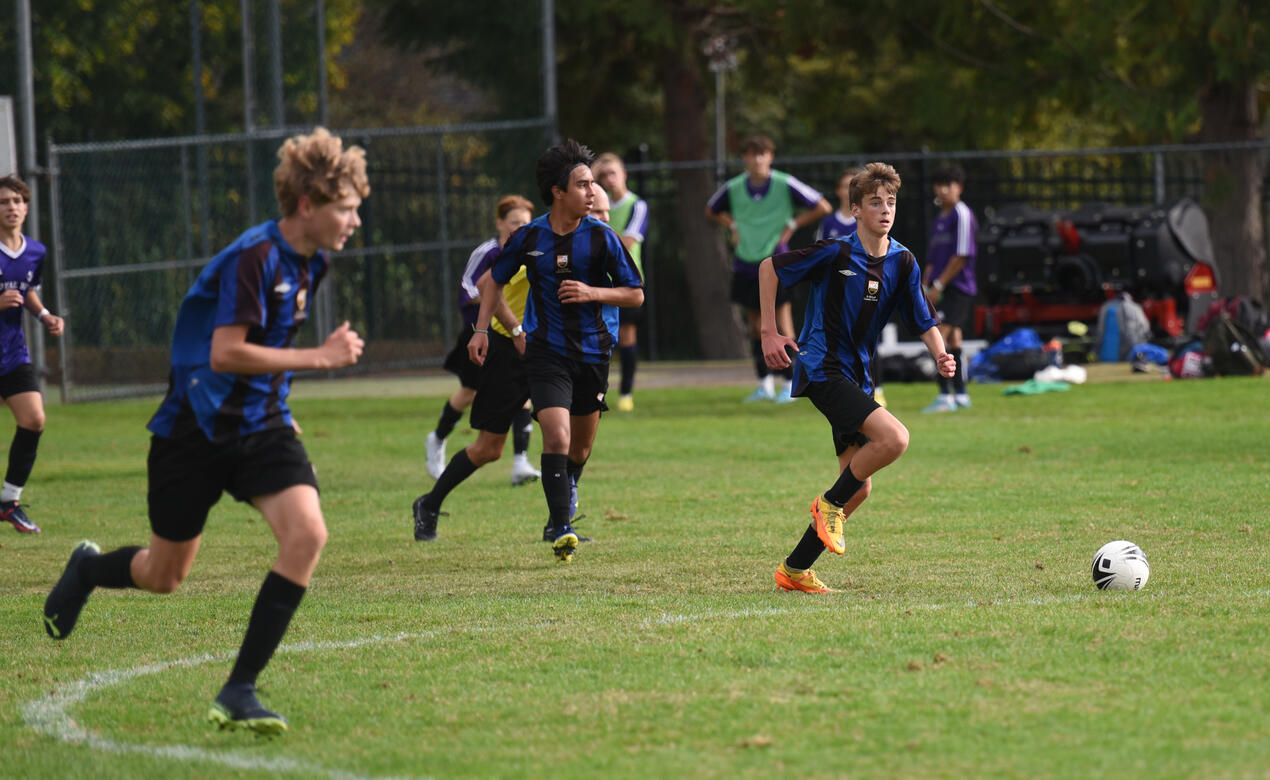 A busy September on the athletic front came to a close, with action taking place on many fronts despite the various Senior School outtrips ongoing.
Cross Country
The Senior School Cross Country squad completed the second of its fall series of races. Nella Meinecke ran extremely well to place third in the Senior Girls race, with SMUS claiming an overall silver medal in this division. Charles Gosselin, as part of a third place Senior Boys team, produced a very solid top-15 individual finish.
Field Hockey
In field hockey, the highly regarded Senior Girls team recorded a pair of comfortable 5-0 league victories versus Lambrick Park and Glenlyon Norfolk School. The team now sets its sights on the prestigious Bridgman Cup, set to be played on the UVic water turf over the Thanksgiving weekend and featuring many of the top squads in BC.
Soccer
Senior Boys Soccer moved to 1-1-1 on the season by splitting a pair of league games. While an early Samuel Bruninx marker staked the SMUS team to a 1-0 lead against Oak Bay, the visitors replied with three goals, the last in the final minute en route to a 3-1 victory. However, in an important AA clash with Stelly's Secondary, the team recovered nicely in the second half thanks to timely goals by Campbell Wilson and Cole Michel. Smart defending then helped the Blue Jags secure a 2-1 win.
The team now enjoys a midterm break of sorts, before resuming October 11-13 with three straight games versus Edward Milne, Lambrick Park and Claremont.
Meanwhile, the Junior Boys had no luck in their season opener versus a talented Royal Bay side. An early point-blank tap-in was not converted, with the team then hitting the post on three other occasions. The opposition were much more clinical, notching four goals.
Squash
In squash, the first competition of the year took place at Shawnigan Lake School. Unfortunately, a power outage brought the event to a premature end. Nonetheless, Lucas Quon won the Gold U19 Boys final with a superb effort versus one of the top juniors in Canada. Others to impress were Natasza Grzechowiak and Olivia Pickering. The SMUS team will next feature in the Vancouver Island Open on October 14-16.
Volleyball
Volleyball saw the first league games of the year at junior level, with the Junior Girls winning four of six games in a quadrangular with Claremont, Pacific Christian School and Royal Bay. Middle blockers Kate Fraser and Isabelle LeRoy performed strongly, with the team serving well. On defence, libero Emily Wu produced a series of wonderful digs.
On the Junior Boys side, while top seeded Claremont proved challenging, SMUS did edge Oak Bay 25-22 and 25-23 in exciting contests. Effective serving by Connor Kipling proved decisive, while Elliot Mairet provided several momentum swinging blocks. Also, Braxton Lechner and Tommy Hong impressed, especially down the stretch in the second game. Next up are October 5 home games versus Belmont, Reynolds and Oak Bay.
At Senior Boys level, the Blue Jags went 4-0 in league action versus Belmont and Brookes Westshore before finishing sixth at the Spectrum Invitational. A number of Junior callups filled in for unavailable grade 11s and did a fine job in a supporting role.
Rowing and Grade 9 rugby remain a week away from opening their seasons, but are excited to get their competitions underway.
Vivat!