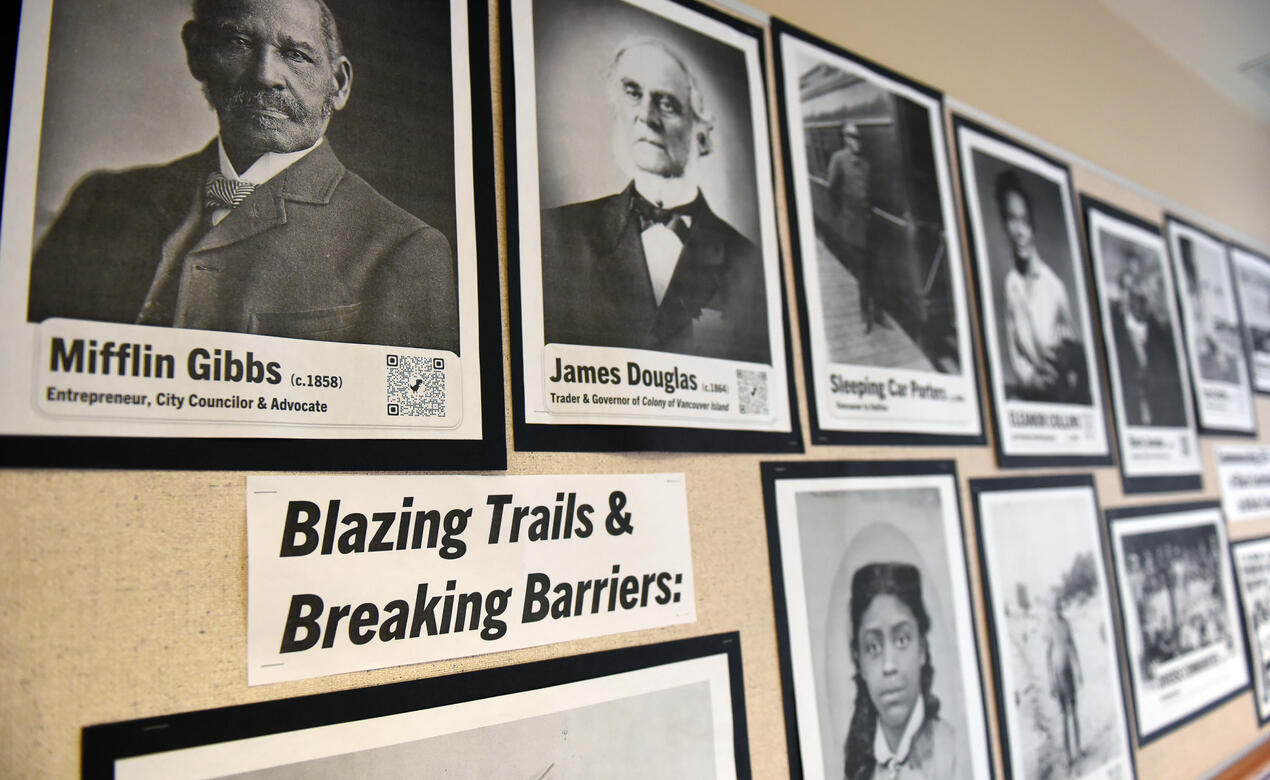 Indigenous peoples have shaped what we now call British Columbia since time immemorial.
Our post-Contact history, by comparison, is remarkably brief. But in those few hundred years, Black Canadians have played a central role in the evolution of our local community. And yet, their contributions have all too often gone unrecognized, been undervalued, or even been intentionally ignored.
And that needs to change.
We all need to learn more Black history. Because it's an integral part of our larger, shared Canadian story. It's also fascinating and inspiring. 
Indeed, a closer look quickly reveals that many Black Canadians in British Columbia have lived trailblazing lives, overcome intimidating challenges, and contributed meaningfully to making British Columbia a better place.
The reality is that Black Canadians have been here from almost the first moment that non-Indigenous settlers began arriving in this region. There were, for instance, almost certainly Black sailors among the first Spanish and British navy crews who made first Contact with the Nuu-chah-nulth nations on Vancouver Island's west coast in the 1770s. 
It's also entirely possible that some of the first Hudson's Bay Company fur traders to reach the area may have been Black, as the HBC was known to employ Black, Indigenous and Métis people. Some Black labourers may even have been part of the construction of Fort Victoria in 1843, which marked the beginning of continuous settler occupation on Vancouver Island. Certainly, a number of historians believe that the first chief trader at the fort, James Douglas, was of mixed-race, West Indian Creole heritage. For his part, Douglas was a key player in the establishment of Vancouver Island as a Crown Colony in 1849 and became its second Governor in 1851. It was under his authority in 1858 that a handful of recently arrived Black immigrants from California were hired as police constables – although they were laid off only a few short months later over concerns that white inhabitants were refusing to accept their authority on racial grounds. 
At this time, as thousands of American miners flooded into British Columbia during the Gold rushes of 1858 to 1863, Governor Douglas grew fearful that the colony would soon be absorbed into the expanding United States. One of his solutions was to invite Black residents of San Francisco to resettle in Victoria in the hopes they would become loyal British subjects. In the years that followed, more than 600 would ultimately relocate north in search of a better life. Their presence undoubtedly helped nudge British Columbia towards joining Canada in 1871. Certainly, one of these new arrivals, Mifflin Wistar Gibbs, an enterprising entrepreneur, used his influence as an elected member of Victoria's City Council to support the negotiations for Confederation.
In 1860, with fears of a conflict with the United States at an all-time high, more than 50 Black Victorians volunteered to form the Victoria Pioneer Rifle Corps, the first Canadian military unit raised in Western Canada. The cost of their uniforms, equipment and headquarters were largely funded by donations from the local Black community. 
Promised a land free of the systemic racism pervasive south of the border, many of these new Black arrivals to British Columbia were disappointed to find that they still faced discrimination on a daily basis. The local volunteer fire department, for instance, refused to allow Black recruits, and the Pioneer Rifles disbanded within five years after Douglas's successor refused to support them. Disappointed, many like Mifflin Gibbs ultimately relocated back to the United States, hopeful that the abolition of slavery and the introduction of the Fourteenth Amendment would pave the way for greater opportunities. 
Others, however, persisted and persevered, demonstrating great resilience. Sylvia Stark, a formerly enslaved woman whose father had earned enough money to buy their freedom, settled on nearby Salt Spring Island and lived there until her death in 1944. Her daughter, Emma (Emily Arabella) Stark became the first Black teacher on Vancouver Island when she was hired to work in a one-room schoolhouse near Nanaimo.  
The completion of the transcontinental Canadian Pacific Railway in 1885 brought new opportunities for Black British Columbians. In the years that followed, other immigrants arriving in the province by rail into the province were often assisted by Black railway porters. A thriving Black community known as "Hogan's Alley" soon emerged in Vancouver's Strathcona neighbourhood. Black Vancouverites continued to enrich life in Vancouver as the years progressed. Joe Fortes, an immigrant from Trinidad, arrived in 1885 and worked various service jobs, but became a fixture on the waterfront in English Bay, where he taught thousands of children to swim and was credited with saving at least 29 lives. In recognition of his service, the City of Vancouver ultimately hired him as a lifeguard and honoured him in other ways as well. 
Barbara Howard grew up in Vancouver and excelled as a track athlete in high school. In 1938, she was recruited to the Canadian Track Team, and became the first Black Canadian female athlete to represent the country at an international competition. She went on to become the first racialized Canadian to be hired by the Vancouver School Board in 1941.
Harry Jerome, the son of a railway worker, and grandson of John Armstrong Howard, the first Black Canadian male athlete to represent Canada at the 1912 Olympics, excelled at track at his Vancouver high school, smashing long-standing records. Despite injuries and frustrations over the lack of support for Canadian athletes, Jerome went on to win medals at a host of different international competitions. After his retirement in 1969 he became a tireless advocate for sport and diversity in Canadian media. Today, the Harry Jerome Classic track meet showcases many of the best athletes in BC. Indeed, in 2014, SMUS's own Saeed Shokoya '14 raced to a first place finish there in the 60 metre dash with a lightning fast time of 7.09 seconds.
Following in the footsteps of their predecessors, Black British Columbians continue to serve our communities as political leaders. Consider the example of Rosemary Brown, an immigrant from Jamaica who became the first Black Canadian woman elected to a provincial legislature in 1972, representing the riding of Vancouver-Burrard for three terms. Acknowledging that politics was "a tough arena" for women, she nevertheless encouraged women to "enter politics and bring about change." She certainly did, championing improvements to working conditions and services for women, the elderly and people with disabilities. 
Black Canadians have also long enriched the cultural life of our province. The daughter of immigrants from Oklahoma, singer Eleanor Collins helped to develop BC's music industry and became one of the first Black Canadian women to host a prime time television show. Today she is widely acknowledged as Canada's First Lady of Jazz.
More recent arrivals continue to make their mark as well. After a trailblazing career as a cricketer with the Welsh team Glamorgan beginning in the 1960s, Barbados-born Tony (Elton Anthony) Cordle, immigrated to Canada in the 1980s, becoming a much-loved and longstanding member of our SMUS community. He continued to coach national-level athletes, and his son Jeremy Cordle '91 played a critical role in helping our school win its first BC provincial rugby championship in 1991 before representing Canada on a number of occasions and serving with our Alumni Association. 
These are just a few of the many significant Black Canadians who have contributed to making our community what it is today. They deserve to be better known, and their contributions more properly recognized. 
And that's what Black History Month is all about: educating, informing, and inspiring.
If you would like to learn more about the early history of the first Black Canadians in British Columbia, you should check out Crawford Kilian's seminal book "Go Do Some Great Thing: The Black Pioneers of British Columbia". Another great resource, particularly for more recent history, is the website of the BC Black History Awareness Association. 
Through Black History Month in February, members of the Senior School Intercultural Council have created a visual gallery near the Humanities offices in Crothall which features portraits and descriptions of the individuals mentioned above, as well as other significant Black British Columbians. You are encouraged to visit it to learn more.