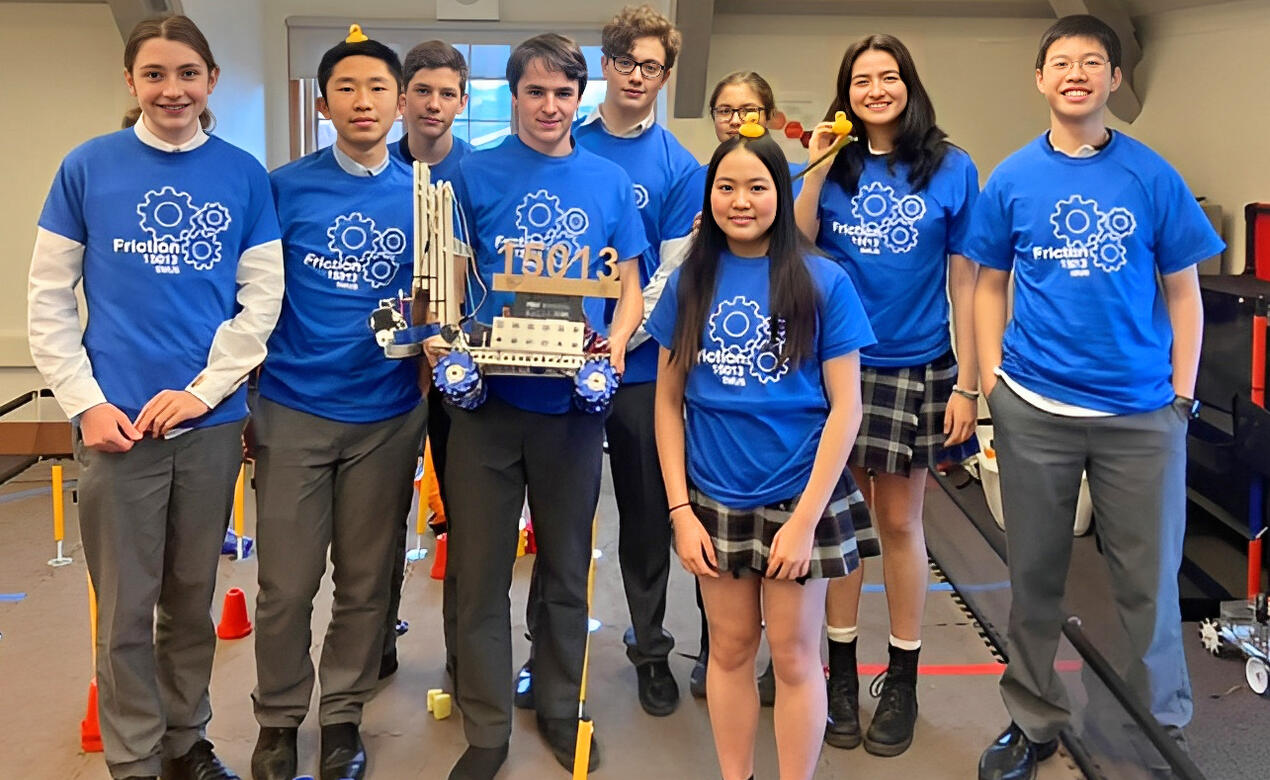 As our burgeoning STEAM program continues to build, students from both our Middle and Senior Schools recently earned themselves a spot at provincial robotics tournaments.
Grade 8 students, who learn about robotics and programming using Lego Education robots, was awarded an exceptional top-3 finish at the recent qualifying event for provincials. At the Senior School level, students in Grades 9-11 who participated in the First Tech Challenge by designing, building, programming and operating a robot, won two awards at its recent competition to earn its way to the BC competition.
FIRST LEGO League Challenge (Middle School)
This year's First Lego League (FLL) Challenge competition was held at Lansdowne School in January and saw many committed teams coming from as far away as Nanaimo and Richmond. The standard was high and our team of Grade 8s immediately felt the pressure during the competitions.
Our first of three runs were disappointing due to there being small differences in the gaps at the edges of the mat and the surface being more slippery than our practice table at SMUS – but our students demonstrated resilience and were able to overcome those challenges. There were only a few minutes to spare between heats, but after some last-minute, nail-biting code changes, our robot, Hose 2, did much better on the second run.
As the day progressed, the team had some time to really explore how to improve its score by making significant coding and build changes. As is life, some missions got better and some got worse, so the students finished with a respectable overall performance and score.
Unique to the FLL competition is a requirement for teams to present to a team of judges, which allows students to demonstrate their learning and get feedback on their achievements. One piece of this is a five-minute presentation related to the theme of the competition, which this year was related to energy, and provide an innovative solution to a specific problem. The second presentation to the judges highlights how their robot functions. These presentations are where our "Windmeals" team really excelled in front of an intimidating panel of judges that included representatives from the BC Ministry of the Environment and Climate Change Strategy, and a robotics expert from the University of Victoria.
Yashita K. and Sissi Z. explained in a measured and confident manner how their dual-purpose automated solar farm and green house system would change the lives of millions of people thousands of kilometres away in Somalia. Then, Emilio H. and Isabella P. wowed the judges with their ingenious robot attachment designs, including a forwards and a backwards arm enabling the robot to do two things at once during the competition to gain the maximum amount of points. Finally, Bronwyn E. and Jason F. discoursed effortlessly on the complex details of their coding which, along with moments of humour and flourishes of courtesy, left a strong impression on the judges, as they complimented our team on this in the feedback session. 
At the award ceremony, SMUS was awarded a solid 3rd place, comfortably qualifying for the provincial championships later in the year. It was an emotional day and we all learned a lot about robots, teamwork, and ourselves. Well done to the team and to the other Grade 8s who helped us along the way, such as Elizabeth H., and a special thanks to my colleague, Middle School teacher George Floyd, for his time and expertise in coaching this team.
First Tech Challenge (Senior School)
SMUS put together a strong team for the popular and highly competitive First Tech Challenge (FTC) event held at St Margaret's School in late January. Twelve teams from Greater Victoria schools crammed into the small gym, ready for the exciting day of robot action that was about to unfold.
The teams had been given many requirements to work on over the last few months and our strategy, informed by teacher Maureen Hann's experience and nuanced understanding of the FTC system, meant that we were able to make a strong showing across all the key judging categories, as opposed to focusing on just a few at the expense of others. It was a bold strategy but one that paid off because SMUS was nominated for all but one of the awards and ended up winning the Design Award. This award, coupled with the fact that they were excellent all-rounders, meant that the judges decided to give them the prestigious Inspire Award too. This was a first for the SMUS team and automatically qualified them to go to the provincial championships later this month. It is an impressive result and the team was rightfully  visibly excited and emotional when it was announced at the awards ceremony!
A huge amount of work went into this achievement, including hours of building and coding the robot, designing and printing 3D plastic and rubber parts, practising driving the robot sideways and lifting small traffic cones into the air, painstakingly logging the ongoing progress and problems, writing the portfolio, doing outreach to other schools and soliciting advice from experts.
"This was my first FTC experience, and beyond what I had ever imagined. The team was so supportive, and we all worked together to do well in our matches," says Grade 9 student Yingfan Bai. "Ending up with two awards, I am very proud of our team and the hard work we put in to get there. I'm looking forward to provincials next month and the rest of the season!"
Congratulations to the whole "Friction" team: Max Amon, Janet Andrews, Yingfan Bai, Sophia Eiley, Evan Fuller, Alex Hann, Brady Hsu, Jason Jiang and Linden Wilson.