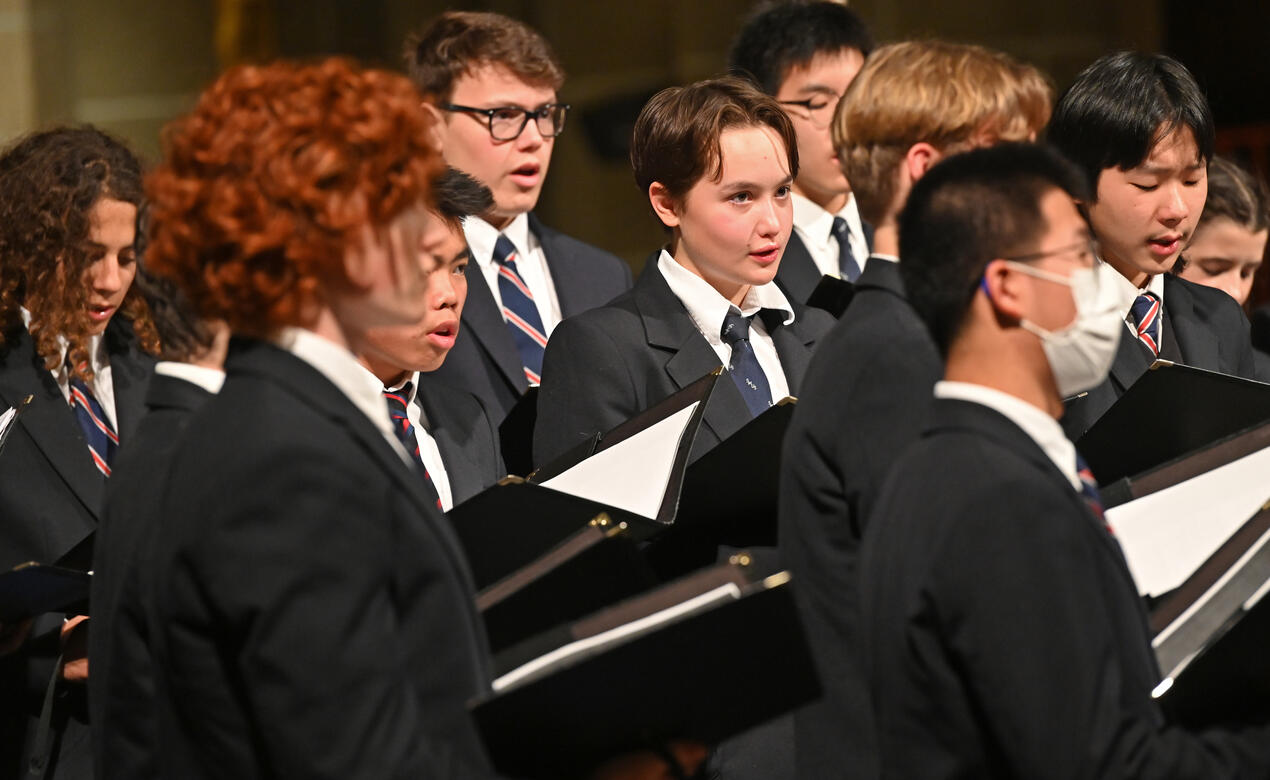 The holiday season at SMUS traditionally begins with the annual Cross-Campus Carol Service.
This event exemplifies the inclusivity and community feel that is so prevalent at this time of the year. Our Carol Service is a gathering of families from our Junior, Middle and Senior Schools as together we listen to beautiful music and messages from our talented students.
So it's no wonder that after nearly three years apart, this year's Carol Service felt extra special. In a jam-packed Christ Church Cathedral, students wowed the audience with their wonderful singing and thoughtful messages.
Below, read those messages, which were written by Middle School students Colton K., Apollin L., Louis L., Sabrina M., Sara Q., and Pyper T., with the assistance of Rev. Keven Fletcher.
And visit the SMUS Photo Gallery to find all of the photos from the Carol Service.
2022 Carol Service Message
When our writing group met, we realized that we represented our SMUS community well in that we're quite diverse. At this time of year, some of our classmates have already celebrated Diwali, while others are about to enjoy Christmas or Hanukkah. Still others are looking forward to what will come a few months down the road with the Lunar New Year.
Two things that all these festivals have in common are food and people. Forgive us, but the first thing we want to talk about is the food. 
Our writing team is divided into three distinct groups. 
The first are fans of a classic turkey dinner. We agreed that the bird itself shouldn't be undercooked or overcooked. It needs to be warm, just out of the oven, with moist meat and crispy skin so that it almost sparkles. 
Our second group align themselves with dumplings, whether fried or boiled. If fried they should be golden on the bottom and slightly crispy when you bite into them. Fried or boiled, they're best when handmade with pork inside along with chopped veggies and maybe some glass noodles. Both benefit from being dipped in soy sauce.
Our third contingent of foodies are definitely not interested in turkey or pork. The vegetarians among us have two words for you: "Yam Crumble". Think about how good it tastes. The outside has a cookie-ish crunch, while the inside is all yummy warm yams.
In case you're worried that these preferences sowed division within our ranks, please know that we found common ground in mashed potatoes - smooth, creamy, buttery mashed potatoes.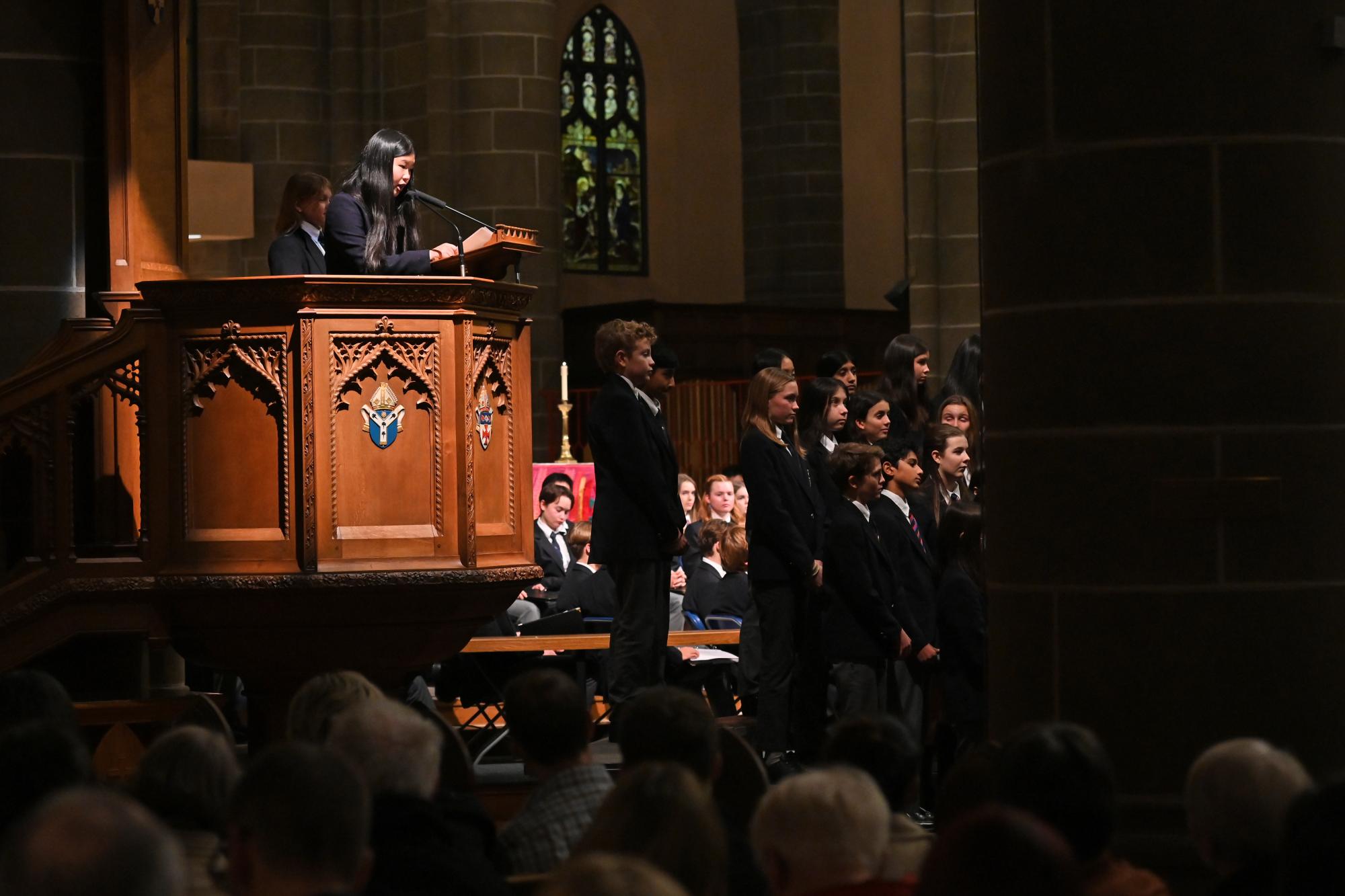 We also talked about Ms. Turner's gingerbread cookies - the ones she brings around to the Junior and Middle schools each year. One of us plans to fail grade eight so that they don't miss out next year.
Which brings us to the people with whom we share the food. Sure, the turkey, dumplings, and yam crumble are good in and of themselves, but with friends and family around, it elevates the taste. It's chaos, sure, and it's a bigger, better experience.
Sometimes it's about getting to be with people we don't see that often. Siblings who come home from university. Aunts and somewhat weird uncles who arrive with cousins after long drives. Even parents and siblings who are around all the time take on a different feel. It's a special kind of eating. Usually we eat to stop feeling hungry. During this season we eat to be with people. 
Without school during the break, everything becomes so relaxed. More time for sports. More time for gaming, more time for sleepovers.
It's not that the time is perfect. Some of us eventually get annoyed with our younger siblings or cousins. Others struggle a bit with the older ones. We agreed that sometimes the conversation among adults gets a little too passionate about politics.
The key is that we don't have to get along perfectly. We are different and we love these people. Friends and family, young and old. Whether we're talking about Diwali or Christmas, our festivals wouldn't be as meaningful without them.
Actually, when we think about it, the people might even be more important than the food.
We began by talking about how we're a diverse community celebrating many different festivals, and we offered a few thoughts on the central role that food and people play in our gatherings.
But how important is all of that to us, really? To figure out an answer, we thought about the last couple of years. Remember the height of COVID? The lockdowns, the altered plans, the cancelled gatherings?
It was good that we could still connect via Zoom, but it wasn't the same. Some of us went from dining tables encircled by shoulder-to-shoulder friends and families to, well, three people.
Although we could argue the positives - some of our parents made the same amount of food as they usually did so there were so many leftovers (all the turkey sandwiches we could ever want) and there weren't as many dishes to clean up after the meal - but, in the end, it wasn't the same at all.
Which makes us think of those who won't be celebrating like we will this year. People who can't afford a table filled with food because prices have risen so much. People who are somehow disconnected with their families and friends. People who are caught in war zones like Ukraine, where families and friends are scattered and the power is out. Imagine missing loved ones while being both cold and scared.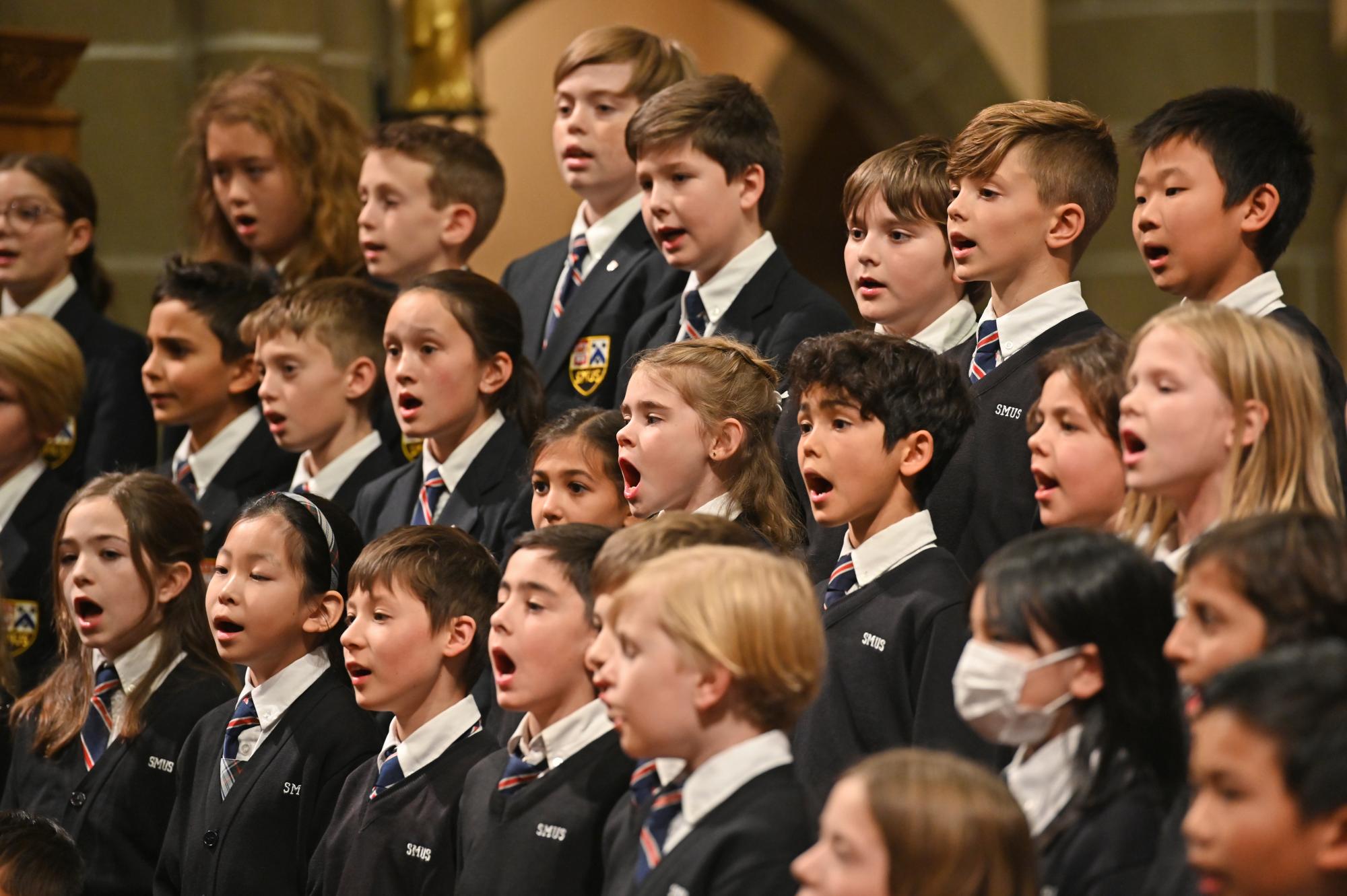 In the face of this, there are things that we can do; there are parts we can play. We can learn about what's happening for others. We can talk about it. We can donate food. We can make room for refugees. We can go carolling in our neighbourhoods to raise awareness and funds.
And, we can gain perspective. We can step back, see our own lives more clearly, and appreciate how good most of us have it. Not perfect, but certainly good.
We don't often state our appreciation out loud. At those big, celebratory dinner tables, we'll say "thanks", but most of us don't stop eating to tell everyone just how much the moment means to us. In the same way, we might offer a quick "love you" as people leave, but we don't take the time to tell someone why they're so dear to us.
There are reasons for this. It's not something we usually do. It's not the way we tend to think. It can feel awkward. Really awkward.
And yet, thinking back to our experience with COVID and knowing that others nearby and around the world won't have their friends and families gathered in brightly lit, warm rooms, around tables filled with food…maybe we can be a little more overt in our expressions of appreciation.
This might take the form of a well-timed smile, an extra bit of patience with that younger cousin, an act of support for those on our streets or in places like Ukraine… perhaps it might even be letting someone at that dinner table know how their being here makes such a difference to us.
In other words…we hope that this season is filled with some wonderfully awkward moments for us all. And whether we fill our bodies with turkey, dumplings, or yams, may our lives and the lives of others be fuller because we made that choice to share.