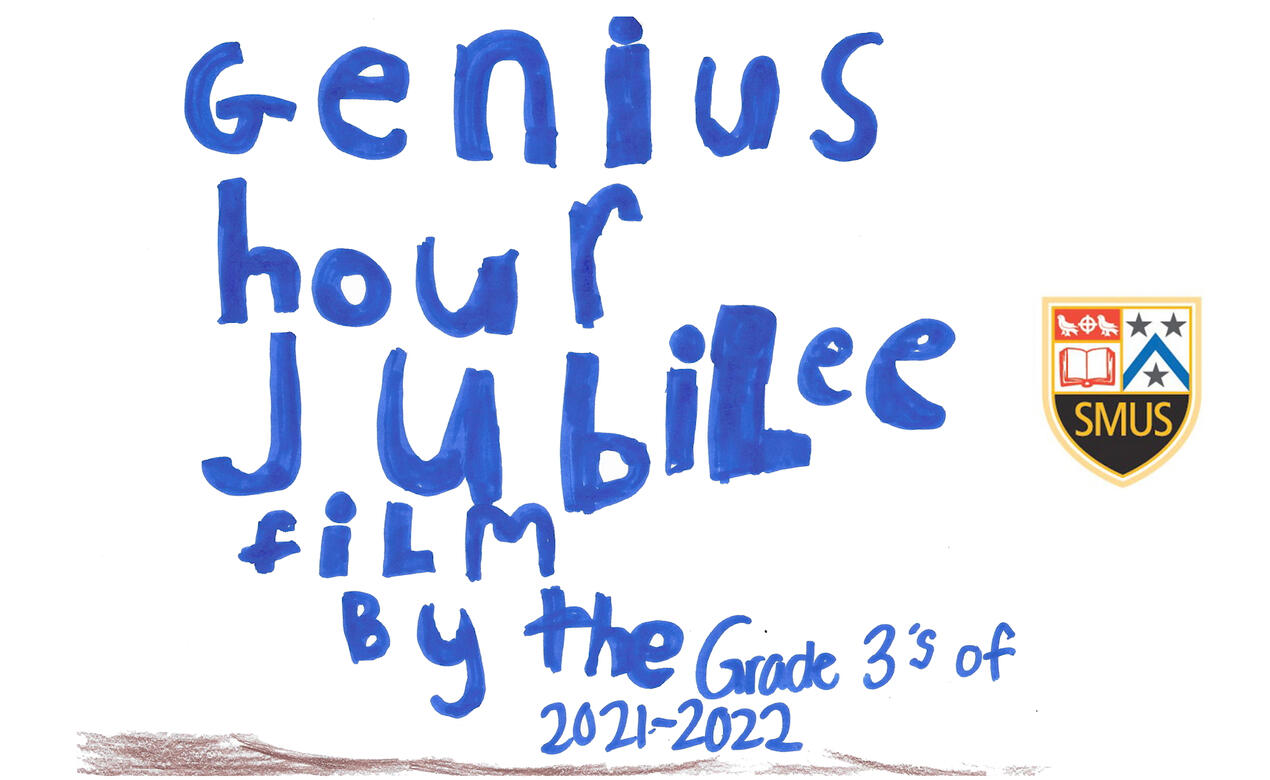 A group of budding young documentarians spent the first part of this school year filming a video to celebrate St. Michaels University School's Jubilee year (which you can watch at the bottom of this story).
The Grade 3 students – Sway, Elise, Arianna, Elizabeth, Marchesa, Gavin and Jimmy – chose to pursue filmmaking as a project to explore during Genius Hour, which is part of their Applied Design, Skills and Technologies (ADST) class.
"The whole point of Genius Hour, the whole point of a project like this is it's student-led; they're doing it, it's their thing," says Whitney Davis Hochhalter, the Junior School teacher-librarian who helped support the filmmakers with coordinating, using the technology and polishing the final video. "They really did all of the work: all of the filming, partly scripting, and a couple of them spent days putting the clips together."
About Genius Hour
Genius Hour began in 2015 when Mrs. Alison Galloway, now the Imagination Lab coordinator and ADST specialist, was completing a master's degree in education and focused her studies on giving children time and space to learn through play without it being teacher-driven.
"It is a time where we're valuing the competencies of communication, critical thinking, creativity and collaboration – the four Cs – and we're giving them the space to try something new and learn something they're interested in or passionate about," Alison says.
Learning in this way, she says, is about thinking, questioning, imagining, creating and struggling.
"When students take ownership of their learning it provides opportunities for them to learn from mistakes, and to value the processes of planning and improving. There's often a bit of a struggle for students trying to figure that out," Alison says. "We find that through the struggle they develop important skills and competencies, and in the end they're so proud of themselves for having gone through that journey. That's where the real learning takes place. It is wonderful to see how excited they are to share their creative ideas with their peers and to inspire each other."
A Jubilee Film
When the students expressed an interest in filmmaking earlier this year, Whitney, a SMUS alumna from 1997, says she suggested the idea of tying their video in with our 50th Jubilee.
"As someone who went to this school I really believe in what our Jubilee means, and I have so many stories to share. I put some historical items at my desk and whenever the kids see them they're so interested," Whitney says. "I suggested, 'Well, it's Jubilee and there are lots of people here you could talk to who have seen big changes over the years. You could do a little documentary.' And they were so stoked about that idea!"
Armed with iPads and microphones, the students worked together to come up with interview subjects and questions, and conduct interviews. 
The students interviewed alumnus Scott Marks '90, retired Junior School teacher Nina Duffus (who taught here for 22 years) and Junior School Athletic Coordinator Gary Barber (who has been at SMUS for more than 30 years). They went through old yearbooks and archival material, and through it all they uncovered stories and information they found interesting that they wanted to share.
"They were so excited to dig and delve and research the school history. It was the epitome of a Jubilee learning experience on top of them learning the skills of filmmaking," Whitney says.
Right before Winter Break, the students were able to share their film and what they had learned with their classmates. The students were incredibly proud of their film and the audience loved watching it.
In addition to learning about filmmaking and some of our school history, Whitney says the students truly learned about (and exemplified) collaboration skills and resilience, which are key tenets of Genius Hour and the ADST program at the Junior School.
"I was so proud of how long they maintained their focus and were motivated to keep going with the film; they just wanted to get out there and do this," she says. "They weren't using the green screen, they weren't creating special effects, and they were excited about taking photos of the pictures of the Old Boys on the walls and doing research. The things that held their interest were not necessarily what you'd initially expect. I am really amazed at what we were able to accomplish with this."
We are incredibly proud and appreciative of these Grade 3 students and their supporters for putting the time and effort into creating this Jubilee film for our community. We hope you enjoy it!