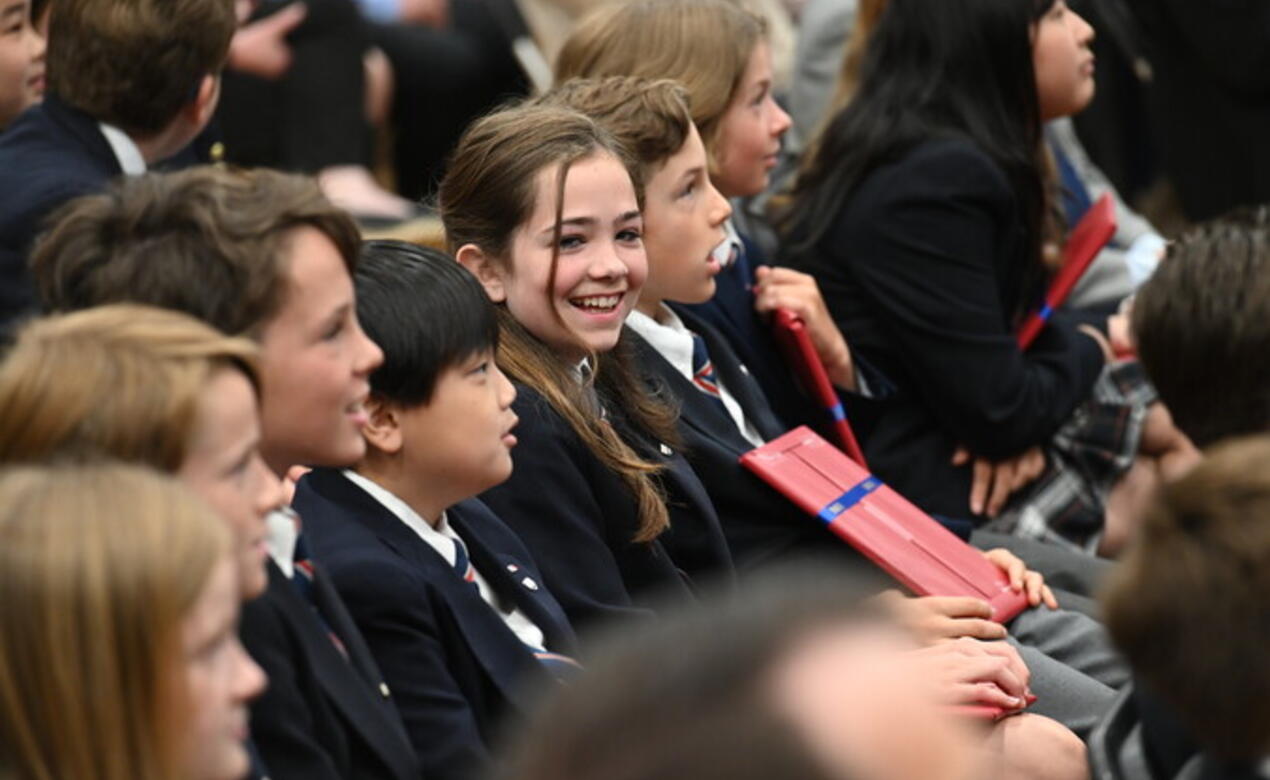 This June, students, teachers, families and friends gathered to say goodbye to the Grade 5 students during the Grade 5 Closing Ceremony. The event looked back on the school year and each students' experiences, while also looking ahead to the next step in their SMUS journey: joining the Middle School.
As part of the ceremony, each student read a brief reflection looking back on their time at the Junior School.
Below are excerpts from some of their favourite memories and favourite things they've learned, which you can watch in full as part of the Grade 5 Closing Ceremony video at the bottom of this story.
Browse and download photos from the Grade 5 Closing Ceremony on the SMUS Photo Gallery.
Grade 5 Reflections
"Thank you to our parents, grandparents and the supportive adults in our lives. It means so much to us that you show up, encourage us, and help us get back up when we are down. We are grateful that you are here today to share this moment with us."
"I have loved my time at the Junior School. One of my favourite memories was in Grade 4 when we did the ocean project, to learn about why we need to save the ocean. Another one of my memories is all of the musical rehearsals. I did not know that I would like acting, but… turns out I love it. My favourite memory is working on my Grade 5 leadership speech. It took a lot of effort and time and it turned out great. My last but not least memories are of the sports day and ice cream day. These are probably two of the best days of the school year because they are so much fun. I am proud of my learning in Math because last year I wasn't very confident and now I feel great about it. I want to make even better memories in Middle School."
"I have made many fun and amusing memories, but there are few that I can't forget! In Grade 2, my favourite part was when we made gingerbread men and sold them to raise money for a women's shelter. In Grade 3, Mr. Bell was always so funny. He made learning fun. I liked when he was Bell Nye the science guy. We did so many interesting experiments together. Grade 4 was also very memorable. From the moment my teacher and I met, we had a special connection. For example we both love yoga, ringing the singing bowl, and nature. Grade 5 was exciting. The best days were Friday when we got to solve the Spy Net math puzzles and had tech time. These are some of my amazing memories from Junior School!"
"I have had many good times at the Junior School but some of my favourites were gymnastics season in PE and the track meets in Grade 4 and 5. At track, I got to compete in four different events. I also remember the cooking lessons in Grade 2. Everyone got to teach the class how to make something and we all tried new things. One of my favourite units ever was the survival unit in Grade 3. We created an island and had to figure out how to survive. At SMUS we always learn a lot but have fun doing it. We do video game themed math, play games in French and so much more. I have so many great memories of the Junior School."
"I have many amazing memories from the Junior School. My first memory is playing football with my friends at recess. We always had lots of fun trying out different positions and often throwing the ball over the fence and tirelessly trying to retrieve it. My second favourite memory was when we all went down to the Uvic track meet in Grade 4 and Benson, Rakshith, Jackson Brown, and I won 1st place in the 4x100 metre relay. I came second in the 100 metre and 1st in the long jump. My final memory was making a pinball machine in the iLab. I did the electronic part of the project and my partner added dinosaur sculptures. I have had a great experience during my time at the Junior School and I will remember it forever."