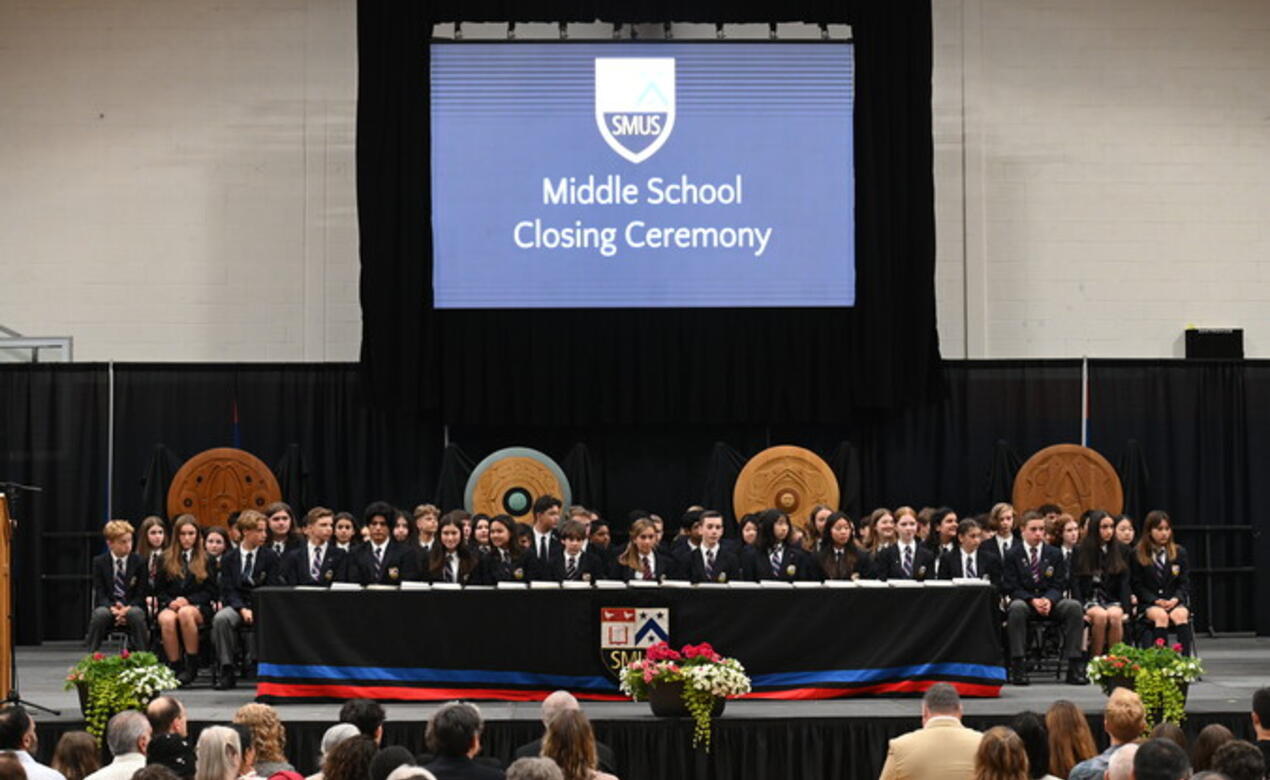 This year's Grade 8 students started their Middle School journey in 2020 at the height of the pandemic. No one knew how long restrictions would last, or what their world might look like by the time they completed middle school. The day of their Grade 8 Closing Ceremony finally came, and they have emerged as resilient, compassionate, and intelligent youths.
The ceremony included a reflective speech, written by students Iris W., Liam P., Imanzi R.
You can read excerpts from their speech below, which you can watch in full as part of the Grade 8 Closing Ceremony video at the bottom of this story.
Congratulations to our Grade 8 students. We wish you the best of luck as you begin Senior School in the fall.
Browse and download photos from the Grade 8 Closing Ceremony on the SMUS Photo Gallery.
Grade 8 Reflection
By Iris, Liam and Imanzi, Grade 8
We are very honoured to be representing our Grade 8 class and would like to welcome our parents, teachers and administrators.
LIAM:
The musical, "School of Rock" was just one of the many highlights from this school year. I know the musical would not have been possible without the countless hours of work from both teachers and students. In particular, we would like to thank Mr. Frater, Mr. Enns, and Arabella for their dedication to the Musical. It Rocked.
My personal highlights from my middle school experience were Model United Nations, or "MUN", and school rugby.
I started MUN in Grade 6 as a nervous kid not knowing what MUN really meant or involved. We started with online MUN during COVID, and this year my crowning jewel of MUN was going to VMUN 2023 in Vancouver, which was definitely not a spectator sport! There were so many delegates at VMUN from across North America and everybody loved the well-organized debates, and of course, the friendly banter to keep up international relations! Being able to tackle real-world issues and problem-solve them diplomatically was an inspirational way to think about how youth can change the world. MUN inspired me to love public speaking and think about how our collective voices can make a difference. I apologize for the pun, but MUN is FUN!   
Moving from the intellectual to the physical… Rugby is often considered a brutal or ruthless sport, but it also has a deep community of camaraderie and intense responsibility since so much can be at risk. Rugby is a sport where you don't leave anyone behind, there is a position for everyone and you truly respect and care for your teammates — and even the opposing team. My highlight of the rugby season was the Middle School Rugby Jamboree where schools from all over Victoria came to SMUS to compete and play for an entire day. Even though I didn't know some of my teammates that well at the start, by the end they became the people I trusted the most. Playing on various teams over my three years at the Middle School has been a highlight and I am so grateful to all our coaches and teammates. 
IRIS: 
The words to describe my time at the Middle School are supportive, inclusive, and mostly fun. The coolest thing that happened this year was definitely seeing one of my favourite French artists, Stromae and learning about local French-Canadian culture and history in Maillardville. I just want to give a special thanks to Mme Pike, Mme LeDarz, Ms. Vachon for taking us to Vancouver and  giving us the opportunity to see the best French singer. It was such a memorable experience. 
The ski trip to Mt. Washington was definitely another highlight. Though the ride there and back was a very long journey, we made every moment of it fun. Of course, the skiing and snowboarding was great, but honestly other than the very moist bus air, the occasional screams and bumps, the bus ride was the most fun part of the trip. 
IMANZI: 
My highlights of the year were the kind WEB leaders and our awesome out-trips. A yin and yang, these two events connect the start and end of this great year. 
I joined SMUS as a new student this year. It seemed to be an intimidating place when I first joined, it was all so different and I knew nobody. But when I met my WEB group, I felt like I belonged. They taught me everything I had to know about SMUS. The WEB program is important because it brings new students together and enabled me to meet the numerous kind souls of the school. Thank you to the WEB leaders, you made a real difference in my first days at SMUS.
The out-trips were one of the final farewells of the year, a time when many of us got to try new things and meet new people. I went hiking on the Juan de Fuca trail, just one of the many exciting choices like kayaking and surfing. It was not all easy, my pack was heavy, there were lots of tripping hazards and sleeping in a tent was interesting, but it was worth it. I got to bond and play games with the people in my group, and even skip rocks and play tag! We explored the various beaches of the Juan de Fuca trail and enjoyed nature without all of our modern-day distractions. For some inexperienced people like me, we got to learn how to camp and the joys of it all. I am so happy I had the chance to connect with new people and continue relations with old ones, all without the distraction of social media. It was truly a breath of fresh air. 
IRIS:
All teachers and staff deserve recognition and appreciation for all they have done for us throughout the year. Thank you for the countless hours of hard work out of school providing us with the resources that we need to become our best. For example, the Math Science Student Progress Sheet that Mr. DeMerchant spent hours on so that every single one of his students could see where we are and what we need to improve on. 
LIAM:
I am so grateful for all the teachers who make the Middle School such a special place. They go the extra mile to make a difference, from small things like saying hello at the door, to planning big events like jamborees and musicals. When I started at the Middle School in Grade 6 I had heard about a teacher named Mr. Floyd, who had taught at SMUS for a few years, and had even taught some of my friends' parents! I signed up for his computer science class, and I am so grateful for his mentorship. All of the teachers are so inspirational in their own way. They have led us through the lows of COVID, to the highs of the musical and Outdoor Ed.  
IMANZI: 
The teachers here at SMUS are in charge of making the experience enjoyable and they have done so above and beyond. One thing I will keep from my first experience at SMUS is the teachers. I wouldn't change a thing because every one of the teachers was special to me in their own way.

LIAM:
They say that 'people make the place', and this could not be more true. Whether you like arts, athletics, academics, or all three, there is a place for everyone here, and we are all better together. From the basketball court to badminton, honour band to robotics, each and every one of you makes our time at SMUS special. We did this together.  Here's a shout-out to the class of 2027. 
IRIS:
I want to express my heartfelt gratitude to each and every one of the students. Your dedication to learning, your talents in various fields, your kindness toward others, and your leadership have made our school community an incredible place to be. You are the reason why our school is so special, and I have no doubt that you all will continue to do amazing things next September. 
IMANZI:
I want to thank everyone for my excellent experience here. For those who are leaving, farewell friends. I hope that you find happiness in your new surroundings. You will always be remembered at SMUS, if it is your accomplishments or your kindness, you will always have a place in my heart. And for those who are staying, I'm looking forward to an excellent Grade 9 year with you all.
Vivat!