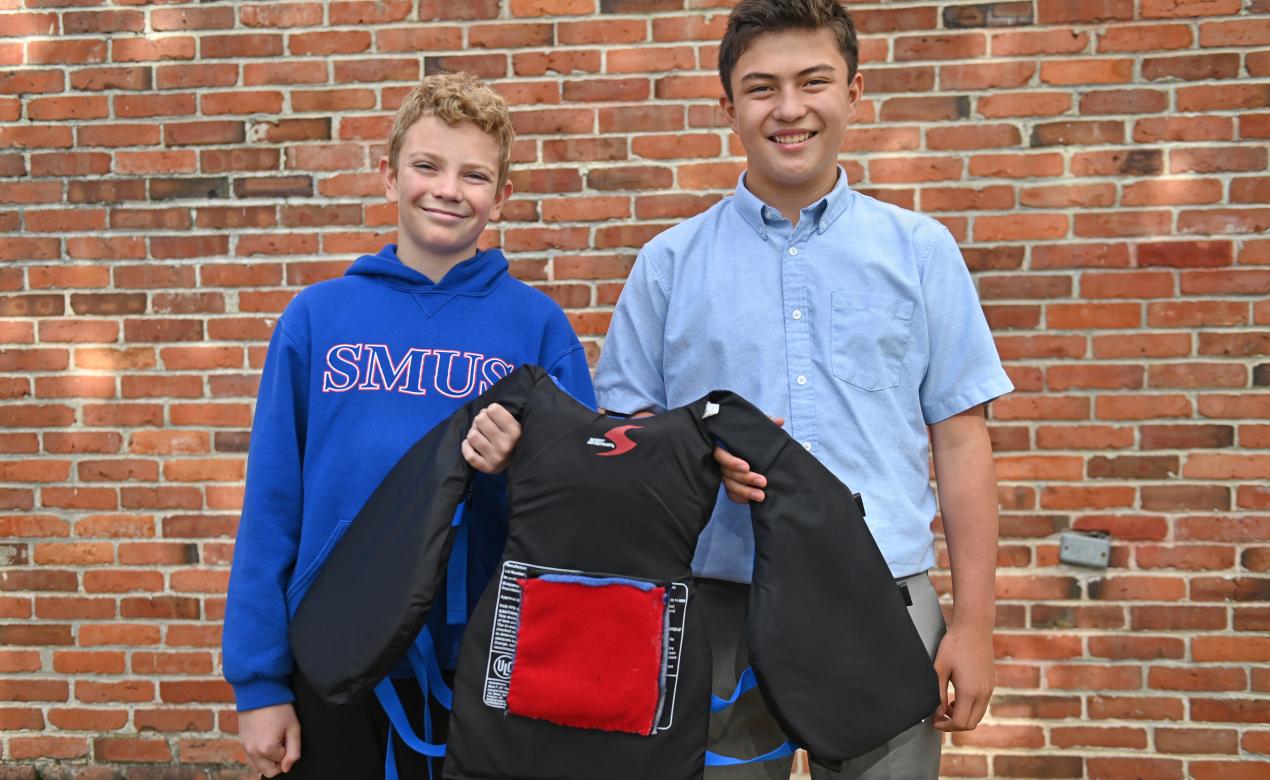 EDITOR'S NOTE: On Wednesday, November 30, LifeHeat won two prizes in Science Fair BC's Youth Innovation Showcase: the Grand Prize for the 12-15 age category and the People's Choice Award for the same age category. Congratulations, Liam and Fraser!
---
In the summer before starting Grade 6, Liam P. was learning how to sail when a mistake tossed him into the ocean.
"It was so cold!" he recalls. The water temperature was hovering around the 11-degree mark. Even though it was some of the warmest the ocean off Victoria can get, it's still low enough that being in water that cold can become dangerous quite quickly.
"When I got home I was thinking about hypothermia and how many people die in cold water per year, and I just thought, 'This is something that could be prevented,'" Liam says.
It was a thought he carried as he entered Grade 6 at the Middle School and science fair season began. He partnered up with classmate Fraser T. and pitched the idea of looking into a solution that could help keep people warm if they fell into the water.
"I was also really interested in sailing, so when Liam came to me, I was like, 'Wow, that's an awesome idea. I'd love to do that,'" Fraser recalls.
They had a general idea of where they wanted to end up (designing a product), but they first needed to experiment how to get there.
"We really wanted to ensure that there wasn't anything that you had to pull or anything like that, so we wanted to use a reaction that would instantly happen," Fraser says. 
"Since cold water shock, which can set in in seconds to a minute, could make it hard for a person to realize what they need to do, we needed this to be an instant reaction to ensure that they're actually going to be safe," adds Liam.
For the science fair that year, the pair laid the groundwork for finding a natural solution. Using calcium chloride, which creates an exothermic reaction (heat!) when exposed to water, they explored whether the natural salinity of the water (saltwater versus fresh water) impacts the temperature of the reaction. They learned that the reaction was similar regardless of the existing salt concentration in the water.
Between the Grade 6 and Grade 7 science fair, they started to design, sew and test prototype pouches, which they dubbed LifeHeat, that are filled with calcium chloride that could be attached to the inside of a life jacket.
"We decided in the summer before Grade 7 to test our prototype in the ocean. We were on a dock at the Oak Bay Marina and we both jumped into the water," says Fraser.
"At first I didn't feel anything, and then suddenly it started to get really hot," Liam recalls. "We both had to wrestle off our life jackets before it got too hot."
Following that learning experience and other small-scale tests, Fraser and Liam have created a dozen prototypes and have made significant improvements to allow their innovation to work as they want it to. Through trial and error using different types and layers of fabrics, as well as the amount of calcium chloride in the pouch, they've solved a number of problems including managing how slowly the calcium chloride reacts, how much heat comes into contact with the skin and how their pouch stays attached to the life jacket.
They earned a spot at the Vancouver Island Regional Science Fair last year, where they won five awards. They also received a small grant late last school year to help continue their testing and prototyping.
Now, Fraser and Liam's LifeHeat project, described as a self-heating life jacket, is a semifinalist in Science Fair Foundation BC's Youth Innovation Showcase (YIS), which comes with a $5,000 prize if they win. Last week the pair presented their project to a panel of judges, who will decide on the finalists. That announcement is slated to come on Monday, November 7, with the winner announced at the end of the month.
"That prize would help us buy more materials that we need to keep improving our project and maybe help get it seen more widely. What we need is materials and testing time," Liam says. "We want to make sure there are no errors in our testing and in our data. Winning would let us put in more work and make our project higher quality."
Regardless of the results of the YIS competition, Fraser and Liam are already excited for the Grade 8 science fair later this year.
As the oldest students at the Middle School who have seen deserved success in that arena, they offer this advice to their younger schoolmates (who will soon start science fair projects of their own): "Do something that interests you," says Fraser. "If there's a problem in your life – something you wish you could come up with a solution for – that would be a great topic for you to research and explore, and maybe create an innovation to help solve it."