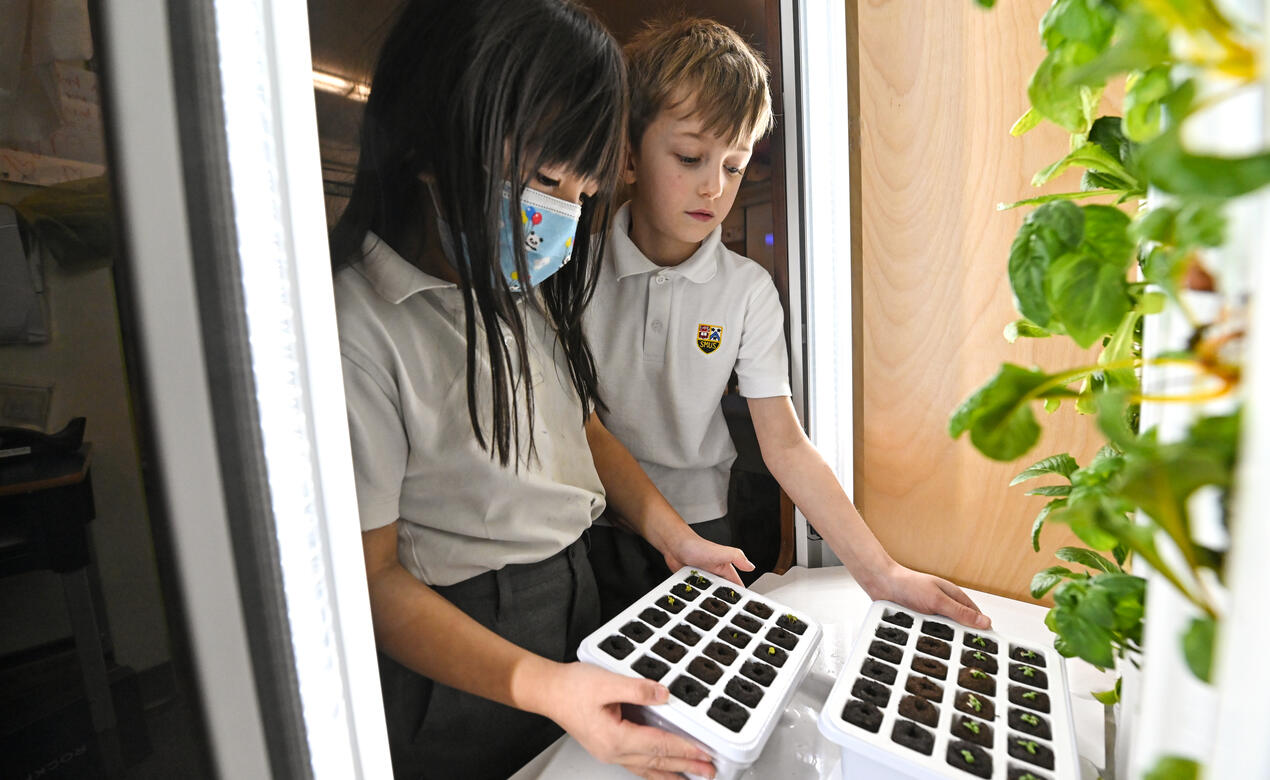 ​While students in Grade 1 and Grade 10 are at very different stages on their academic journeys, a new classroom tool is proving to be great at supporting age-appropriate learning for everyone.
The indoor vertical farming wall, called a ZipGrow Education Rack, helps teach students about sustainable growing while giving teachers flexibility to adapt the learning to their students' needs.
"We brought in one of these last year and knew there were lots of amazing connections to science or biology, but we quickly saw the potential for broader opportunities in other subjects because of how engaged different age groups were," says Craig Farish, sustainability coordinator at SMUS. "There's a neat hook to it because it draws people in; people try to figure out how it works and ask a lot of questions. And it's a hands-on tool to move from abstract learning to experiential learning, which engages students no matter their age."
This year, new farming walls were installed at the Junior and Senior Schools.
Grade 1 Farmers
The curriculum in Grade 1 includes learning about "living things," which is often tied to local animals and plants.
Teacher Naomi Eden says she and fellow Grade 1 teacher Anne-Marie O'Donnell were keen to find a new way to teach the subject when it was suggested that they consider having an in-class garden.
"Especially at this age, children learn by doing. It's one thing for them to read about it or see it on a screen, but to actually have a living garden in the classroom at their fingertips makes the learning that much more visible and meaningful to them," Naomi says.
The students say they feel like farmers, having learned the process to plant and grow romaine lettuce, basil, and Swiss chard in the classroom.
"There are these pillars that have black foam in it, and you open and put in little pods of dirt and seeds," says Rory. "And then you make a sandwich with the black foam and you smack it together and put it in the white tube."
"And there are pumps to help the water get through to the plants," says Bella.
"There are lights to help the plants grow and it only stays on for a little while, then it goes off, then it goes on again," says Ariel. "It's making sunlight."
Naomi says having access to a tool like the indoor vertical garden has been "really inspiring" as she watches the students learn about living things in such a unique way.
"I feel like I learn so much from them every day through a six-year-old's eyes. They were so excited to plant the garden and it was like magic when they were going through that process," Naomi says. "Even at this age, they were making connections to the gardens they have at home and the vegetables they see in the grocery store. I'm hoping that this plants a seed for that sustainability piece that might come into play long-term for them. It makes me proud of them to see how engaged they are."
Throughout the school day, students rush over to the vertical garden to see how much their crops have grown. Once the food is ready for harvest, the Grade 1 students will make a big salad and get to enjoy the fruits of their labour to celebrate all they have learned about living things.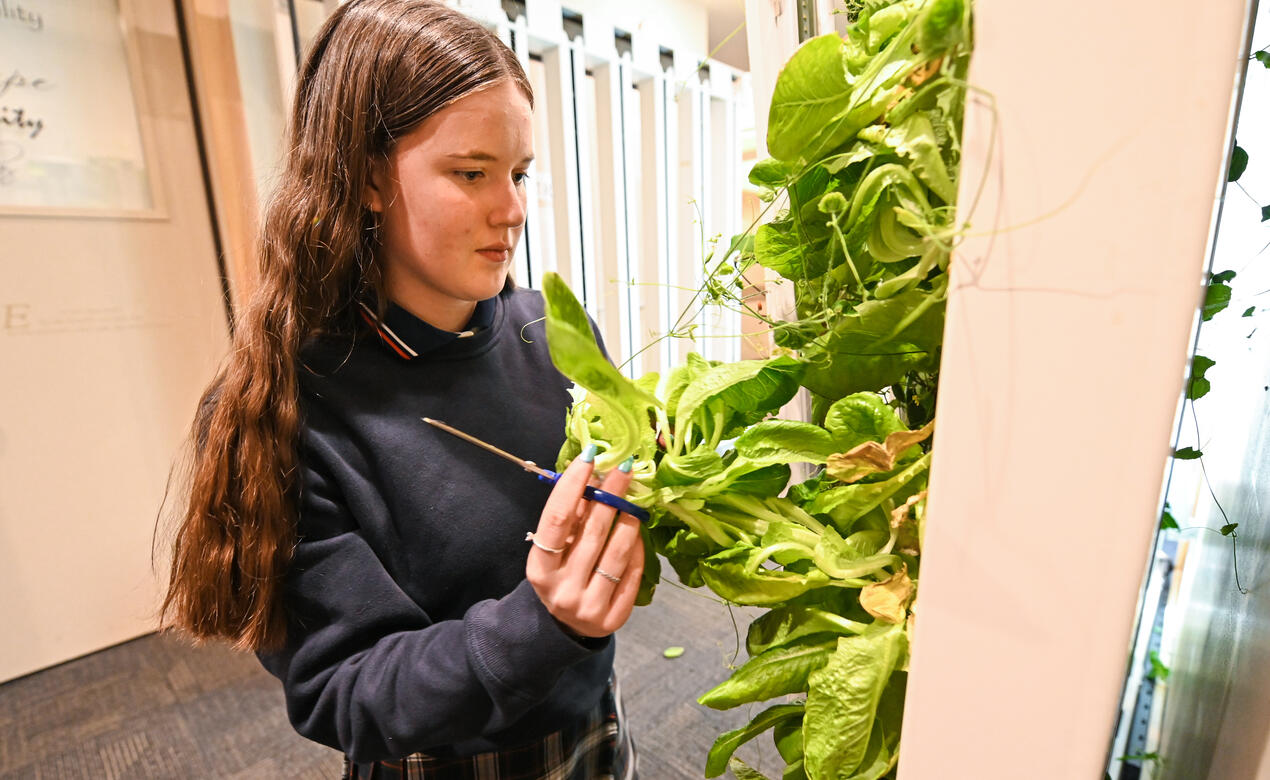 Grade 10 Entrepreneurs
Students in Business Education and Entrepreneurship 10 are taking advantage of having an indoor garden in their classroom by learning the ins and out of running a small business.
"We have students focused on accounting, marketing, and growing," says Grade 10 student Stacy Zhu. "We all came up with a plan on how to sell the vegetables. Our marketing team created labels for the bags and we came up with ideas on how to market them to customers. And then we went around and sold them to teachers."
The Grade 10 students have been growing and selling a variety of produce, including lettuce, kale, basil, and Swiss chard. To ensure supply meets demand, the growing team has had to learn about which crops grow well together, which crops people want to buy, setting the right price, and how to market their local, organic, student-grown product.
"A great learning moment for them is they are late on their planting and will have a supply issue very soon," says Craig Farish. "If you ran this at a commercial scale and you wanted to harvest 10% every week, for example, you would have to plant 10% every week to keep up. For a business class, this is going to be a great lesson: if the supply chain isn't working properly, you can't sell. And if you can't sell, there's no money coming in. They have economics and business puzzles that they are solving on a daily or weekly basis."
Like the Grade 1s, the Grade 10 students say they enjoy this type of experiential learning.
"It's different than anything I've ever done before," says student Maya McConechy. "I feel like we've been learning a lot, but we are also all just excited to be able to grow the vegetables and then have people buy it."
The money raised by the Business Education and Entrepreneurship 10 class is being funneled back into the school through donations to the Annual Fund's financial aid program.
As sustainability coordinator, Craig says having a tool like the indoor garden is a great first step in ensuring sustainable practices are integrated more into all areas of the school.
"For the school to be sustainable, sustainability needs to exist everywhere. The Grade 1s are involved in this, the business students are interested in it, we've had the garden at the Middle School; it's a fun and interesting educational piece for everyone," he says. "I love that this tool connects people; maybe it's tied to the longstanding idea of humans connecting over a meal. Now students can grow their own food for a meal, and connect over a really unique way of learning."