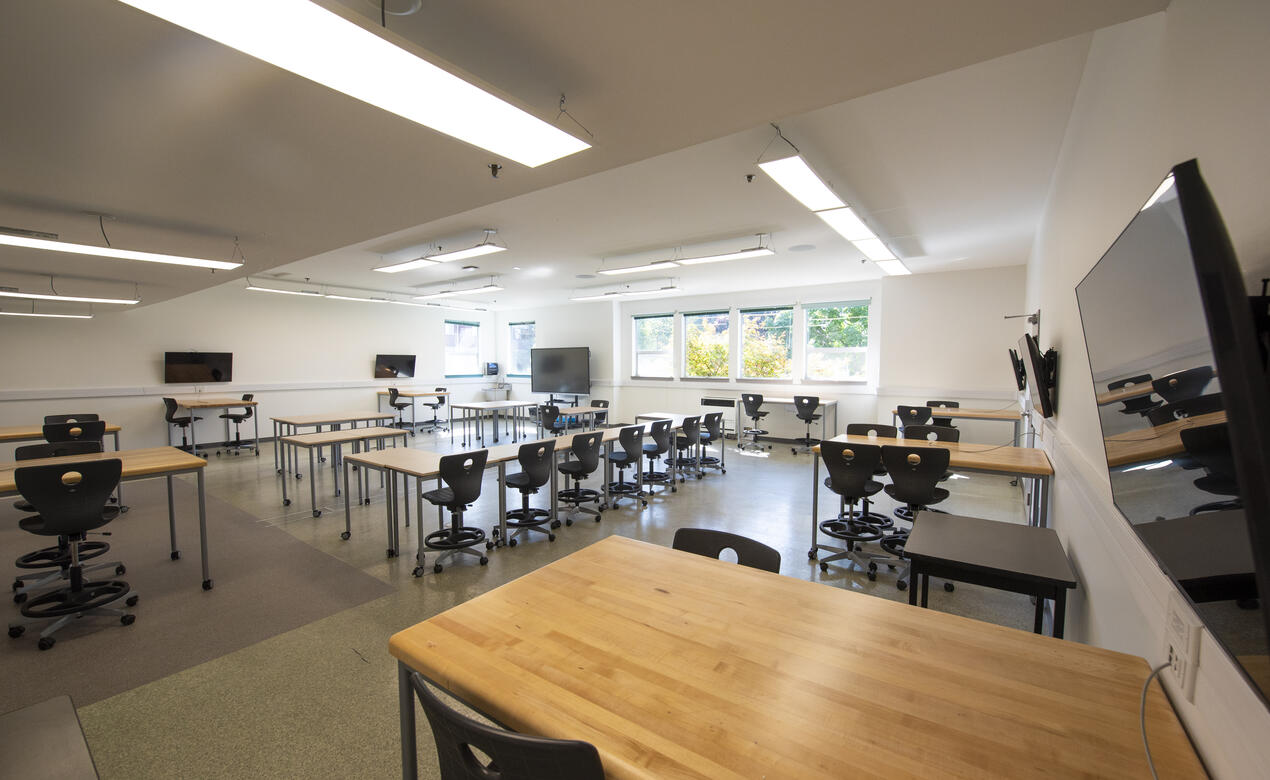 As we welcome students and faculty back to campus to start the new school year, community members will notice some changes and improvements made to many campus spaces and facilities.
All of these projects were supported by donations to the Annual Appeal. Thank you to our community members for their commitment to ensuring our students continue to have the best possible learning environments.
"We are very fortunate to be able to continue to do what is best – and design what is best – for our students and learning today. We're able to get creative with our existing spaces and we are able to take these steps to really maximize our learning environments for our students and our teachers," says Denise Lamarche, Director of Academics.
Junior School campus
Our two Kindergarten classrooms were refurnished this summer with beautiful new additions. We are confident that the Class of 2034 will find the new environment to be nurturing and stimulating, and it will inspire curiosity among our Kindergarten students.
Another change of note at the Junior School campus is the portables were moved further back on the field.
Richmond Road campus
Arriving via McRae Avenue, families will immediately notice the fence along the entire south end of campus was replaced. Gone is the chain-link fence, replaced with a new fence and gates that improve security and beautifies the approach to campus.
Major upgrades were made in our Science Block during the summer months, including the expansion and renovation of one of our physics classrooms (see the photo atop this post). This lab is a pilot project for a technology upgrade that creates a more student-centred active learning environment. State-of-the-art technology and ergonomic furniture (made from repurposed materials) were added to the expanded classroom, allowing students to collaborate and share their work more easily.
A new mini-lab was also created in the Science Block, alongside a new office for teachers. The classroom space in the lower level of the building was modernized with the addition of windows, and new LED lighting and upgraded technology for classroom use.  
The Innovation Lab was expanded to better meet the needs of Middle and Senior School students interested in robotics and electronics. A new flexible classroom space was also created alongside these upgrades.
The area formerly housing the Tuck Shop is also being transformed into a presentation suite for campaigns and advancement events. The space, which is still in development, includes beautiful archival displays that feature important pieces and moments from our school history.
The double gym in the Monkman Athletic Complex will look brighter and sound better, thanks to upgrades to both the lighting and sound systems.
And boarding students who visit the on-campus Health Centre will notice that space, too, underwent a modernization and makeover to better meet the clinical needs of the school. New technology and furniture, as well as updated equipment in the examination rooms will help our medical staff serve our boarding community.
We are so grateful for the work our facilities and grounds team have done over the summer to ensure that these upgrades are complete and that our school is ready for our students' return.