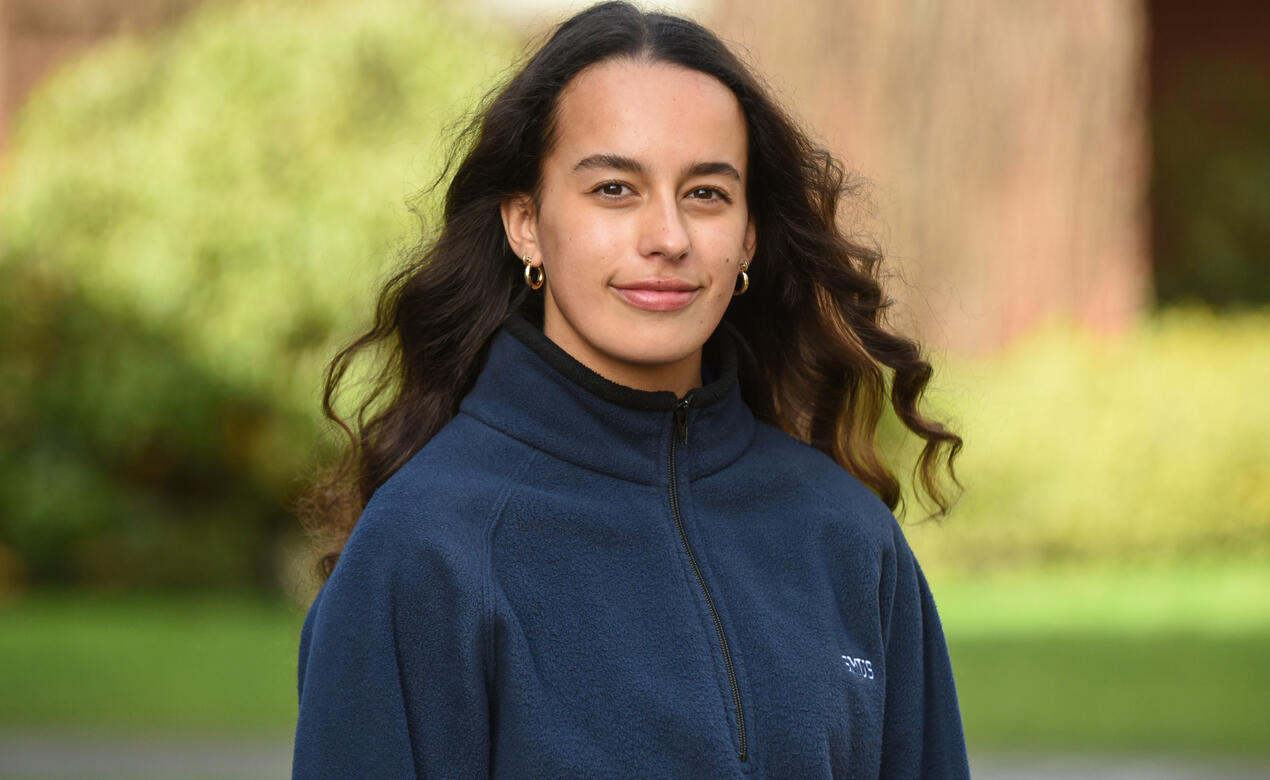 We are pleased to share that Grade 11 boarding student Naashkii Soler from Canmore, AB, is the recipient of our first Indigenous Peoples Within Canada Award.
Naashkii joined our school earlier this year as a winner of The Best School Year Ever contest, and immediately cemented herself as a proactive and deeply passionate member of our community.
"I live in Canmore, not on-reserve, and growing up I noticed that Indigenous students didn't always get the same opportunities as students living off-reserve or as predominantly white students; I noticed this huge disparity between the two," she says. "Since I'm Indigenous, but I've been born into this position of opportunity, I've always felt it's my place to help Indigenous students and Indigenous youth have more opportunities. That's been my life goal since I was little."
Naashkii is part of the Lynx Clan of the Ojibways of Onigaming in northwestern Ontario.
Since coming to SMUS in September, Naashkii has brought her perspectives and her passions into our classrooms and community in many ways. She says she has appreciated the opportunity to delve deeper into subject matter that she is interested in, such as a research project in AP Seminar on missing and murdered Indigenous women.
Last week, she spoke to the entire Senior School community in chapel on the same important topic.
Naashkii was selected as the recipient of our first Indigenous Peoples Within Canada Award because her strong sense of self and strong commitment to service have shone through since she arrived in our community.
"She is a leader at SMUS and a wonderful student who we are all learning from," says Head of School Mark Turner. "I'm a great believer in encouraging those with leadership potential to develop that to the fullest in the expectation that over the next several decades of one's working life, that leadership will come back to communities."
Establishing the Indigenous Peoples Within Canada Award is a step forward as we continue on an intentional journey to build authentic and respectful relationships with local Indigenous Peoples. This has entailed deepening our understanding of the history behind our relationship and what it means to be on a path of reconciliation today. 
This process for our school began in 2017 and has involved focusing on relationships, and working with First Nations elders who are respected within their communities. They have told us that helping to reduce the financial barriers that prevent Indigenous students from joining our community is an important way for our school to become a place that is more supportive, respectful and welcoming.
After graduation, Naashkii says she wants to become an Indigenous rights lawyer. "I want to help Indigenous people who are less fortunate or who have less opportunities in whatever way I can to further truth and reconciliation and to further help move Indigenous people away from the effects of colonialism and towards a better life for everyone."
She hopes staying at SMUS for her Grade 12 year will help her further take advantage of the opportunity to further her education and her understanding of issues that she is passionate about, and how she can solve them.
"I'm proud to be part of a school community that has put reconciliation at the forefront of its educational beliefs and values. I know there's more I can contribute in this area, and I'm so inspired to be part of this journey."