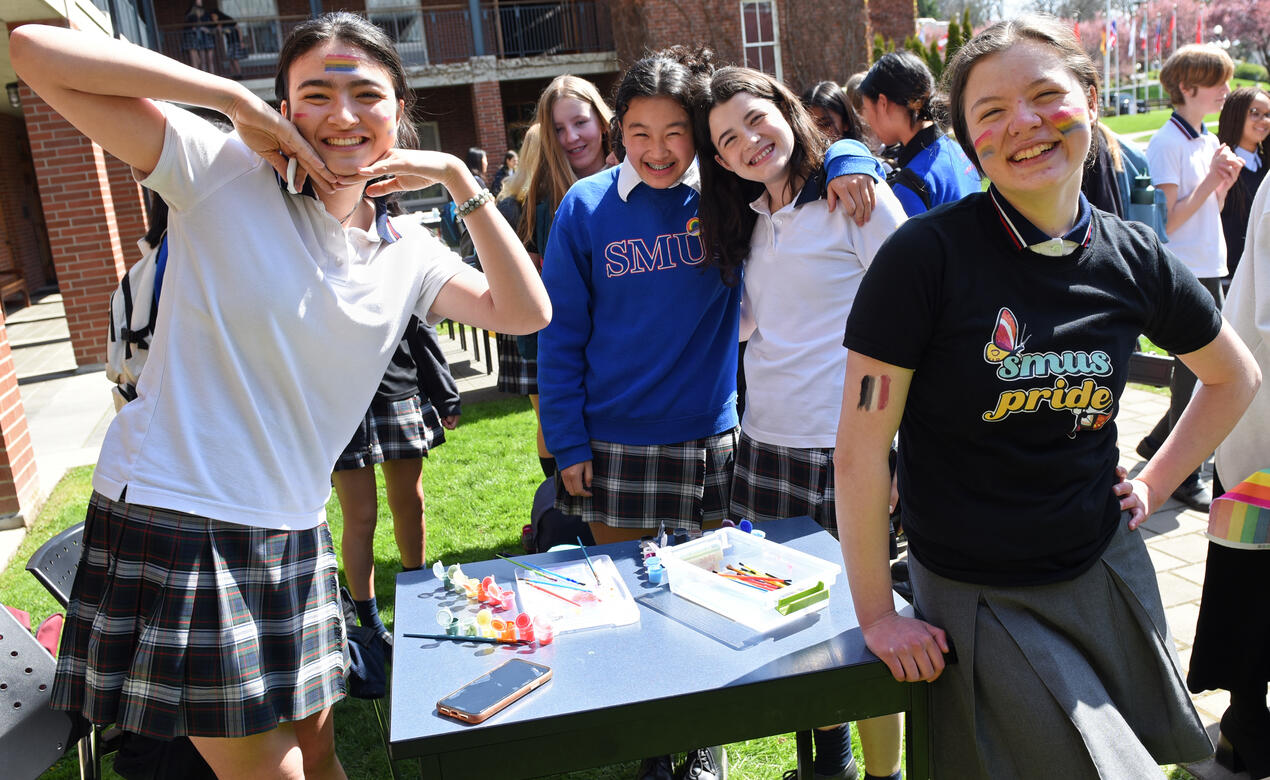 It gets better.
It's a simple but powerful message, and one that was everywhere in 2010.
That year, advice columnist Dan Savage and his partner Terry Miller posted a raw, heartfelt video to YouTube. In it, they encouraged their younger audience to persevere through high school, and to seek the support they need to overcome the fears, doubts and discrimination so commonly faced by queer youth. Speaking from experience, Savage and Miller promised that "it gets better."
"It gets better" was quickly echoed by celebrities and politicians. Our own Senior School Pride Alliance took up the message, too, producing their own video, and sharing a message of optimism and an encouragement to all to join in the effort to make our school a safe place for all.
Back then, Pride was relatively new at SMUS. Indeed, our Pride Alliance was barely three years old. For the first year or two, our Pride group was small. In those days, there were often more adults than students. And our goals were modest: to gather resources, to begin to denormalize homophobic speech, and to start important conversations about how to better support our 2SLGBTQI+ students.
Not surprisingly, we've come a long way in 15 years.
Today, the Pride Club organizes an annual Pride Day in the quad, hosts Pride-themed chapels and offers educational workshops for students and teachers. There's also a Middle School Pride Club, which also fosters understanding, activism and allyship.
In our current-day Pride Club at the Senior School, the teacher-sponsors (of which I am one) are vastly outnumbered by the students themselves, who host the weekly meetings, facilitate discussions and provide emotional support to their peers during our weekly "check-in" sessions. Sometimes their conversations are wonderfully mundane, as they commiserate over tests, homework, or their trials and tribulations on the soccer field or musical stage. Other times, they are serious, heartfelt and vulnerable, as students describe the challenges they are encountering, and offer advice to each other on how best to navigate the complexities of exploring their identities, while also contending with family, friends, teachers and total strangers.
Consider, for example, the experience of one of our students, who shared how meaningful it was for them to share their preferred name and pronouns for the first time:
"I remember the first time I told a teacher. Considering they were new to the school and had absolutely no idea who I was, I took it as the perfect opportunity to make that first step. Their class soon became my favourite, and while it helped that I enjoyed the subject, it was mostly from the immense joy I felt from being referred to by my preferences."
The experience, they explain, was transformative: "My view on self-preservation changed from me trying not to out myself … to understanding that the best option would be, in fact, to do so."
To me, these are acts of great courage on the part of our students, and reflect the strength of their desire to make their world a more accepting place, both for themselves and for others.
If our students can engage in such bravery on a regular basis, then it seems only reasonable that we, as their allies, should also take action, like including our own preferred pronouns in our email signatures. After all, as allies, it's not about us. Rather, the goal is to help our students normalize the possibility of difference: to create space for others to share their most authentic selves.
One thing's for sure: these days, Pride Club is never dull, and almost always full of laughter. And that's the whole point: creating a place where students can feel free to show their true selves – or indeed their uncertainties and concerns. And humour helps!
But there's also the wider, global environment to consider. While strides towards inclusivity are still occurring in some places, there is a growing backlash in other jurisdictions to the gains that have been made in recent years. It's part of why we have Pride Week each year: to continue normalizing the diversity inherent in our community, so that allyship and tolerance – not animosity or division – will define our future. 
The good news is that the progress that we have made as a school over the past 15 years is significant. It's also broad-based, and clearly the result of far more than just one club, its members, or a handful of teacher-sponsors. It rather reflects a much wider commitment to becoming a more diverse and inclusive place. Indeed, it's the product of a thousand small but collectively significant acts: conscious, daily choices by so many individuals in our community to act as allies, to insist upon progress, to enact positive change, and, perhaps most importantly of all, to help amplify the voices of our 2SLGBTQI+ students, and to take their ideas and concerns seriously.
And believe me, our students have a lot to say. They are bright, attentive and socially aware, and actively participated, for instance, in our recent Equity, Diversity and Inclusion consultation process. They are equally keen to meet and share their latest perspectives with the school's incoming EDI Coordinator in the months to come. And they appreciate that we have, as an institution, begun regularly seeking advice and professional development from experts in gender-inclusion.
It gets better, definitely. But we can still do better.
And that's why continued allyship is crucial: allyship that starts with positive intentions, a willingness to keep an open mind, and a recognition that you are not always going to get it right – especially not at first. The reality is that we are all going to make missteps, and, yes, at times even stumble. But if we keep heading in the right direction, we'll get better.
For a number of our students – particularly those who identify as trans or genderqueer – one major daily concern is being misgendered in conversation. Here's how one puts it: "Trust me, I know that it can be difficult to suddenly change how you refer to someone, especially if you've known them for a while. This is something that the genderqueer community understands, perhaps better than anyone else; but what we ask is for you to try.
"I don't mind if someone makes a mistake in referring to me because I can tell the difference between someone who actually puts in the effort and is genuinely sorry when they slip up, versus someone who really just doesn't care."
All of our students, regardless of their identity or orientation, will be more successful when they feel like they can be their most authentic selves. That means that we should be doing whatever we can to support our students as they explore their identities and forge the sort of healthy sense-of-self that will bring them success later in life.
"Allyship," this student concluded, "truly matters."
So let us all aim to be better allies and continue to support our 2SLGBTQI+ students as they forge a path towards an even better future.
That way, it will get better.