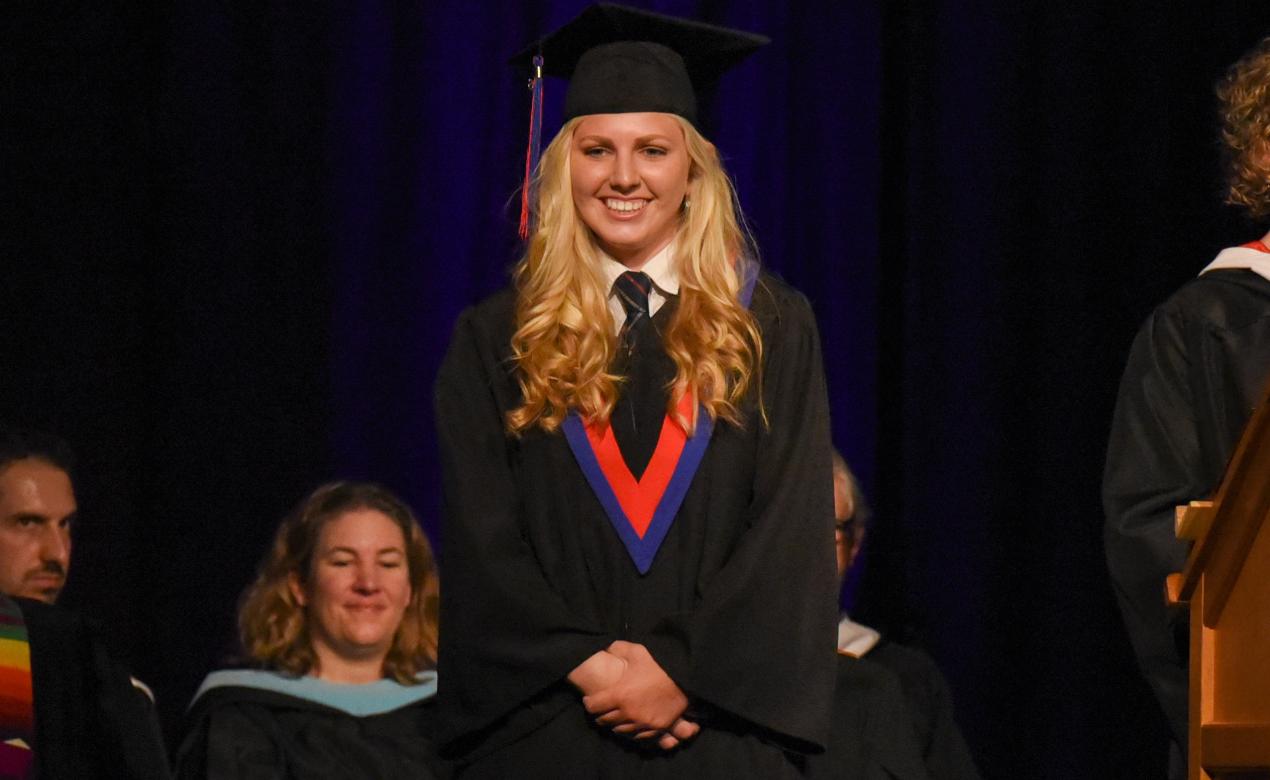 Financial aid plays a key part in our community. Supporting financial aid helps ensure that all deserving students have the opportunity to benefit from a SMUS education, regardless of financial circumstances.
In this series, we will share personal stories from alumni who were able to attend SMUS, in part thanks to generous donors who supported financial aid. It is their hope, and ours, that their experiences and gratitude will inspire others to support this important campaign and make the difference for deserving students today. 
Shelby Hoogland '15
"I grew up in a small, rural town in Alaska. Seeing the opportunities that SMUS gave to another local Alaskan, Laura Woods '14, I knew I could achieve the same success. I had, and still have, large goals in life from a young age, and attending SMUS gave me the confidence and the ability to achieve those goals.
Attending SMUS was absolutely contingent on receiving financial assistance. However, I knew my worth and SMUS saw my worth, too.
My favourite part of SMUS, besides the close-knit boarding community and fantastic academics, was the outdoor education program. It allowed me to pursue the rigorous academics that I thrived on, while also pursuing more nature-based learning approaches. I learned the typical math, history, science courses inside of the classroom, but the outdoor education program allowed me to learn so much more about life in a local community, life in a global community, and life through the fundamental roots of nature.
I can think of so many teachers and staff at SMUS who have made a lasting impact on my life. Andy Rodford is a fantastic educator who made me feel welcome in a safe space. The nurses at the Health Centre, Nurse Kaye and Nurse Beverley, are another two that I have kept in touch with and are genuinely interested in my life post-SMUS, which is so special. Michael Jackson has been a huge inspiration for me in my professional life. We actually saw each other while we were both on two separate road trips through Northern California at a beautiful ocean park with elephant seals in the distance. The connections that you make as a student with teachers and other educators at SMUS are long-lasting. Everyone who works at SMUS is so invested in every student's life, both personal and academic.
I am about to graduate with my Master of Science in Aquaculture from the University of Miami. I fully believe that I would not be in the position that I am today without SMUS. I went from a small-town kid with big dreams to graduating with a master's degree from one of the world's leading research institutions in my field. I don't think I could have achieved this without the confidence, experience, and knowledge that SMUS gave me."
Thank you, Shelby, for lending your voice in support of financial aid, and to our SMUS community for your generosity.
---
Financial Aid February
February is Financial Aid February at St. Michaels University School. This month we turn to the importance of accessibility to the school through financial aid.
Please join all the other SMUS community members, past and present, who have helped young people attend our school and enjoy a world-class education.
Please visit our website to make your donation now to financial aid at SMUS.