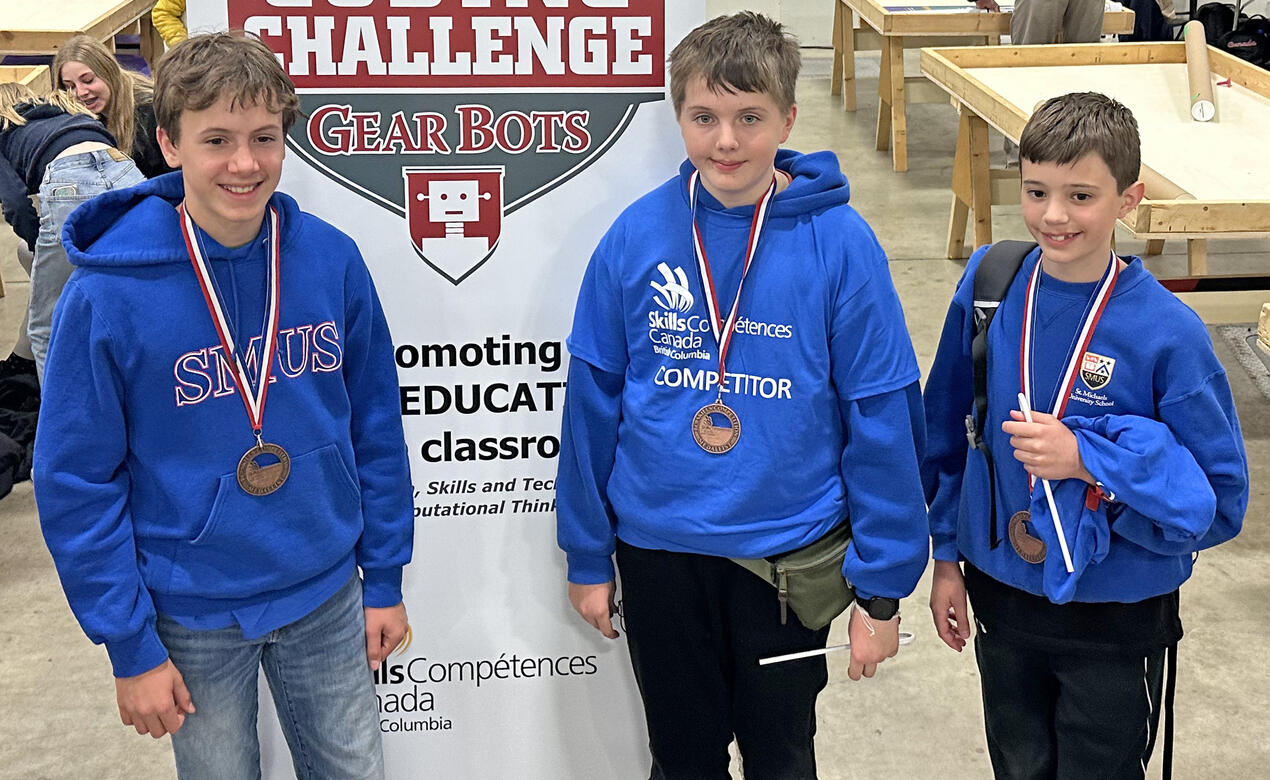 Earlier this year, after many hours of specialized learning and hard work with Mr. George Floyd, the Grade 7 Robotics team took part in the Skills BC competition at Camosun College and earned a spot at the provincial finals.
Fast forward to April, and Liam K., Mateo L. and Jonah W. travelled to the Tradex Centre in Abbotsford to represent SMUS at the finals. It was exciting to be there that day to watch as the most skilled students from all over BC were put through their paces in many areas, such as welding, 3D design, animation, IT solution development, circuit design, and robotics, to name just a few.
The team spent the whole day intensely building, coding, and testing their robot to complete as many of the space-themed challenges and score as many points as possible before the timer ran out. With only a short break for lunch, it was as much a mental-focus endurance test as a test of coding ability.
For much of the second half of the competition the team was in first place, but they suddenly ran into some bad luck. The battery died 30 minutes before the end of the competition, a critical time when a lot of points are scored and positions move around dramatically. In the end, there was only a difference of 10 points (out of 1,000!) between the top teams. Spectators were noticeably jittery and anxious about the results near the end.
Even with their setback, the SMUS team was able to apply some quick thinking and managed to get their robot back in the game with an external battery-pack hack, which impressed the event organizers and meant they held on to a place at the podium, finishing third overall in the province!
But even more impressive than that was the way the team members demonstrated their sportsmanship when another team (that won first place) continued to adjust things and run missions past the end of the competition. They could have been upset, but instead they enjoyed the moment and congratulated each other on their personal achievements that day, which were excellent.
We are honoured to have students like Liam, Mateo and Jonah representing our school on such a high-profile stage and making us proud!