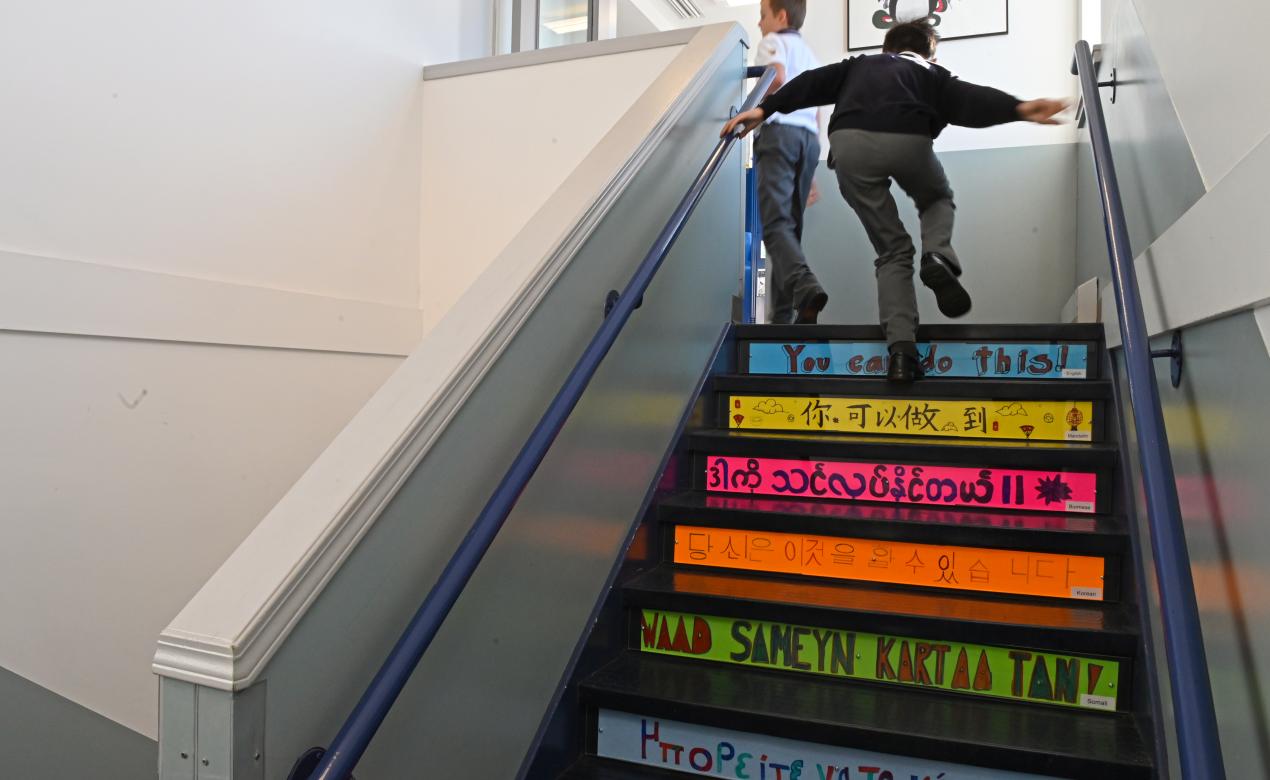 The Middle School Service Council has taken a giant step forward – 80 individual steps, in fact – in making our community more inclusive and a more positive place for everyone.
Earlier this week, student artwork was installed on the front face of every single stair in the school, 80 in all. Each piece is beautifully handmade, and features a positive and motivational saying that has been translated into one of 34 languages.
"The idea behind it was initially to give people a boost as they're going through their day. But because we're a multicultural school, and diversity and inclusion are really important to us, we came up with the idea of translating these sayings of positivity into the languages of our community," says Middle School teacher Shannon Williams, who is the teacher lead of the Service Council.
Students brainstormed and chose eight positive sayings they wanted to share with their community, including "You are loved", "The universe has your back", and "One step at a time." They also worked together to consider as many languages as possible that are represented in the school by their classmates and teachers.
Each set of 10 stairs at the Middle School now has the same phrase repeated in 10 different languages.
"The hope is that as kids climb the stairs, they will see a part of themselves and their family represented," Shannon says. "We're also already seeing that students are trying to find schoolmates who can speak other languages to learn how to say the phrases. It has been really neat to see."
This year, we have students from 28 different countries in our Kindergarten to Grade 12 community, and we have 43 nationalities represented on campus.
Authentic Voices
Shannon and the Service Council worked hard to ensure the translations were as accurate as possible. The group reached out to fellow SMUS students, teachers and outside resources to help with the translations.
Working with the school's Indigenous Liaison Administrator, Shannon connected with Indigenous speakers in Greater Victoria, Campbell River and Port Hardy to translate the phrases into Kwak'wala and Lək̓ʷəŋən.
"From the moment we started the project, the students wanted to have those languages on every staircase. They recognized why it's important to include Indigenous languages and cultures," Shannon says.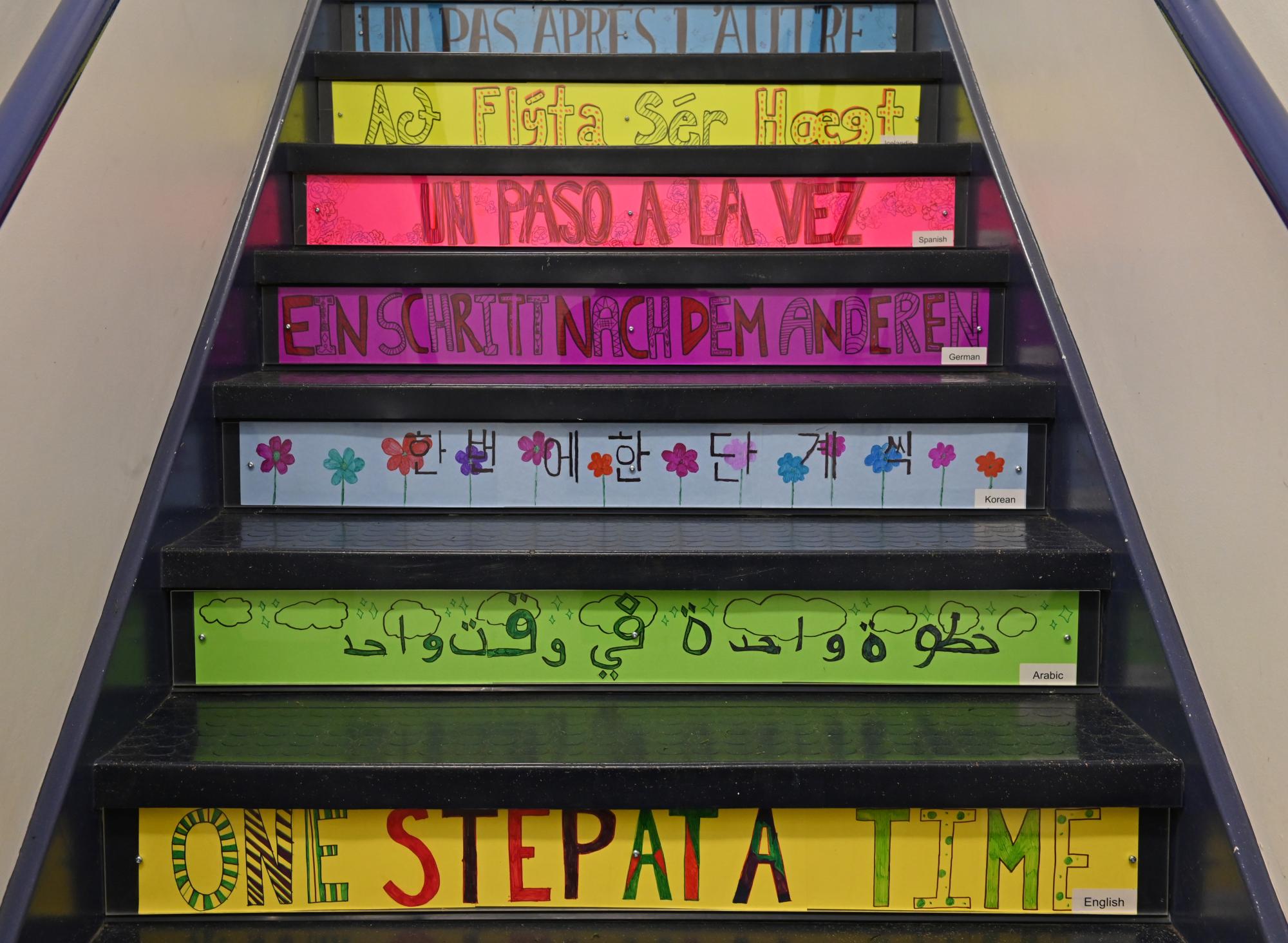 In the end, phrases in 34 languages now adorn the steps of the Middle School. Represented are Arabic, Burmese, Dari, Dutch, English, Farsi, Filipino, French, German, Greek, Hebrew, Hindi, Icelandic, Irish, Italian, Japanese, Korean, Kurdish, Kwak'wala, Lək̓ʷəŋən, Malay, Mandarin, Polish, Portuguese, Punjabi, Russian, Somali, Spanish, Swahili, Swedish, Thai, Turkish, Ukrainian and Vietnamese.
A Long-Term Impact
This project was spearheaded and led by last school year's Service Council. The group, many of whom are now in Grade 9 at the Senior School, did much of the legwork with translations and artwork through the spring leading up to the end of the school year. As of September, this year's Service Council has continued to take ownership of it to help see the translated artwork installed.
Knowing that this project will evolve as our school community grows and changes, Shannon says she's proud of the students who have helped make this project happen over two different school years. She's optimistic that Service Councils every year will continue to add new languages to ensure their schoolmates – and their teachers – are all represented.
"For a Middle School group to stick with something for six months and be that engaged the whole way through is a testament to their leadership and to their commitment to service. I think it's because they really took to heart the big idea of inclusivity behind it," she says. "It also shows their willingness to put themselves out there and do acts of service without getting something in return beyond seeing the joy on somebody's face as they're walking up the stairs. Our motto in Service Council is, 'Give your time; it's something valuable that you can't get back.' These students hold true to that motto, and I hope they all feel proud for the positive work they've done for our community." 
With the artwork now on display on each stair of the Middle School, Shannon and the Service Council hope that all community members read these positive messages in whichever language (or languages) they speak, and internalize them.
"I hope they make students and teachers truly feel like they belong here. These messages are supposed to let them know that in this school there is always somebody here for them," Shannon says. "I think the messages the Service Council created transcend adults and children; they are for everyone. It's a message of universal belonging and inclusion."