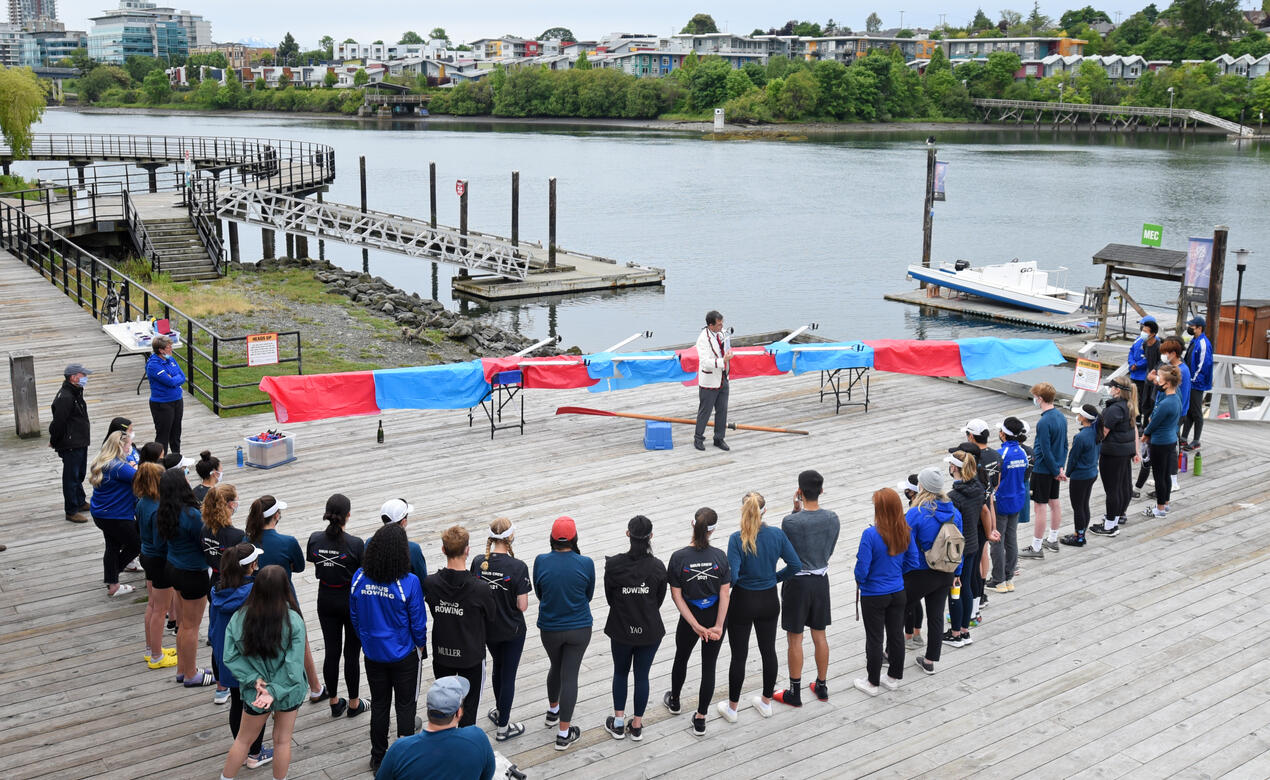 On a Sunday morning late last spring, Mr. Richard Curry stood on the dock of the SMUS Rowing Centre holding a piece of rowing history. It was apparent to the athletes circled around that this oar was nothing like the equipment they're used to using – it was a relic from the sport, and it was special.
The oar belonged to – and was earned by – Colin Skinner. To these high school students, the name may not have much context. But Colin Skinner is a legend in the history of St. Michaels University School.
Colin taught at SMUS from 1975 to 2001, as well as an earlier three-year stint at St. Michael's School (one of our founding schools) starting in 1963. He was a beloved English and drama teacher, and the teacher credited with bringing musical theatre into our community.
But prior to coming to Canada and joining SMUS, Colin was a high-level athlete and a scholar in England. While studying at Oxford, Colin was a rower, a rugby player and a cricketer, and he was quite skilled.
"This was a part of Colin that I didn't know about," Richard says about Colin's background as an athlete. "[Retired SMUS math teacher and Colin's wife] Margaret contacted us and said she had this oar in her garage and asked if we would like it. She didn't know much about it."
Margaret says Colin, who died in May 2003, was "a renaissance man," but didn't make that known to many students and faculty.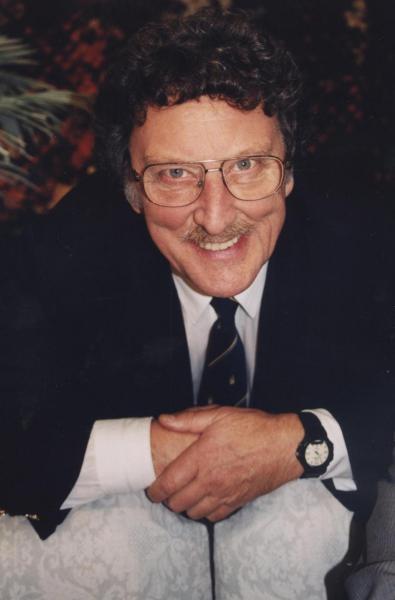 "He has a degree in English, he's an amazing actor and teacher, but he spent his time playing sports. Rugby, cricket and rowing were his loves," she says. "He had his pilot's license, he jumped out of planes, he could read music. I think it's great for students to see their teachers straddle the disciplines, but most people didn't know Colin was a sportsman."
Searching for History
Richard knew he wanted to put the oar on display for SMUS students, but he also wanted to learn about Colin's time as a rower for Exeter College, one of the University of Oxford's colleges. As an alumnus of Cambridge and a rower at that university, Richard was familiar with what it meant that Colin owned an oar.
"If you are particularly successful in the intercollegiate races between the colleges of Oxford or Cambridge, you are awarded the opportunity to get an oar… you have to pay for it," he says.
To uncover the history, Richard began with what he could find online. "I knew approximately when he had gone to university and I knew which college at Oxford he attended. Fortunately there are web archives of racing results from the mid-'50s and I'm looking for Exeter College crews that win four days in a row of these bumping races. There are four days of racing; if you win each day, you're allowed to get your oar."
(Richard explains how a bumping race works: "Once racing was established in Oxford and Cambridge lots of people wanted to do it, but the river is quite narrow so you can't race side by side. Instead, you'd row a pursuit race where you'd have boats line up 30 metres apart. All the boats start at the same time and you row like crazy trying to catch the boat in front of you before the boat behind you catches you. And you actually come up and try to tap them to say, 'We got you.' If you bump a boat, the next day you start in front of them and go after the next boat.")
The online search for information on Colin was unsuccessful, so Richard reached out to the archives at Exeter College.
"I knew from my experience that the college boat club would keep a written log of what happened during the races; a big leather-bound book that the secretary and captain are supposed to write in every day. And they had it!" Richard says. "The people at the archives photographed pages from this book and there he is! It gave us information on when he and his eight raced and how well they did."
Colin spent three years rowing for Exeter College. He started as a novice rower in the third eight and made it to the first boat in his second year. For his third year of racing, he'd gone back to the third boat.
Richard doesn't know for sure, but he suspects "there were a bunch of men who said, 'We did the hard work to be in the first boat, now we're here to have fun,' so they raced in a lower division with slower crews, and they were quite successful.
"The record they sent me didn't tell me which races he did well enough to get his oars in, but there's one set of races we found that I think they had done well enough that the captain said, 'You get the oars,'" Richard says. That was during the 1958 Eights bump races in late May 1958 in Oxford, and while it can't be 100% confirmed, Richard is quite confident that was when Colin got his oar.
Restoring the Oar
The oar itself is a vestige of rowing of the day. Unlike today's oars, which are made of carbon fibre, Colin's oar is made of solid wood and weighs nearly three times as much as the ones our athletes use. Even the shape of the blade is different.
At the same time Richard was tracing its history, Mr. Greg Gilks, SMUS's rowing equipment and boathouse manager, went to work restoring the oar to its 1950s condition.
"It had been in storage for some time so the paint was duller, the finish on the shaft itself had some ding marks and was certainly not as shiny, and the copper and brass pieces were rather tarnished. It was just a matter of bringing back some of the original finish to it," Greg says.
Using fine sandpaper and steel wool, he carefully rubbed the wood down to get it smooth without damaging areas that had inscriptions. He and Richard matched the paint colour as best as they could to repaint the blade and the copper and brass were shined. 
"It was really exciting because I learned to row on an oar like this. There isn't any wood left in the sport; it's all carbon fibre and fibreglass. To actually have a piece of wood to work on was reminiscent of days long gone by," Greg says.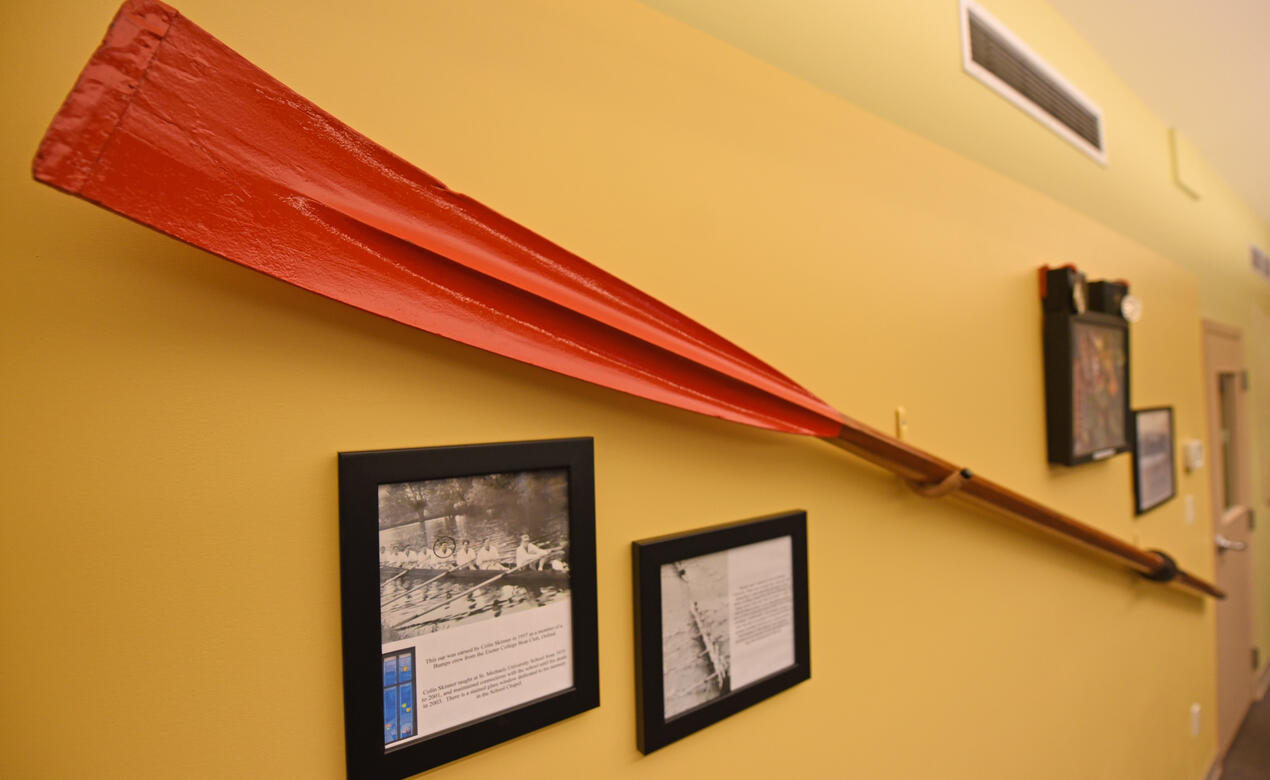 History on Display
Colin's oar was hung earlier this year, during our Jubilee year, on a wall at our Derby facility where rowers do dryland training. It's displayed, with its history, alongside other pieces of SMUS rowing memorabilia.
"I'm just ecstatic that it found a home at SMUS and that it can help have this side of Colin recognized that nobody knew about," Margaret says.
Richard says that even though our rowers didn't know Colin, having his oar and his story visible for the young athletes is a testament to how significant of a person Colin was in our community, and to the type of person he was.
"I hope the layer our students get out of it is that you can do all sorts of things in life. Colin worked as a teacher, but he was so many other things with theatre, and the arts, and being an athlete. So why not do everything you can do? There are lots of opportunities, try them all. Variety is good for the soul."
Colin's legacy at SMUS lives on in many ways: the annual school musicals, the Colin Skinner Trophy (awarded every year to students who are passionate about musical theatre), a stained glass window in the Chapel designed for him, and now his Oxford oar.
Together, these legacies are more than just a glimpse into the impact Colin had on our community during his time here, it continues to serve as inspiration for current and future student athletes and performers to be passionate and well-rounded people.