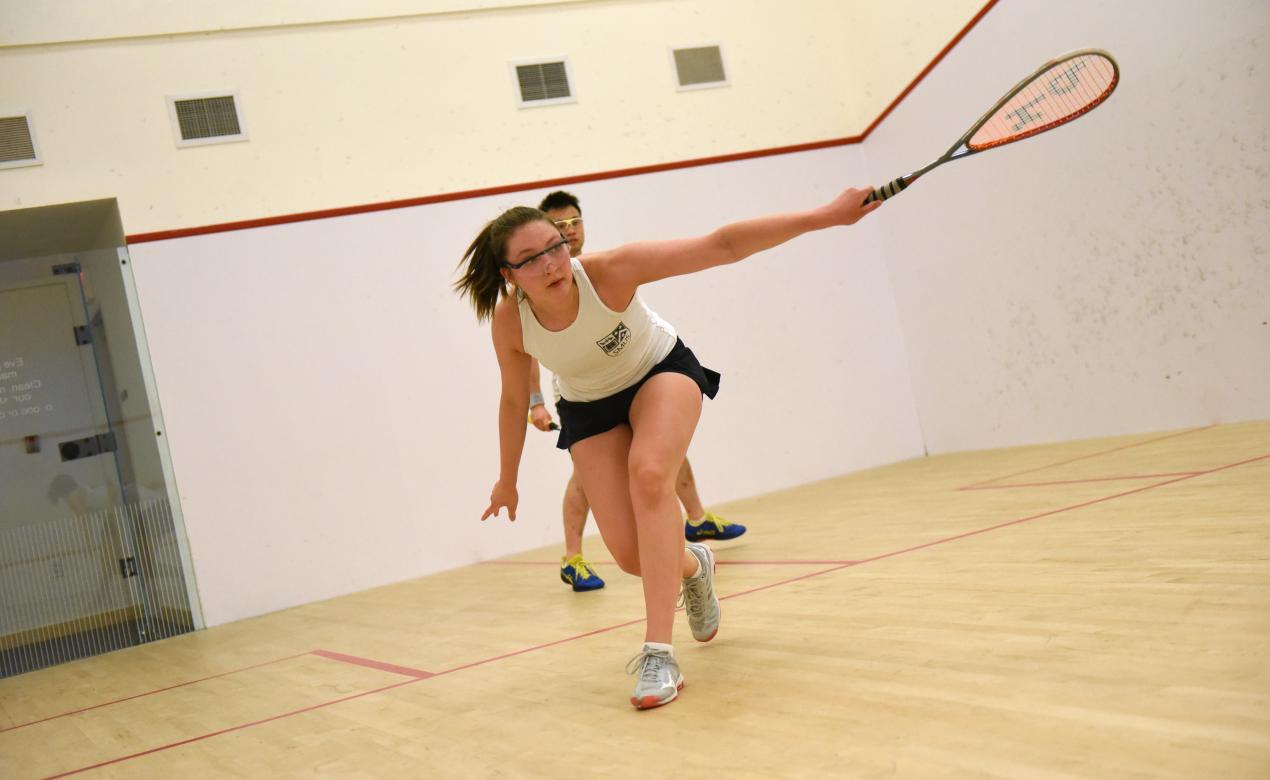 As the school year begins for our students, there is another group of students starting out on brand new paths: the Class of 2022. The 158-member grad class has dispersed to schools in Canada, the United States, Mexico and the United Kingdom to begin their post-secondary studies.
A select handful of these students are also beginning the next chapter of their lives as high-level athletes.
We are proud to highlight nine athletes who are competing at the post-secondary level or who are on their way to playing at even higher levels!
If you missed it, be sure to check out our 2021-22 Athletics Year in Review document that highlights the amazing school year in sports.
Alex Brown
Sport: Squash
University: Amherst College
Alex Brown was still a Junior School student when she joined the Senior School Squash team.
She had grown up playing squash casually with her dad, and by the time she reached Grade 4 she was interested in pursuing the sport more competitively.
"That was big for me. I was training with people who were in Grade 9 to 12 so it was great competition. SMUS is a great community, and everyone was so nice about having me there," she says. "They were all amazing role models; they probably don't even remember or know the impact they had, but just being able to look up to these older students made me feel so good."
Through Middle School and Senior School, Alex continued to grow as an athlete. She competed in local, provincial and national tournaments, and even represented Canada on the international stage.
She says it was as early as Grade 5 that she started to think about pursuing squash at university. That remained a goal for her, and she got to work in her Grade 11 year researching and reaching out to schools.
"I had been looking at UK schools very seriously, and by the end of Grade 11 I was set on applying for the UK. But then, unrelated to squash, my path shifted, and I wanted to go to a US school based on the courses I want to take and the employment path I'm aiming for," she says. 
SMUS squash coach Vicky Lust encouraged Alex to look into Amherst College in Massachusetts based on the great reputation of head coach Busani Xaba. Alex travelled to San Diego to meet Busani and attend a squash camp, where she impressed the coach.
"I knew my squash was good, he told me my squash was good. But he said, 'Your grades are good, but for Amherst they need to be higher.' So I focused on my grades a lot in Grade 12 because I knew I had to have a really, really high GPA and I was able to get there," she says proudly.
This summer, after graduating, Alex represented Canada at the WSF World Junior Squash Championships in France, winning three of her six games.
"I feel so lucky we have this program at SMUS and that kids can come in and have access to free squash courts. I'm so grateful for [coaches] Vicky and Grace [Thomas] who have made this program amazing. I'm really excited to see the amazing kids who are going to be coming through the program" Alex says. "I love SMUS, I'm very sad to leave, but I'm also excited to start this new chapter."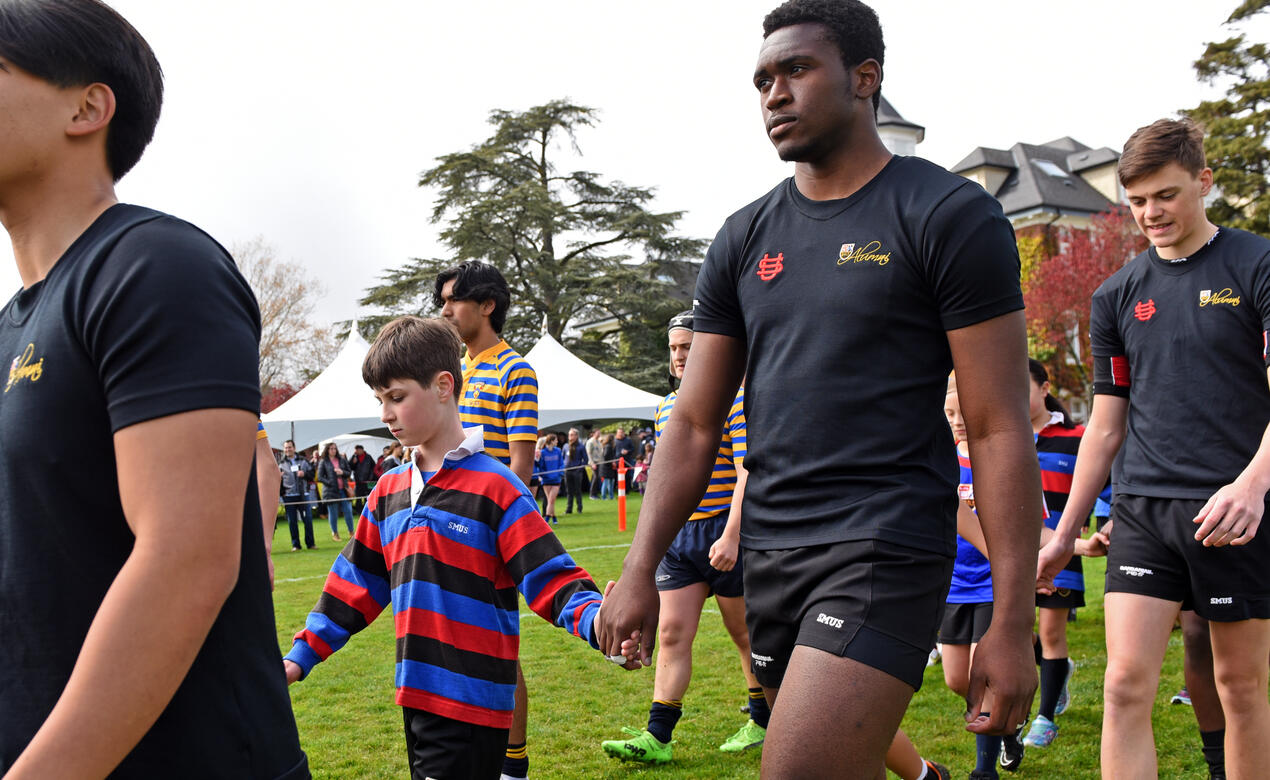 Dave Duru 
Sport: Rugby
University: University of Cambridge
The University of Cambridge is known for being one of the most prestigious universities in the world. And if Dave Duru has his way, he'll also help ensure it's known for its skilled rugby team, too.
"Cambridge has a really good varsity team. Because Cambridge is made up of 31 different colleges, each college also has its own rugby team. And then from there the best players from each college get to represent the university as a whole on the varsity level," says Dave, who is enrolled in the six-year direct-entry medicine program. "I can play rugby all six years, but I hope to get to the varsity level as quickly as I can."
Dave first picked up a rugby ball in Grade 7, the year before he came to SMUS. But it wasn't until he arrived at the Middle School and was coached by Bruce Kuklinski that he fell in love with the sport.
"He really inspired my love for rugby. I learned to love the structure of the sport because he was a very detail-orientated coach. He really focused on making sure we knew different positions and the tactical aspects behind the sport; he really taught us the game and I feel like he prepared me quite well to play."
Dave also credits his older brother, Elvis Duru '19, for being someone he idolized and whose footsteps he wanted to follow. 
As a Junior Boy in Grade 9, Dave enjoyed seeing the success of the SMUS team, making it all the way to the provincial finals and winning silver. He also became one of the top Junior Boys in the province.
Even though COVID put an end to the 2019-20 and 2020-21 seasons, Dave stayed focused on rugby as much as he could. He played club rugby in Victoria, and was selected for a number of BC Rugby and Rugby Canada teams.
It wasn't until Grade 12 that Dave says he started to think about playing rugby at university. While navigating the intensive application process for British universities, Dave was also reaching out to coaches at UK schools. His acceptance to Cambridge also came with an invitation to play rugby.
"I'm really looking forward to playing in the Oxford versus Cambridge game. It's a huge rivalry and so many people come out," he says. "But what I love about rugby is it's really all about the team and getting to meet more people. On the field you're out there and you're physically hitting each other, but off the field everyone's so nice, so I'm looking forward to continuing to meet more people through the game."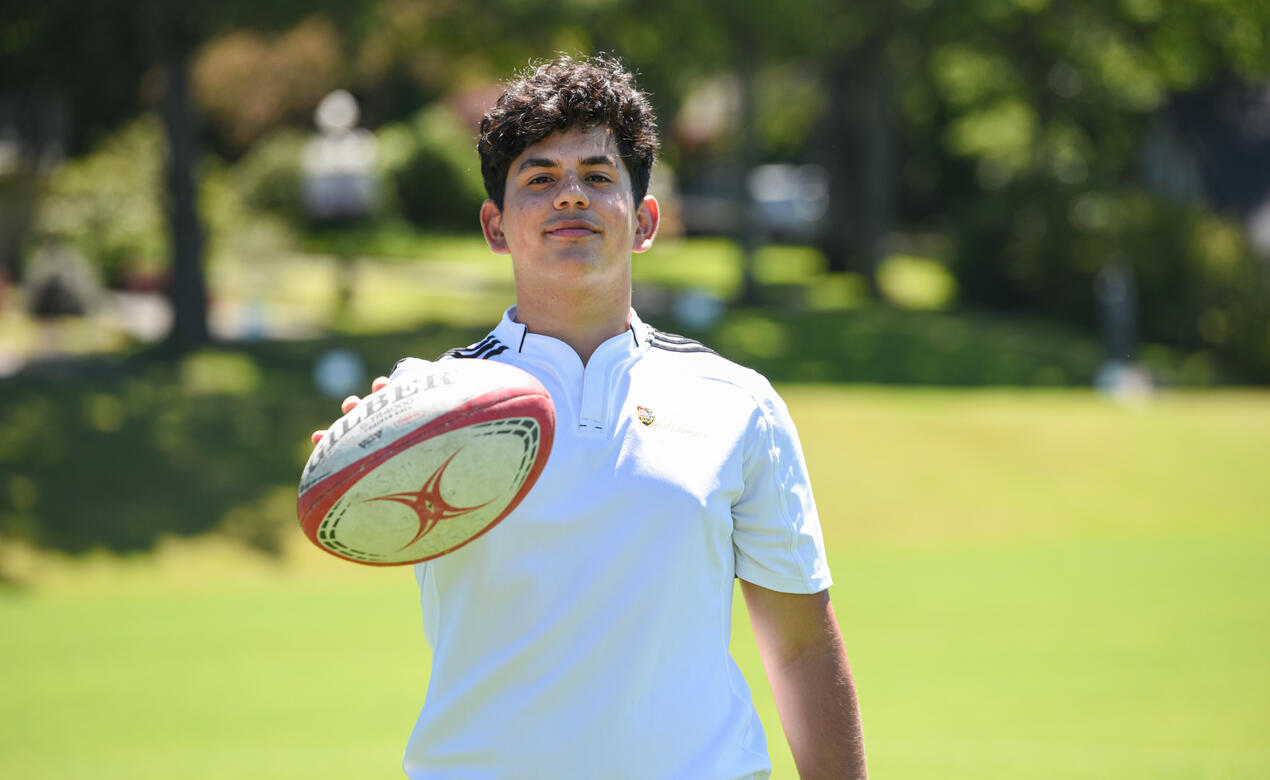 David Escalante Nava
Sport: Rugby
University: University of Victoria
When David Escalante Nava was looking for a new high school, finding somewhere where he could develop as a rugby player was top of mind.
"I thought to myself, 'I think I can go far with rugby. I need to go somewhere where I can develop my skills and my knowledge of rugby at a high level.' I ended up choosing SMUS because it was just so great for rugby."
David came to SMUS in Grade 11. He had excelled at his previous school, jumping right on to the senior team as a Grade 9 student, and having coaches encouraging him to try out for Island and provincial teams. 
Unfortunately, competitive rugby during his Grade 11 year (2020-21) was decimated by COVID, as no inter-school games were played. But looking back, David recognizes the silver lining of that experience.
"We were in cohorts just kind of playing for fun. That really helped me develop my skill set; being able to pass very precisely and being able to move the ball in ways I couldn't before."
And then competitive rugby during his Grade 12 year came to an early end when broke his fibula and tore ligaments in his ankle in a preseason game.
"It was pretty hard at first. When I walked into the hospital, they said, 'We think the next time you're going to be able to walk is September.' I was pretty shocked," he says. "The injury messed everything up. I've had to learn how to be patient, how to take time and not push myself too hard."
The light at the end of the tunnel for an injured David was he already knew he'd get another chance to play rugby after Grade 12. He had already put in the legwork by contacting universities and had been recruited by a number of them to play rugby.
This year, David is playing for the University of Victoria Vikes, and is looking forward to finally – after two years of COVID delays and a year of injury – having a chance to play a full competitive season.
"Not being on the field in Grade 12 was pretty educational for me. I was able to see some of the mistakes that were made on the field and make note of it to translate that into my game. I was also able to build upon my knowledge and my rugby IQ looking in as kind of a coach. I think that will benefit me at UVic."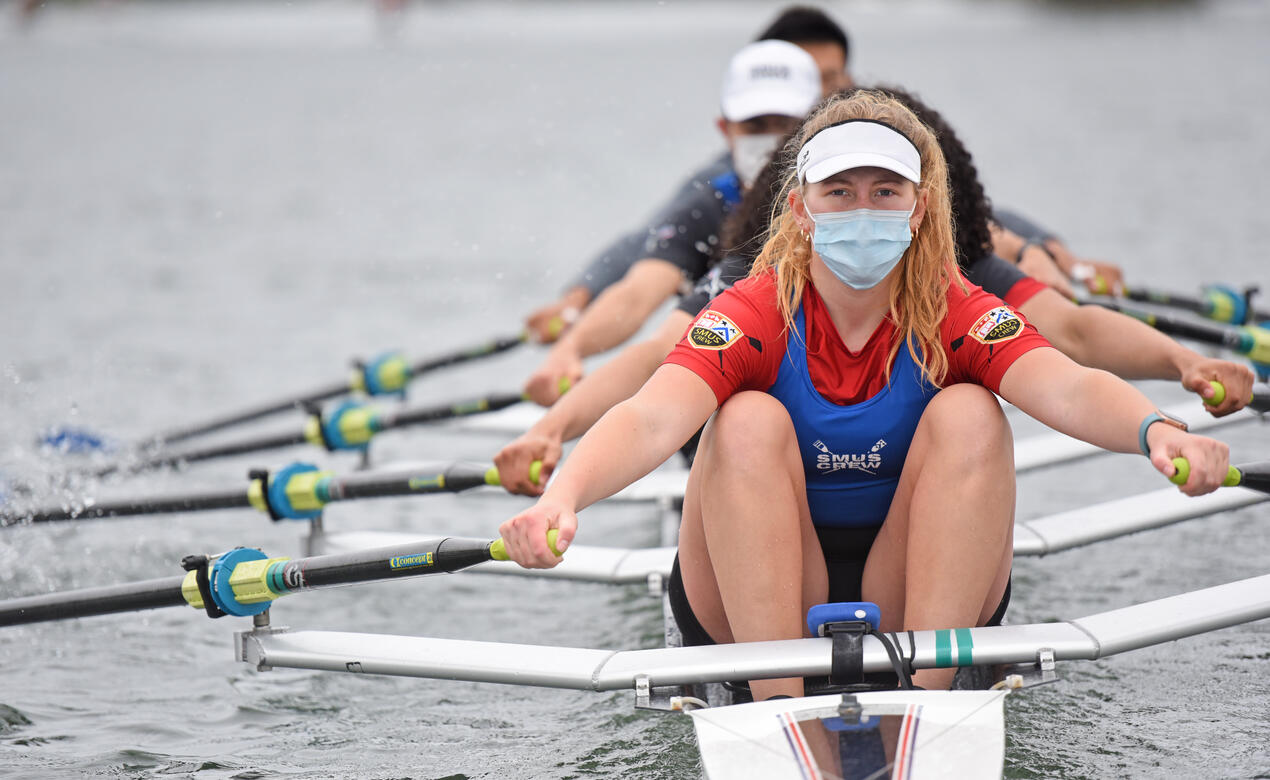 Lily Langtry
Sport: Rowing
University: University of Victoria
For a student athlete to get recruited to compete in their sport of choice at university is an incredible accomplishment. For a multi-sport student athlete to get recruited to compete in their two sports of choice is practically unheard of.
But that was athlete Lily Langtry's reality this past Spring, as she considered which path she wanted to take at post-secondary.
At SMUS, Lily was a skilled rower. Outside of school, Lily was an avid and talented swimmer.
"I grew up sailing and I played water polo throughout Grade 8 and 9, as well, so I am very drawn to water sports," Lily says. "On my first day at SMUS [in Grade 10] I remember hearing all of the tryouts coming up and rowing was happening after school, so I thought, 'Why not just go for it?'"
Through Grades 10, 11 and 12, Lily balanced training as a multi-sport athlete with rowing and swimming practices on a regular basis. But with the pandemic starting in the winter of her Grade 10 year and no regattas in Grade 11, that meant she didn't have a competitive rowing season until the final term of Grade 12. Swim meets were also cancelled.
Despite that fact, Lily caught the attention of coaches at schools in Canada and the United States.
"It was really cool to see that [rowing coaches] were interested in me just based off erg scores and technique. One thing that coaches have always said to me is how coachable of an athlete I am, too, which I feel allows me to progress quickly in a sport," she says.
While there are elements of both rowing and swimming that she loves, she ultimately chose to pursue rowing at the University of Victoria because there remains a lot of unknowns for her in that sport.
"Because of COVID and how I never really got to see my full potential in rowing, I decided that I owe it to myself to see where I can go," she says.
If the end of her Grade 12 year is any indication, Lily's future in rowing is bright. She earned her way to the national Canadian Secondary Schools Rowing Association regatta in Ontario, where she won a gold medal in the Mixed 4x race.
"The rowing program at SMUS is so much more than just learning how to row. Every day, Ms. Walker Curry is teaching us new life lessons about communication, about work ethic. I've really grown as a person in the rowing program at SMUS, and I feel like it's prepared me for university."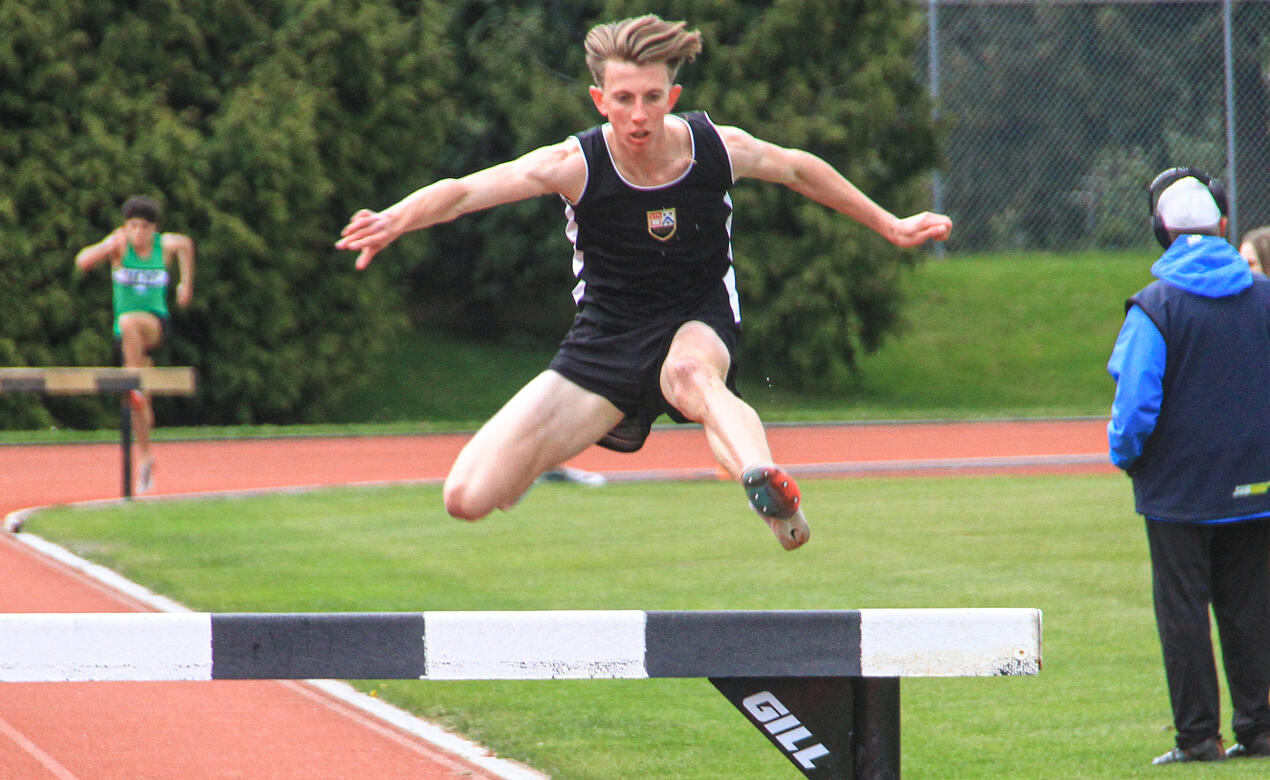 Tion McLeish
Sport: Cross-Country, and Track and Field
University: University of Victoria
It should come as no surprise to anyone who knows Tion McLeish that he wanted to continue his cross-country and track and field career at university.
Tion had an exceptional run – yes, pun intended – as an athlete at SMUS.
He broke Junior Boys records at local and Island track meets as a Grade 9 student, and in his Grade 10 year he was the fastest Junior athlete in the province, winning the BC High School Cross Country Championships. The pandemic stopped the track and field season before it got off the ground, but the prospects of another great season were promising.
When athletic competitions returned in Grade 12, it was clear that Tion hadn't missed a beat. He earned a silver medal in the Senior Boys category at Cross Country provincials and then a few months later outdid himself in the track and field season, as he earned one gold (Steeplechase) and one silver medal (3,000 m) at provincials. He was also named the Senior Boys Most Outstanding Performer at the Vancouver Island track meet.
At the SMUS Athletic Awards Ceremony in June, he earned two major awards (the Judy Tobacco Cup for track and field, and the Athletic Director's Merit Award), one team award (Boys Track and Field), and was named runner-up for Outstanding Male Athlete.
Tion is now running for the University of Victoria Vikes on their cross-country and track and field teams.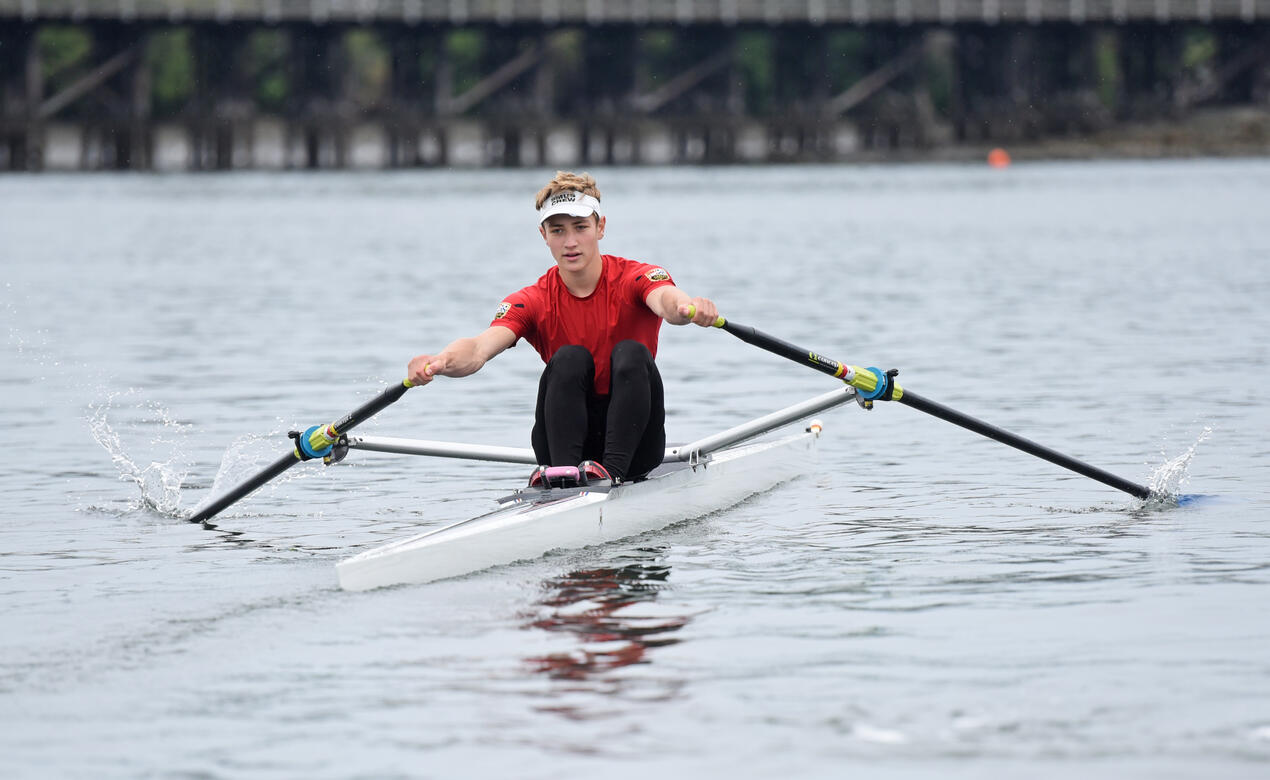 Markus Muller
Sport: Rowing
University: Queen's University
Markus Muller always had it in the back of his mind that rowing could be the sport for him.
"My cousin is a cox in South Africa, and he used to cox at a reasonably high level, so I've kind of always taken inspiration from that," says Markus.
As a SMUS Lifer, Markus had dabbled in other sports – track and field, rugby, squash – at the Junior and Middle Schools, but was anxiously waiting to try his hand at the SMUS Rowing team.
"Those sports were always something I'd do in my spare time and I didn't have the drive to improve and be the best at the sport," he says. "But that's something that I immediately got with rowing."
There were only a handful of Grade 9 rowers to join that year, but Markus says one of the aspects of rowing at SMUS that he enjoyed most is that the junior athletes get to work alongside the seniors.
"It was pretty cool how I was made to feel part of the family and how welcome I felt in the group," Markus says. As he built relationships with his teammates, he also built up his prowess as a rower.
"I really discovered my competitive side. I had a few boats that I was rowing but we didn't make it to nationals that year. That was something that helped drive me through the rest of high school," he says.
Like all sports, rowing stopped during the pandemic in Markus's Grade 10 year, and then competitions were cancelled in Grade 11. As sports returned to normal in Grade 12, Markus was optimistic and excited to be able to reset his focus on nationals and beyond.
He was placed in two boats with other senior athletes that jelled well together and saw success at regattas.
"We were immediately competitive and that was a really big motivator for the rest of the year. It would be amazing seeing if our hard work has actually paid off and we can actually go forward to nationals."
Both boats qualified for the Canadian Secondary Schools Rowing Association regatta in Ontario, where Markus and the Mixed 4x team won a gold medal.
Now Markus is back in Ontario, rowing for Queen's University in Kingston.
"Rowing has made me better in academics – as soon as I joined rowing my grades improved massively, it made me a more athletic person, and it showed me my competitive side, which is something very important to me," he says. "It's also shown me how much I need other people to help push me, and how much I value a close-knit group of people that I can learn from and rely on."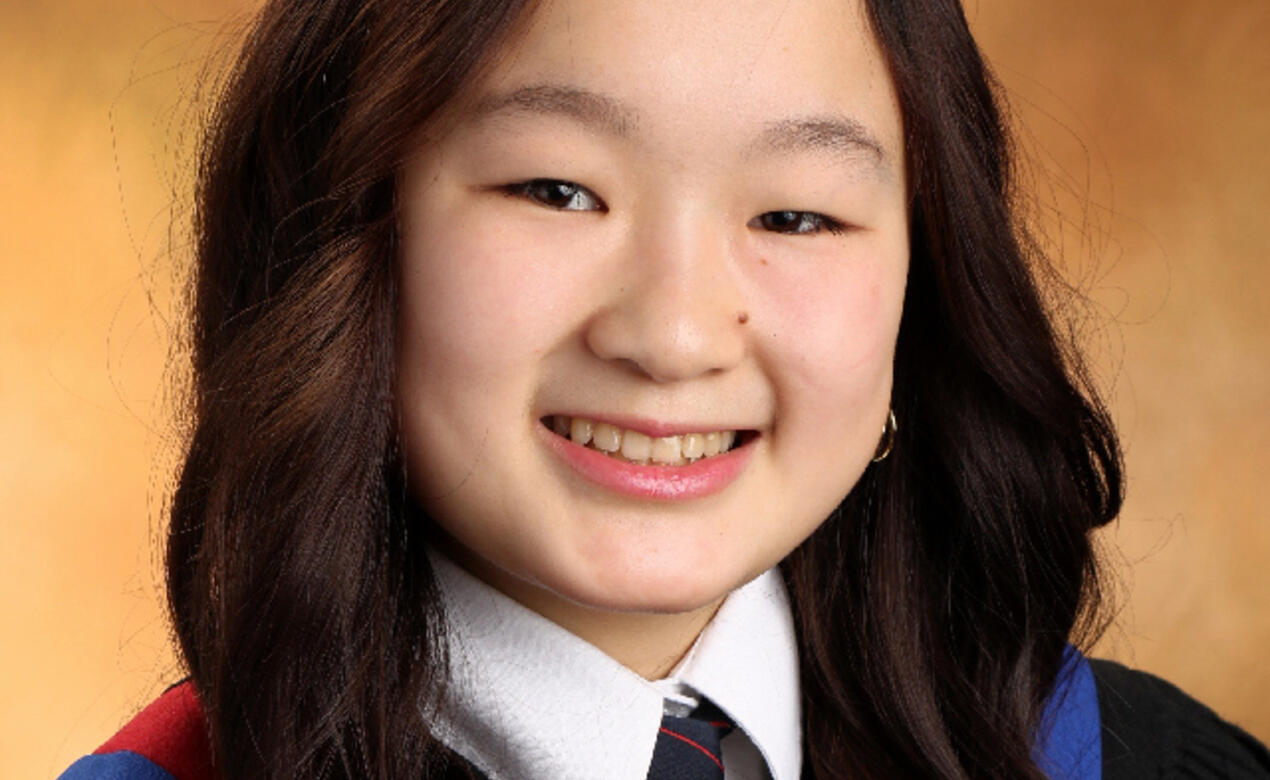 Sofia Quon
Sport: Squash
University: McMaster University
Sofia Quon says one of the reasons she loves playing squash is that it's a sport that requires on-the-fly thinking and athleticism, which makes it both fun and accessible.
"It keeps the game interesting and fast-paced. Also, because it relies so heavily on using your brain, you meet some pretty interesting and diverse people. I have gotten to play people from ages 8 to 80," she says.
She joined the SMUS squash program in Grade 6 when Middle School competitive squash was added as a sport. She had played tennis when she was younger and didn't really enjoy it, but she had tried squash as part of the Junior School athletic program and figured it would be worth trying out for the team with the benefit of possibly having some transferable skills from tennis.
Sofia succeeded and thrived as a squash player, competing at provincial and national-level competitions through her time at SMUS.
"My proudest moment until this day is probably winning my first tournament, though that is perhaps now tied with provincials in Grade 12," where she got to compete against fellow Class of 2022 athlete Alex Brown.
"The funny thing is I'm not even proud because of my results, I am just proud that I stuck it out this far. Competitive sports take a lot of time and work, and so by the time you reach the U19 categories, there are so few girls left playing. So for me and Alex to still be there at the end of six years was really a special moment for me."
To that end, there aren't a lot of Canadian post-secondary schools that offer competitive women's squash programs. However, Sofia will be playing at the university level for the McMaster University Marauders.
Sofia says having great teammates and coaches for her run at SMUS made it a really positive experience. She specifically credits the all-female coaching staff of Vicky Lust and Grace Thomas '15 for being positive role models in the sport.
"Having Vicky and Grace as the coaches these past few years has been really amazing as they both keep things fun and entertaining, but also challenging.
"Squash really has been such an important part of my life. Squash at SMUS kind of gave me a purpose. It gave me goals I could work towards and really helped me stay motivated throughout the years that I played."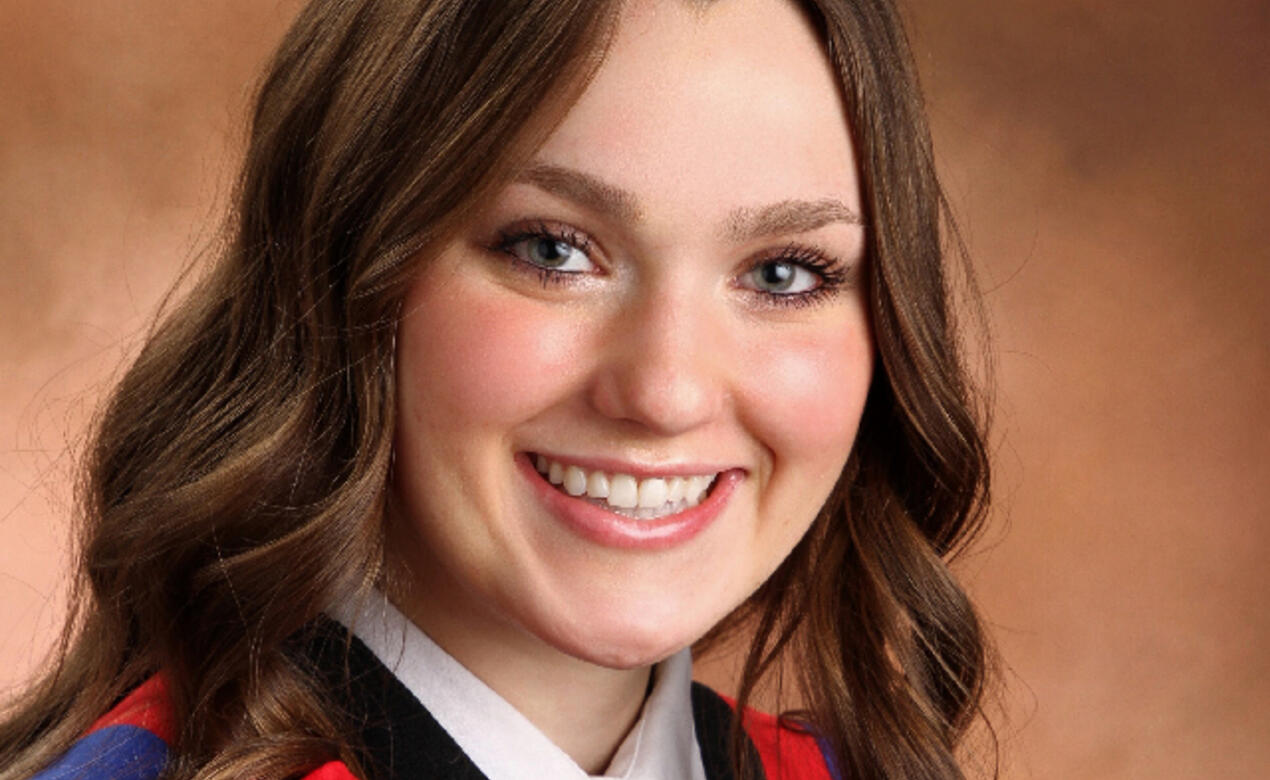 Vienna Wakefield
Sport: Swimming
School: Western University
In between classes during her Grade 12 year, Vienna Wakefield could often be found in the water at Saanich Commonwealth Place.
Though she has been a club swimmer since she was about five years old, intensive competitive swim training was a relatively new experience for her last year.
"Right when COVID happened I switched clubs so I could look at going to bigger meets like nationals or westerns," Vienna says. "Then the pandemic hit and there was no swimming at all. Eventually we started open water swimming in lakes and then we started getting a bit of pool time. So for a lot of COVID, we were only swimming five times a week, which isn't a lot compared to the nine, 10 times a week we did in Grade 12." (That's not including weight-training and yoga sessions on top of pool time!)
With swim training taking up a lot of her spare time in her grad year, Vienna says she had to learn to balance her schedule well.
"It was really hard, especially with my AP classes. But I used my spare wisely at school because there was basically no time after school to study," she says.
During her Grade 11 year, she started reaching out to coaches to be considered for university-level swim teams.
"Normally they would come to big meets and watch us, but they obviously weren't able to, so it was a lot of emails and messages," she says. "We were lucky because Commonwealth [Place] hosted Canadian swimming trials earlier this year, which is where you qualify for the Olympic team, and I was able to have a few meetings with coaches on deck during the event."
In July, Vienna travelled to California to compete in the 2022 Long Course Far Western championships, alongside her team from Island Swimming. There, she finished second in the 100 Butterfly event, and came in third as a team in the 4x100 Freestyle Relay.
Vienna is now swimming for Western University in London, Ont., and says she's really looking forward to the experience of swimming at such a high level.
"There's another girl on my [Island Swimming] team who also swims for Western, and she has told me how fun the team is and how much good spirit they have, so I am really excited to be part of that," she says. "I definitely want to see how far I can take swimming. There are a lot of different teams you can make in swimming to go to the Commonwealth Games and other big national meets, so I'm looking forward to seeing where I can go."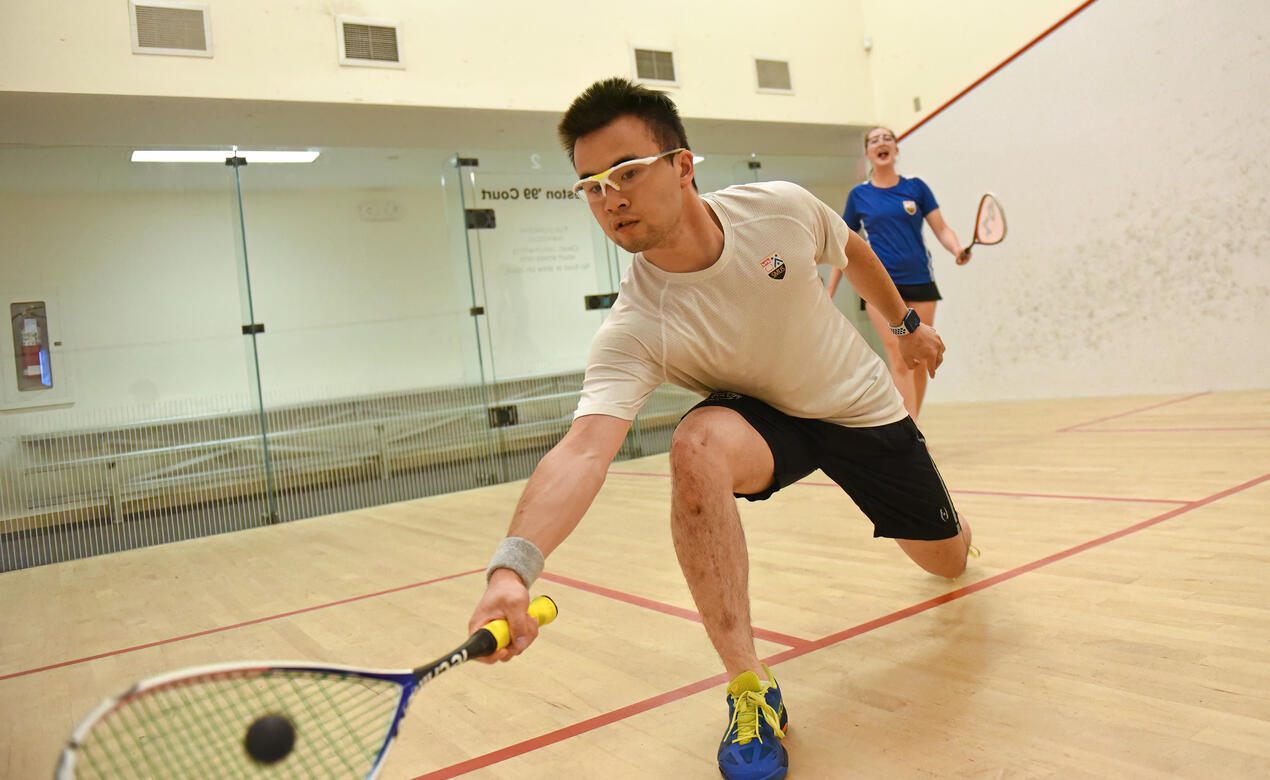 Christian Yuen
Sport: Squash
University: University of British Columbia
Christian Yuen can't stress enough the importance that role models have played in his development as an athlete.
"That's what I've always loved about the squash program here; it's more skill-based rather than age-based, so I've been able to play with and look up to the seniors as long as I've been in the program," he says. "It was pretty cool to see their composure on the court and their tenacity to work harder. I was able to watch them grow up and get better, and seeing that made me want to get better, too."
Christian started playing squash when he was 8 years old and joined the SMUS Squash team in Grade 5. As he went through Middle School, while he says he loved the feeling of winning, it was the camaraderie of the sport that kept him interested.
"I liked meeting a lot of people and playing with a lot of different people from Vancouver and across Canada. It's a really great community to be a part of, and I've always felt the squash court is another place outside of school where I belong and can have fun," Christian says.
Despite COVID impacting much of his high school athletic experience, Christian was able to come out the other side motivated to make his Grade 12 year count.
"I got fourth in the Pacific Northwest Jesters event in the U19, which was a tough draw, but then I won provincials this year in March. And then we hosted nationals in Victoria in April, and I finished seventh," Christian says proudly. "I'm a three-time gold medalist at provincials and four-time silver medalist."
This summer, Squash Canada selected Christian to represent the country in Bolivia at the Pan Am Junior Squash Championships. The Canadian men's team finished fifth at the event.
Christian is studying at the University of British Columbia this year, and while the university doesn't have a squash team, he is eager to continue playing wherever he can in Vancouver. 
"I've gained so much from squash – experiences, work ethic, resilience, mental toughness – that I'll always appreciate," he says, adding he has enjoyed being a senior in the sport and a role model to younger athletes. "It means a lot because I remember looking up to so many people when I was starting to play. Squash is such a little sport; if something I do gets younger kids into the sport, then I'm happy to do that because I love the game so much and want to see it grow."