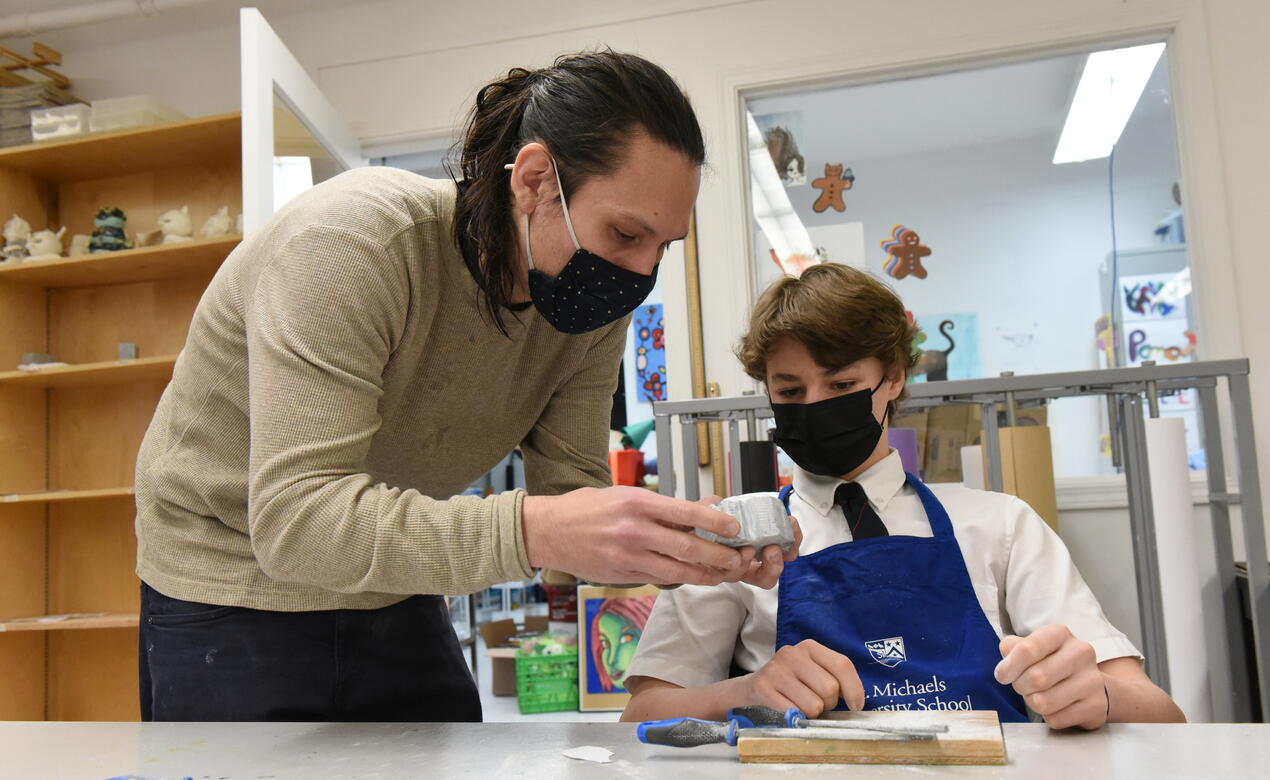 Students and teachers across all three schools have been getting the opportunity this year to learn from Salish artist Dylan Thomas, our school's first Indigenous Scholar.
Since his arrival in September, Dylan has taught in a variety of subjects, including visual art, math and humanities courses.
"It's been fantastic. I've enjoyed the teaching even more than I anticipated," Dylan says. "You can really see when you're connecting with the students. And they've been really enthusiastic which makes it so easy and rewarding."
He has brought his experience as an artist into math classrooms to teach students about symmetry and geometry in Salish art, and he has taught students an Indigenous game called the bone game as part of lessons on probability.
In visual art classes, he has worked with students on soapstone carving and lino printing, and taught lessons on symbology and mythology for painting students.
Welcome Post
Outside of class, Dylan is working with a group of Senior School student artists to carve a welcome post for the Richmond Road campus.
This project began in October and will run to the end of the school year, as Dylan and the students hand carve this 12-foot cedar artwork for campus.
"They're learning carving at a way quicker pace than I would've imagined, so that's really rewarding and they seem to be having a lot of fun learning," Dylan says.
Over the last few months, he has taught students the basics of carving and how to safely use the tools. He got them working with their hands on learning how to carve key shapes like crescents, trigons and circles.
As they continue to improve those skills, they are also learning how to clean up their work and add texture with different tools before they move on to working together to carve the welcome post.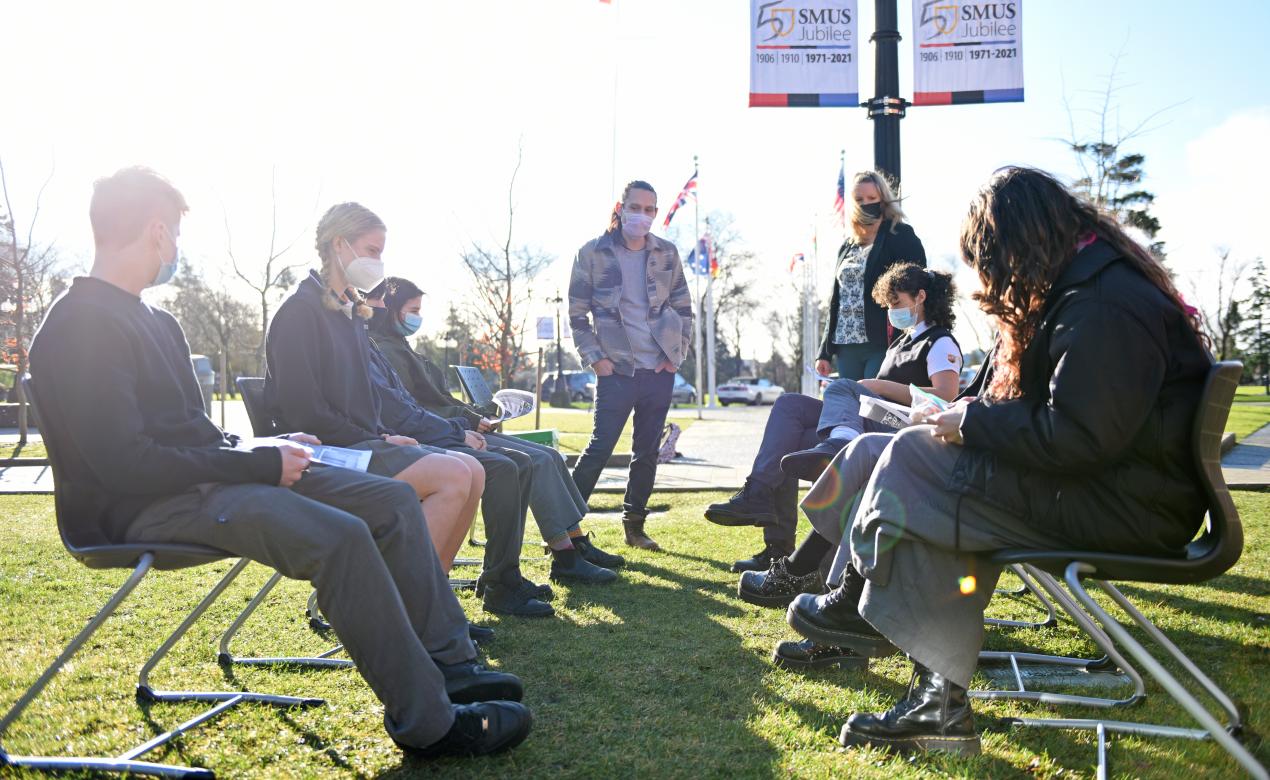 Learning and Teaching
Dylan says he's enjoying the role as Indigenous Scholar and getting to experience teaching students in a variety of disciplines, as it's allowing him to learn, too.
"The research side for me has been really fun and enriching. Going into a class, I know roughly what I want to talk about but I'm also reading papers beforehand as reference material. Putting more structure to it because I know I'm presenting to kids helps me learn a lot, too," he says.
Despite coming in as a visual artist, it was from teaching a humanities lesson that it struck him how rewarding the experience working with students has been.
"I did a couple of lessons on the Northwest Coast Indigenous people and the big environmental factors that led to that culture and how that developed; the ice caps melting, the rainforest moving in, and cedars coming in and kind of being the backbone of Northwest Coast culture," Dylan says. "They were so engaged and that made for such a rewarding experience because they were really fascinated with the culture and you could tell it got through to them.
"The way to get people interested in the issues of the modern day is you get them interested in the culture. So when I see that's actually happening, I think that's why I've been enjoying it so much."