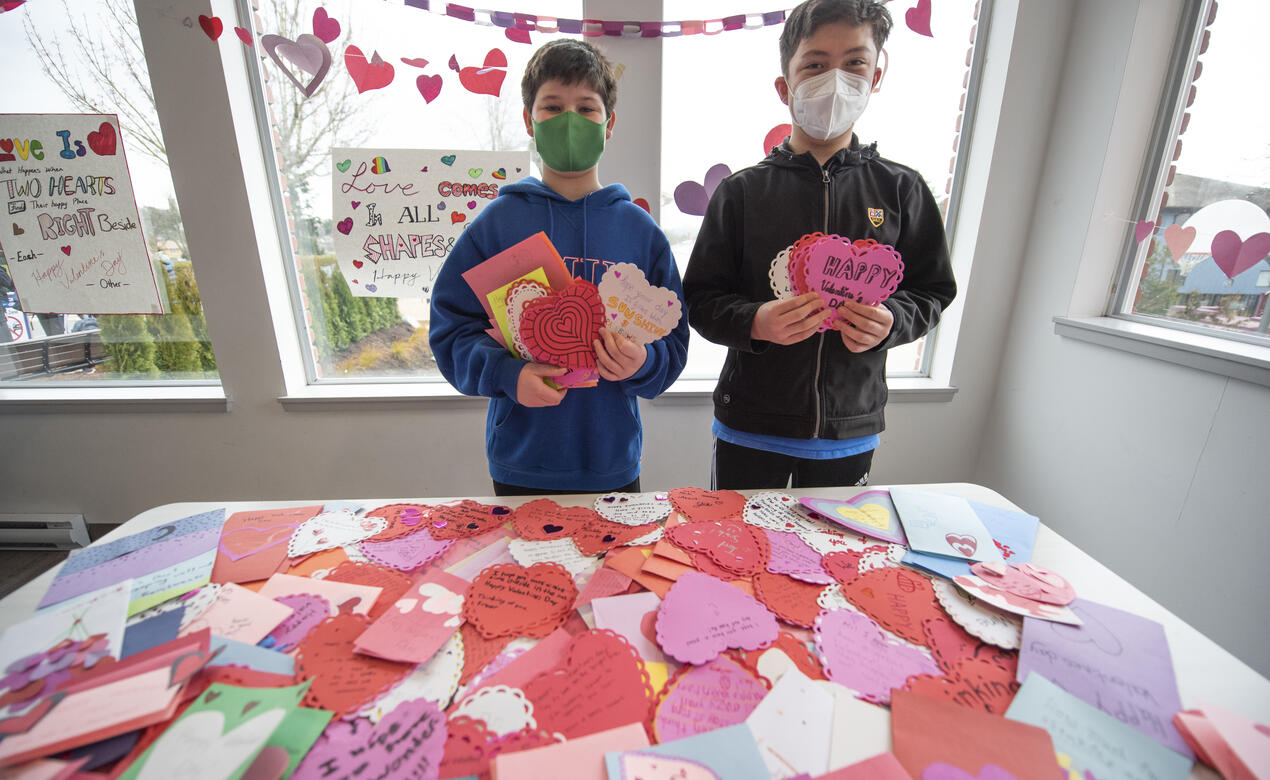 Residents of two retirement communities in Victoria will be the recipients of love and kindness, thanks to a service project spearheaded by a Middle School student.
Liam P. says he's heard a lot about seniors living in residences who feel isolated during the COVID-19 pandemic, and wanted to do something to brighten their Valentine's Day. He organized a Valentine's Day card drive at the Middle School and collected hundreds upon hundreds of cards to be delivered to local seniors.
"I think it's important for them to know that someone is thinking about them. That's important now more than ever," Liam says. 
This isn't the first time the Grade 6 student has led a Valentine's Day card drive. While this is Liam's first year at SMUS, he organized a similar service project almost annually at his previous school, beginning in Grade 2.
When Liam approached Ms. Shannon Williams, teacher sponsor of Service Council, to pitch his idea, she was keen to support his idea.
"I love Liam's project! It is such a great way for our community to show empathy, respect and caring for our elders," she says. "
Liam enlisted the help of a few friends to deliver card-making supplies to classrooms earlier this week. He also spoke in chapel about the project. All Middle School students then had time to design and write personalized and heartfelt cards.
"One of the goals of our Service Council is to provide opportunities for our community to help people in need, and for us to learn that service is an important part of our personal growth," Shannon says. "I'm always proud of our Service Council, and everyone in the Middle School when we work together to help our community. This is especially true when students like Liam step up on their own to serve."
Kieran M., a friend and fellow Grade 6 student who helped with the project, says he was immediately on board when he found out about spreading joy on Valentine's Day.
"It's a day that's known for kindness. It's a day that everybody's trying to care for each other and help other people," he says. Kieran says that in the future he would love to be able to spread that positive feeling – through cards or other acts of kindness – to other people at different times throughout the year.
Adds Liam, "You don't have to make the largest difference in the world, but just giving somebody else hope can hopefully cause a chain reaction that can bring happiness to a lot of people."