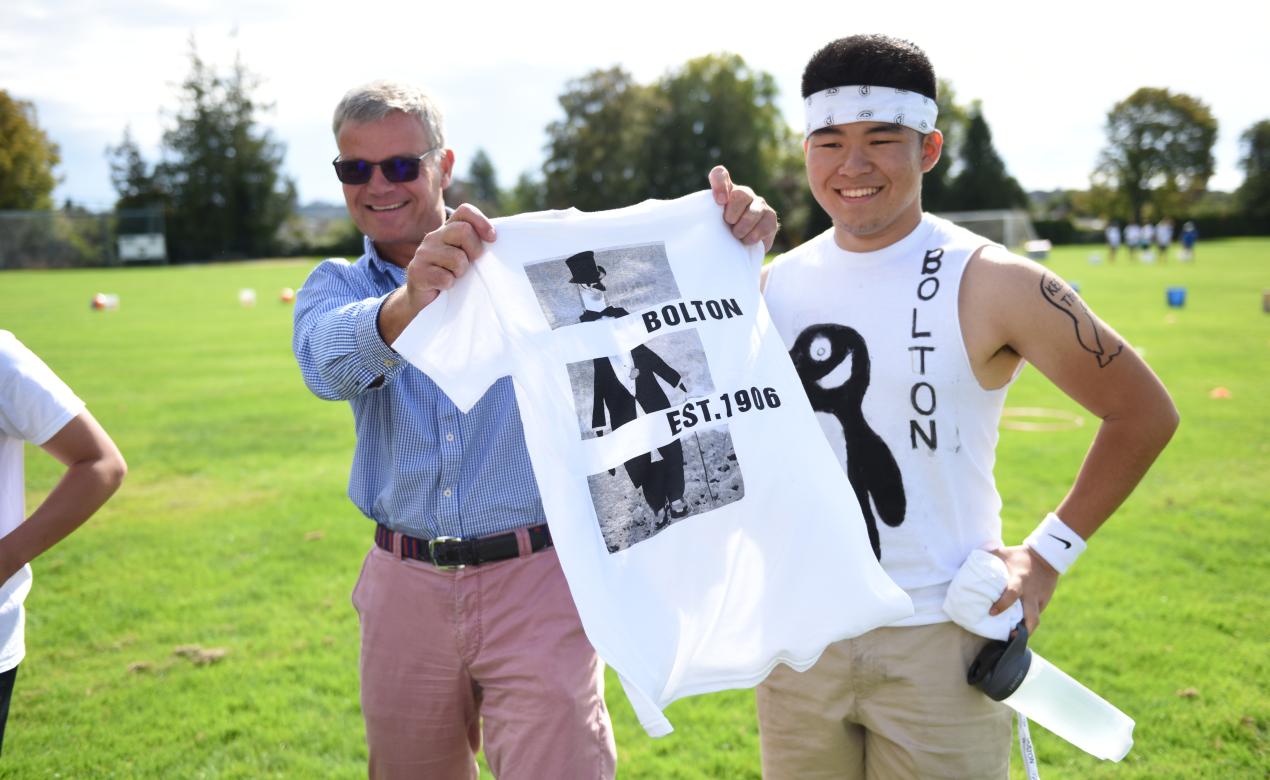 It seems hard to believe that this time last year our students and teachers were preparing to "return" from Spring Break by pivoting to remote learning from home. In the year since, our school community has adapted to a variety of changes that have allowed us to continue to be together on campus since September in safe and healthy ways.
As a result, this Spring Break our students and alumni have been busy on a number of fronts. As we look toward next Tuesday and the return from Spring Break, we're happy to provide a roundup of some student and alumni stories from the past couple of weeks:
Boarding at SMUS
For the first time in our school's recent history, our boarding houses remained open for Spring Break to allow for 62 students to stay in Victoria. Many of our dedicated boarding staff offered to spend time working during the break to ensure the boarding houses were staffed and students were cared for.
Boarding services coordinator Lynne Cordy planned fun optional activities during the break to give students opportunities to get off campus and enjoy some of what Greater Victoria and Vancouver Island have to offer.
More than 50 options were offered to students, ranging from museum trips, arts and crafts activities, sports and recreation outings, outdoor hikes, cooking and barista courses, and more.
Head of School Mark Turner also took part in helping give boarding students a memorable Spring Break. He took small groups of students out on the ocean to go salmon fishing and crabbing!
SMUS Rowing team
After months of training and an intensive practice schedule to start Spring Break, 33 SMUS Crew rowers participated in their first regatta of the season: the virtual San Diego Crew Classic.
Using a GPS tracker on the boats, athletes rowed a 1,250-metre course twice (in opposite directions to account for wind) along the Gorge waterway and sent their times to the Crew Classic officials.
Students competed against schools from California and Illinois, and clocked some great times. In the high school categories, SMUS teams finished first in the men's 4x, the women's novice 4x+, and men's novice 8+ competitions, and second in the women's varsity 8+ and women's novice 4x+. Congratulations to our athletes!
Leighla Foster '23
Grade 10 student Leighla Foster '23 organized an anti-racism youth rally at the BC Legislature on Sunday, March 28 in response to ongoing anti-Asian attacks.
"Kids don't have opinions about those things and we want to make sure they have open minds about all cultures, all communities," Leighla said in an interview with the Victoria News. "No one deserves to be attacked due to their race."
J. Fenwick Lansdowne '52
On Monday, March 29, the District of Oak Bay unveiled a permanent new art installation at Queens' Park in honour of world-renowned wildlife artist J. Fenwick Lansdowne '52.
The St. Michael's School alum spent most of his life in Oak Bay, where he became one of the world's foremost painters of birds. On the display boards at Queens' Park (next to Oak Bay Marina) are some of his paintings of local birds: black oystercatchers, buffleheads, great blue herons, marbled murrelets and brant geese.
The display and installation were funded through Nature Canada, the Kiwanis Club of Oak Bay, the Victoria Natural History Society, the District of Oak Bay, and individual donations.
Anna Mollenhauer '17
Field hockey athlete Anna Mollenhauer '17 was named a finalist for Sport BC's University Athlete of the Year. The organization's annual Athlete of the Year Awards were held on Thursday, March 25.
Callum Montgomery '15
Soccer phenom Callum Montgomery '15 competed with the Canadian U-23 soccer team at the Concacaf Men's Olympic Qualifying tournament in Mexico, hoping to earn a spot at the Tokyo Olympics. Despite an injury earlier in the tournament, Callum rebounded and played in the Sunday, March 28 semifinal game against Mexico. Unfortunately, Canada lost to the host team and will not head to the Olympics.
In a Times Colonist article highlighting his experience at the Olympic qualifier, it reads that Callum "is expected to be a big part of that group [of U-23 athletes] looking to move forward to the senior national team."
A new face on campus
We would be remiss not to mention that Mark and Elizabeth Turner have a new four-legged addition to their family: a golden retriever puppy named Molly. She arrived on campus at the start of Spring Break, and has been a bundle of energy at Reynolds House alongside their other dog, Martha!