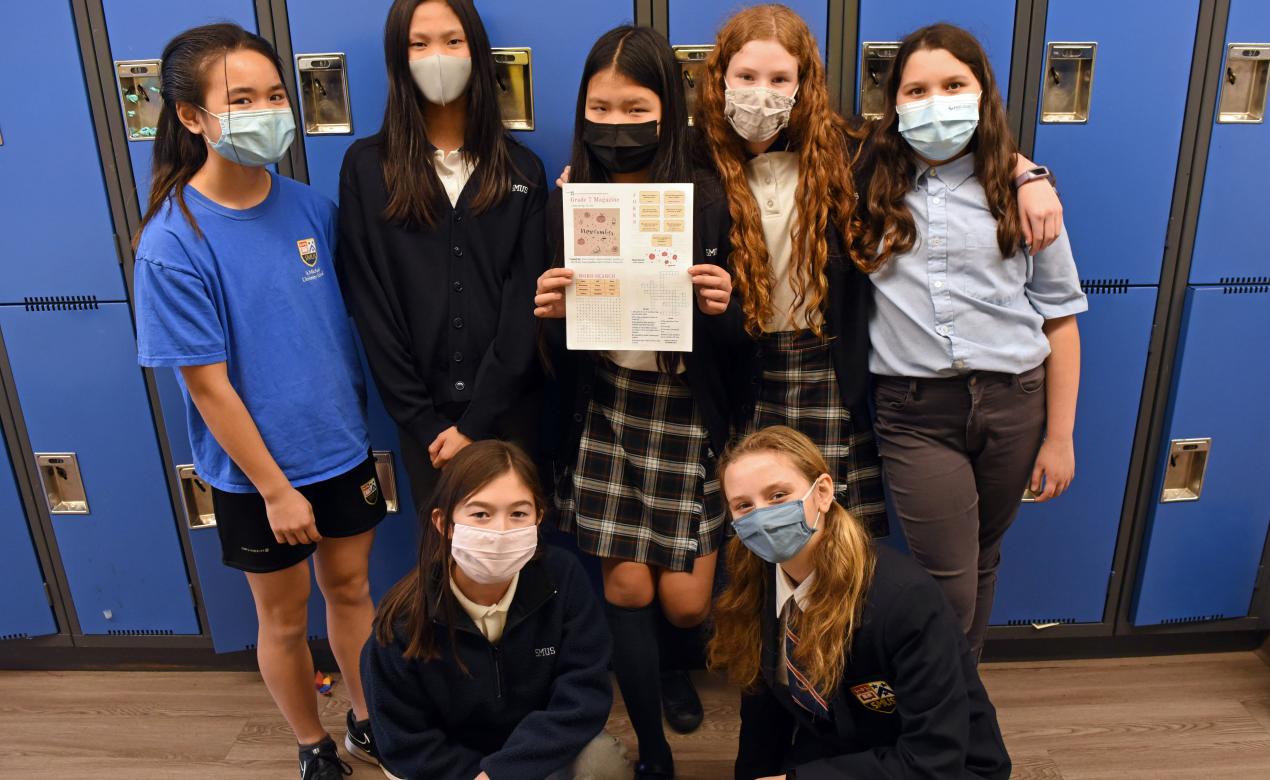 The Middle School hallways were buzzing this week as students excitedly flipped through the latest edition of the appropriately named Grade 7 Magazine. The four-page monthly magazine is entirely managed by a small group of students who enjoy the challenge and delight of writing and creating the publication.
It first began last school year when Sophie B., Haley P. and Mia W., who were all in the same cohort, launched a fun side project for their Grade 6 class. Sophie came up with the idea of a newspaper and the three of them ran with it.
"We called it a newspaper, but it wasn't just news. We had other fun things in it, too, where people could submit answers and win prizes. We usually had one news article in it every month and it would be about what was going on in our class or the school," Sophie says.
Inclusive and Collaborative
This school year, as cohort restrictions loosened, more of their friends, including a few classmates who are new to SMUS, joined in.
"We could now interact more with the rest of our grade, not just the same class, so we decided to spread it to all the Grade 7s," says Haley.
The initial trio was joined this year by Siena G., Elise G., Mimi I. and Apollin L.
"I joined because I want to do something fun with my friends. I thought it would be fun to make something like this magazine and we could start new traditions at the school and build a more inclusive community because we could help share people's opinions in the magazine," says Mimi.
"I came into this new school [in September] and very early on I met all of these wonderful people. I love doing art, I love writing, and I love working in big groups with my friends," says Siena.
The Grade 7 Magazine is a clear collaboration between the seven students involved. They don't even have a teacher sponsor helping with coordination or planning; they do it all themselves.
"The intrinsic motivation behind it is so impressive. There are no adults in charge, it's inclusive, it's creative, they meet deadlines, the content is good and interesting," says Susan Vachon, Assistant Director of the Middle School. "It's everything that the Middle School is about."
Creativity on Display
The Grade 7 Magazine features a wide range of articles, activities and artwork each month. They even have classmates submit pieces.
"I really like seeing what everyone comes up with when we have people submit their work. I find it cool seeing what their abilities are and I feel happy for them that they get to show it to everybody," says Mia.
The November issue, released on Tuesday, includes an article recapping the month at the Middle School, a recipe, trivia, contests, "how-tos" (make paper beads and draw a pig), a SMUS-specific crossword puzzle and more.
"We use a program called Lucidpress to build it. It's a group document and we just set a date each month where we do it, edit it and then we'll print it together [at the Middle School]," Elise says. "And then we have a form for students who want a copy, and we hand it out into lockers."
Being entirely student-run, the group has full control over the content they want to create and share with their classmates, which makes for some funny and interesting magazine features.
"I like the parts that aren't normally in a newspaper or magazine. Like in this one I did 'How to Draw a Pig' and next month I'm doing, 'Apollin Guesses Where Everyone in Our Class is From,'" says Apollin. "It's really fun knowing that other people see what you do and like what you do. And I like working with my friends to do something creative."
The students all say it's been a really fun and positive experience so far, and look forward to being able to continue creating the monthly magazine for their schoolmates.