Our community came together on Thursday, October 7 for our Spindle Whorls Welcome Ceremony. It was an important moment in the ongoing relationship-building between our school and local Indigenous Peoples.
In consultation with local Elders, the school was encouraged to have visual representations of local First Nations culture on our campuses. Artist Dylan Thomas (Lyackson) carved four Spindle Whorls that reinterpret our school Values – respect, courage, honesty and service – through First Nations storytelling. Spindle Whorls were historically used by the Coast Salish to spin wool, and many featured carved artwork.
The Welcome Ceremony also included the first performance of a Salish song, written by Willie Pierre (Katzie), that will be sung as part of the formal protocol when the Spindle Whorls are moved.
In addition to Dylan and his family, we would like to express our heartfelt thank you to Bill White (Snuneymuxw), Dr. Skip Dick (Songhees), Kim Recalma-Clutesi, Ogwe'low'gwa (Qualicum), Wes Edwards (Malahat), Ian Simpson (Snuneymuxw), Willie Pierre (Katzie), Jo-Ina Young (Métis), and Principal Kevin Brand, students and representatives from Qwam Qwum Stuwixwulh School for attending and being part of the Welcome Ceremony.
Elder Bill White, who has joined us as our school's Indigenous Guide, said about the importance of our students being part of a formal Welcome Ceremony for Dylan's artwork: "Our Sulsalewh/Elders told us that 'Art makes the Sacred visible' and 'Behold, these things speak about our connections to the natural and supernatural worlds.' ... Children have always meant to be gifts of the Creator. Our songs and ceremonies prepare them for a new day and to know we are related to all living things."
Below, Dylan shares the stories behind each of the beautiful Spindle Whorls.
---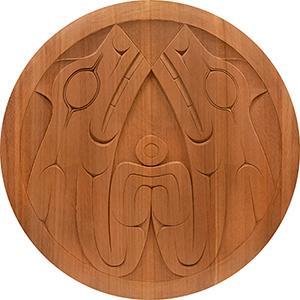 Si'em (respect)
In ancient times, the Coast Salish people bred Sqwuméy (wool dogs) that were used for producing wool. This material was woven into many important cultural items and adornments. Most notably, it was used to create Swukwulh (nobility blankets) that were worn by the Si'em (the respected ones), who were the Noble class entrusted with leadership roles.
This group of people would include the chief and his family, along with accomplished warriors and healers. Even though heredity played a significant role in tribal structure, these classes were not stagnant.
There are many stories of people who, through honourable actions, earned their way into the Si'em class, as well as people losing their Si'em status through disgrace. Essentially, the Si'em were the people in the tribe who had earned and maintained a deep respect from their fellow tribe members. Since a Swukwulh visually signified a person's honour, I chose to depict wool dogs, alluding to the Si'em as a means of representing the core Value of Respect.
---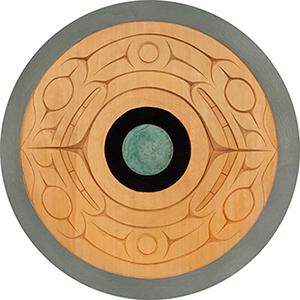 Siin'lqi (courage)
According to Cowichan tradition, Syalutsa was the first person to fall from the sky and learn our sacred teachings through spiritual encounters.
When Stutsun fell from the sky, becoming the second person on Earth, Syalutsa passed on this sacred knowledge. One of these teachings was to always face challenges without fear.
Later, Stutsun became the first person to encounter the Siin'lqi, a flying, two-headed serpent. He stared at it unflinchingly and the serpent retreated without harming him. I have used this image to depict the core Value of Courage.
---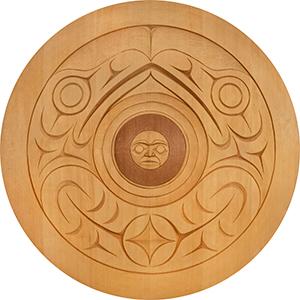 Light (honesty)
This Spindle Whorl depicts Spa:l (Raven) releasing light into the world, represented by the sun at its centre.
Variations of this legend exist in many cultures from the Northwest Coast region. In the Salish version of the story, seagull had secretly stolen the sun, moon and stars, and kept them hidden in a chest until Spa:l tricked him and released the light back into the world.
Since it was seagull's dishonest actions that brought the world into darkness, I have used this legend to depict the core Value of Honesty.
---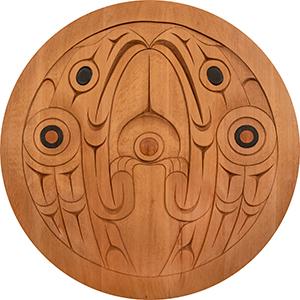 Thunder Song (service)
This Spindle Whorl depicts Sxwuxwá'us/Tziquaw (Thunderbirds) that move between the spirit world and the earthly world.
In Cowichan mythology, there is a story about a supernatural orca that once stopped at the mouth of the Cowichan River to eat all the salmon. Over time, the orca caused a famine and the people began to starve.
When the Cowichan people could not figure out how to remove the orca from the waters, those with the strongest s'uylu (spiritual connections) joined together to sing a prayer to the Sxwuxwá'us/Tziquaw to ask for help. They sang for four days and nights until the Sxwuxwá'us/Tziquaw appeared and, after a fierce battle, removed the orca, restoring balance to the territory. Since this legend demonstrates a spiritual being putting itself in danger to help those who prayed, I have used this imagery to represent the core Value of Service.