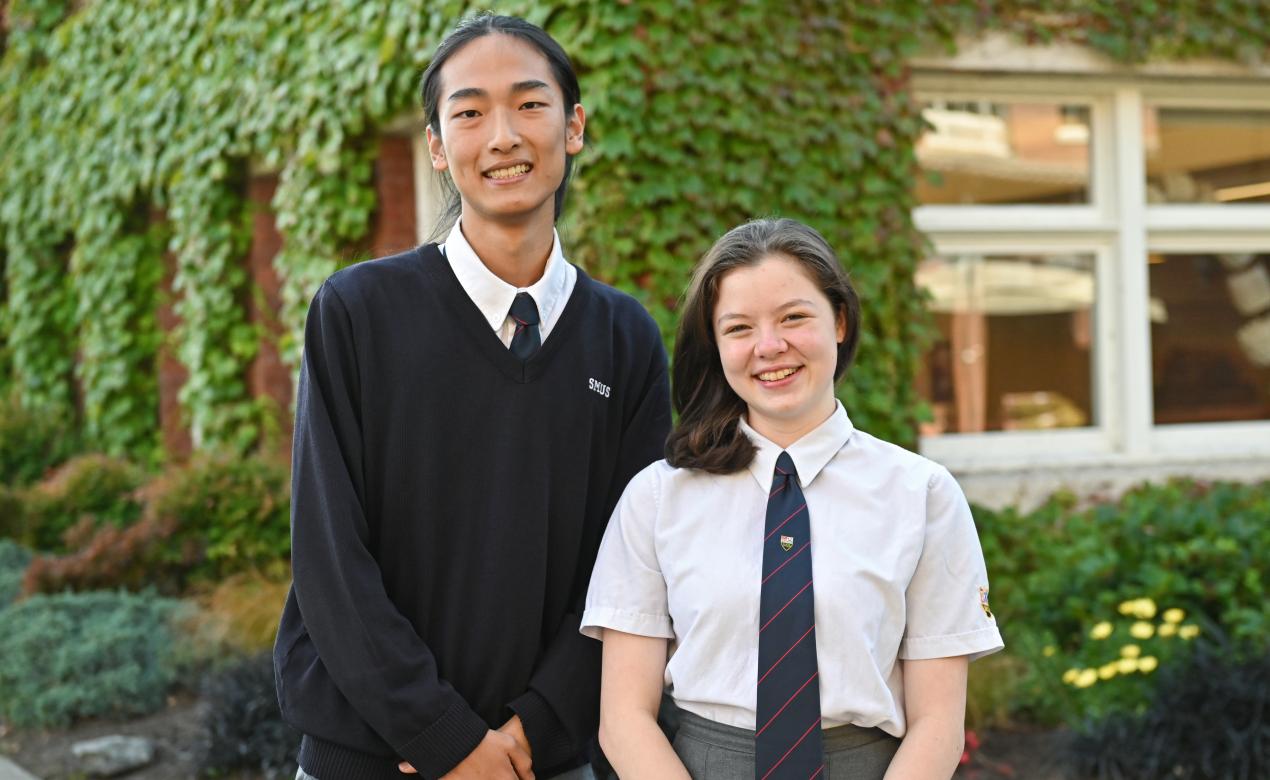 Grade 12 students Bo Gleave-Tan and Steven Song are among just 39 students out of 57,000 worldwide who achieved a perfect score on the challenging AP Seminar exam.
AP Seminar, the first of two courses that make up the AP Capstone program, is a course that focuses on developing academic skills as opposed to learning content. This means the Seminar exam they aced is nearly impossible to study for because it assesses a student's skills rather than knowledge retention.
"This is an outstanding achievement for Steven and Bo," says Denise Lamarche, Director of Academics. "The skills that they demonstrated perfectly on the exam are a testament to their own dedication and commitment to the course and to their academics. It's also a testament to the preparation that our teachers and our teacher-librarian are doing to help our students learn and grow to be successful."
Bo says she was "euphoric" when she found out about her achievement in late September.
"I'm really proud. I knew I had earned a 5 on the exam, but I didn't know that I got every possible point," she says. 
Adds Steven: "I don't think either of us expected it. I was very surprised but I was very proud."
The AP exam, which students wrote in May of their Grade 11 year, contains two parts: first they analyze an argument using evidence, and then they build their own evidence-based argument.
Both Steven and Bo say they feel the structure of the AP Seminar course and how it is taught was incredibly beneficial in helping them continue to develop the skills necessary to succeed in the course: synthesizing and analyzing information; evaluating multiple perspectives; and crafting, communicating and defending evidence-based arguments.
"I feel the most beneficial skill I got from AP Seminar is to think critically and holistically. When I'm researching and reading articles, I realize there are so many things I don't know about and it makes me more humble about my own knowledge and makes me want to learn more," Steven says.
The skills honed in AP Seminar are skills that students across all grades at SMUS develop. Having a dedicated, university-level course that offers students a chance to put those skills into constant practice, however, allows them to see their growth in the learning process.
"The AP program is really about students taking a chance and challenging themselves. We want our students to look at their AP courses as an opportunity to learn and an opportunity to push themselves," Denise says. "The quest isn't to get a perfect score, but in the rare cases that does happen, it's such a positive for our students and shows them what they can achieve." This achievement comes on the heels of last year's exceptional AP results for SMUS, when three students earned perfect scores on their AP exams.
Bo and Steven are now in the second of the AP Capstone courses, AP Research, where they are challenged to write a 5,000-word paper, present it and defend it, as they would a thesis paper.
"Everything we learned in AP Seminar we are now putting to use in Research. We're continuing to build on what we learned and practice those skills," says Bo. "I feel like we are so well-equipped for university."