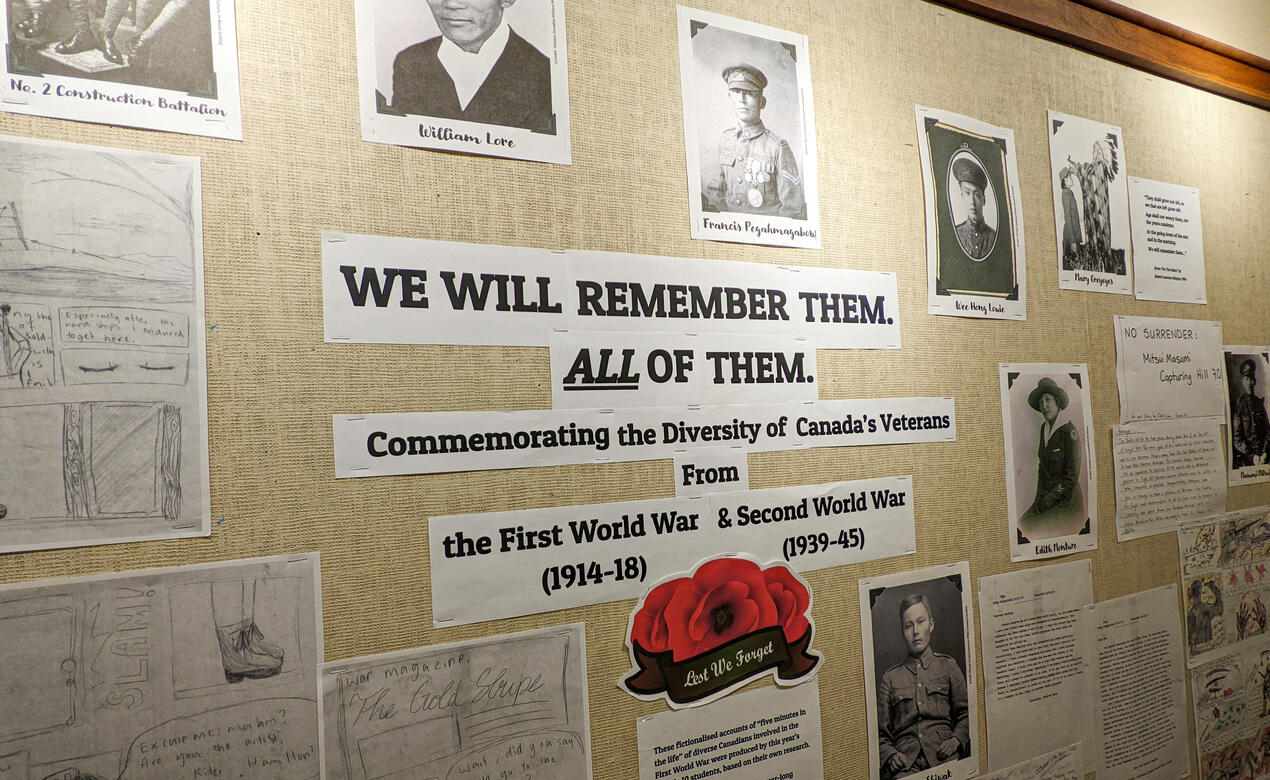 Every year, during our school's Remembrance Day ceremony, we read out the names of the many mostly young men from our school community who enlisted, fought, and died in the service of their country in the First and Second World Wars.
As each name is spoken, a photo is shown and a candle is extinguished. Each smoking wick represents not just a life cut short, but also a family shattered, and a community deprived. The imagery is both stark and moving.
A keen listener will notice that many of the names read out are British, and that nearly all of them are European-sounding. This reflects the fact that our first students were almost exclusively of European ancestry. For many, like one of our founders, Capt. R.V. Harvey, the decision to enlist was driven, at least in part, by their ties to "the Old World."
After the last name is read, a trumpeter plays the forlorn melody of "Last Post". A moment of silence for the fallen is followed by the more upbeat notes of "Reveille" and a closing prayer. As the ceremony concludes, we all shuffle towards the exit, some eager for a return to everyday life, while others ponder the depth of the loss suffered by our school community because there are so, so many names… 
A particularly curious mind might wonder if our own Roll of Honour is reflective of the larger Canadian wartime experience, or whether our wars were fought by a far more diverse range of Canadians.
It's a great question – and one we dig deeply into with our Grade 10 students. This comes as part of an intentional and explicit effort to bring multiple perspectives and voices into social studies classrooms in recent years.
The answer to that question, as students soon discover, is fascinating. The reality is that our veterans were remarkably diverse: those who fought for Canada came from every walk of life and ethnic background.  
A few might have already heard of Francis Pegahmagabow, the famed Anishinaabe sniper from Northern Ontario who is believed to have single-handedly killed more than 300 enemy soldiers, and captured scores more, during the First World War. That's because his story has begun to be told more widely in recent years. Others may have also caught the recent Historica Canadian Heritage Minute video featuring Onondaga marathoner Tom Longboat, who put his skills to work as a message runner during the same deadly conflict. 
But there are many others whose stories are far less known, but no less fascinating. 
Consider the example of Jeremiah Jones, a towering moustachioed man from Nova Scotia who was one of approximately 16 Black Canadians who managed to circumvent the racist enlistment policies that typically kept them from serving as frontline combat troops in the First World War. Pretending to be 20 years younger than he really was, Jones fought at Vimy Ridge in 1917, and was recommended for a bravery medal for single-handedly knocking out a German machine gun nest. It would take a decades-long lobbying campaign for his bravery to be finally, officially – and yet sadly, posthumously – recognized. 
Then there is the case of Masumi Mitsui, a first-generation Japanese-Canadian immigrant who overcame racist enlistment practices in British Columbia by signing up in Calgary. At the Battle of Hill 70 in 1917, Mitsui led a platoon of other Japanese Canadians and was awarded the Military Medal. And yet he was still denied the right to vote upon his return to Canada. And when Japan attacked Pearl Harbour in 1941, his brave service made no difference to the Canadian officials who interned him, along with the rest of his family, for the duration of the war – this despite his offer to enlist once again and train new recruits. 
Evidently, Canada's wartime experiences were as complicated as they were varied. Considered collectively, they speak to the fact that diversity has long been a core feature of our country and our wars (whether Canada has recognized it or not). 
Those who put their lives on the line for Canada were surely motivated by a multitude of factors. Some were obviously driven by patriotism, or by love of family or community – or by lofty ideals of freedom and democracy. Others surely sought adventure, a break from the mundane, or simply respite from the cloying social restrictions and inequalities plaguing their communities. But at least some were likely fighting for recognition, for greater rights for Canadians like them. 
The fact that they all fought – and in many cases died – for a country that did not necessarily want them, respect them or treat them equitably speaks volumes about their character.
It also suggests that they had a vision for what Canada could become.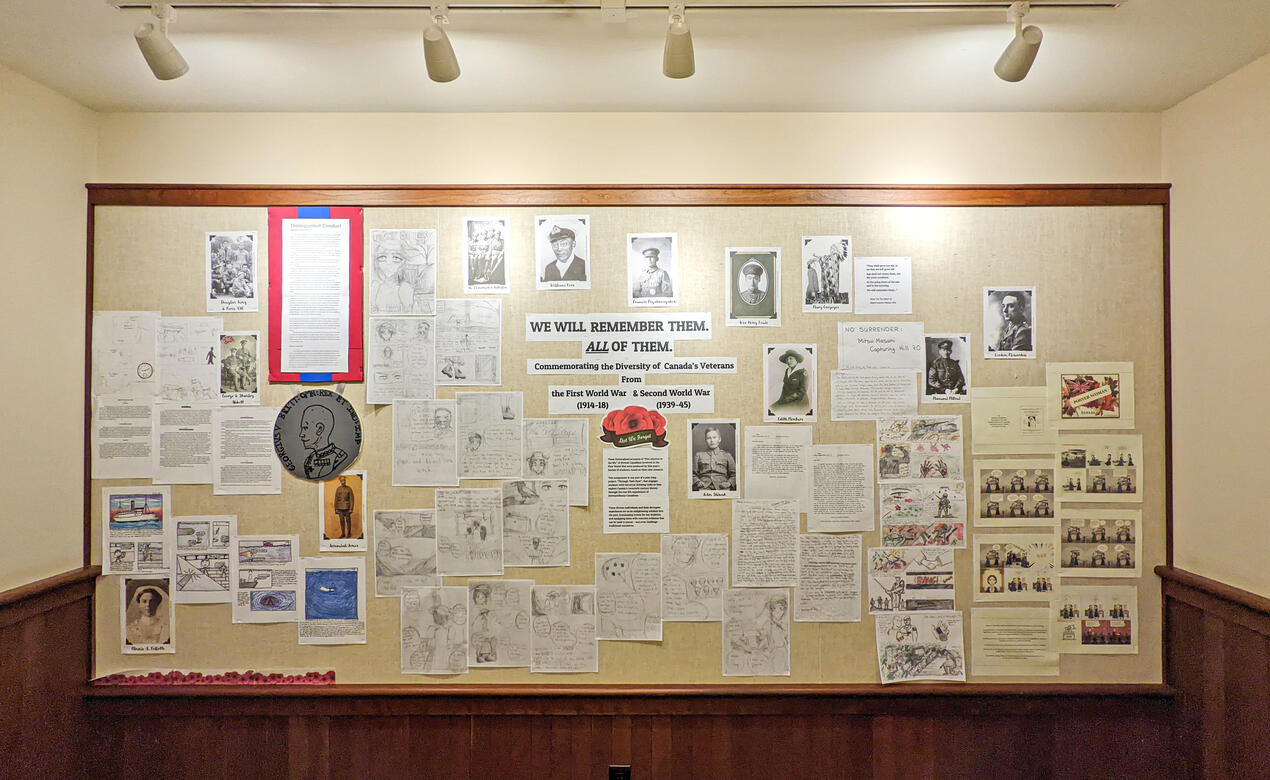 Surely, then, it's our responsibility, collectively, to more properly acknowledge the sacrifices they made for us. 
It seems like a small price to pay. Consider it an act of reconciliation with our vibrant, complicated, multi-ethnic past.
We shall remember them. All of them. Surely we owe them that much, at the very least.
The next time you are on the Richmond Road campus, visit The Snowden Library and check out the display of student work from the Social Studies 10 Through Their Eyes project. The first assignment encourages students to explore the life and times of a real Canadian impacted by "the War to End All Wars." The goal is to produce a fictionalized account of "five minutes in the life" of their assigned character. This product, which might be a story, a graphic novella or a collage, serves as a sophisticated demonstration of their in-depth research, as well as their understanding of the ins and outs of historical perspective and significance. 
And the lives they profile include many of the diverse and important individuals mentioned above.