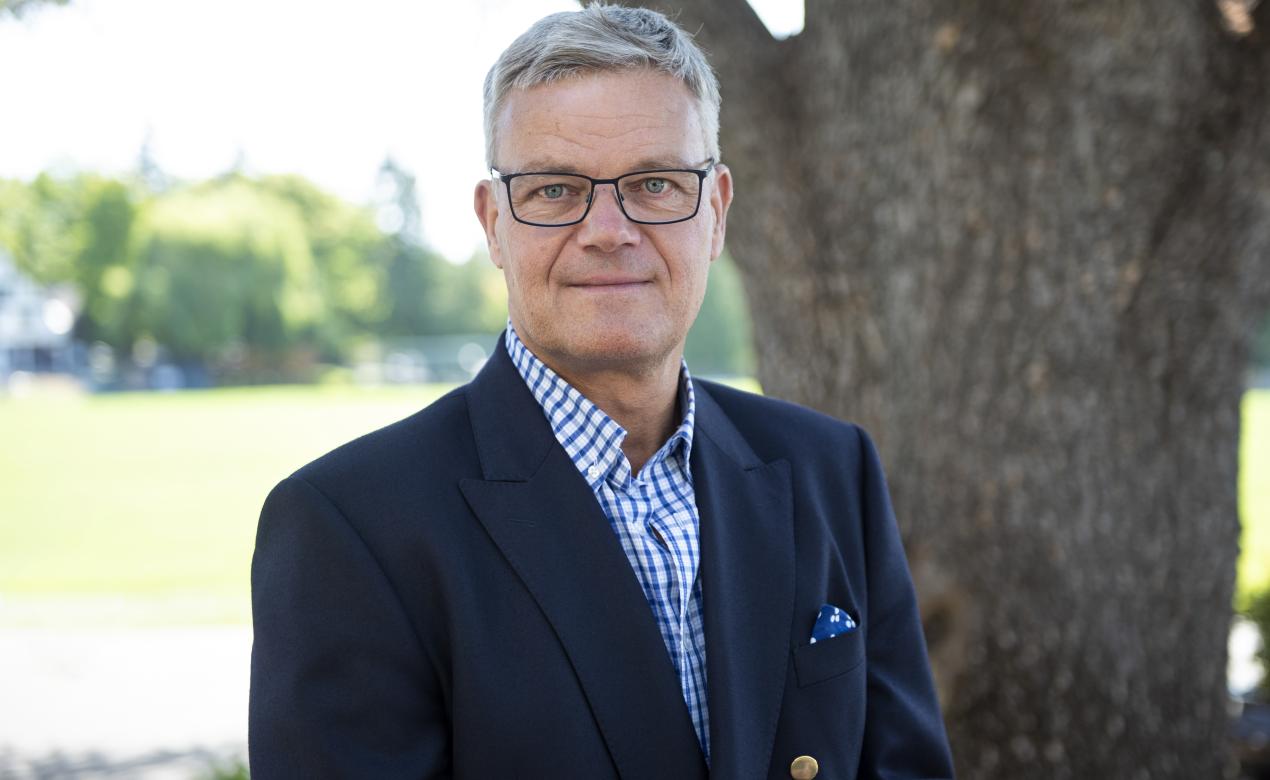 The scary reality is that we have already arrived at Halloween, Term 1 has been completed at the Senior School and we are accelerating toward Remembrance Day. Since we resumed for the new academic year in September, students have returned to routines and life is much closer to normal. They have flourished with the opportunity to play competitive sports, be involved in musical activities and other group events. Such is the momentum of the school year that I am delighted to bring you up to date with a few newsworthy headlines as the "shadows lengthen, and the evening comes."
After our whole-school welcome of the representation of our four school Values, elegantly carved by Dylan Thomas into Spindle Whorls, I am pleased to say that the Spindle Whorls are now displayed at the Junior School, Middle School, in School House and in our Chapel. The response to the arrival of these magnificent works of art has been overwhelmingly positive.
On Wednesday, October 20, we were able to hold the first Founders and Benefactors Dinner in two years. Approximately 80 guests gathered to celebrate the essence of the SMUS community and to give thanks for those philanthropists who, over the course of the last several decades, have allowed our school to develop in size, in facilities and in reputation. Specifically, we heard from Terry Harper, who has been one of our leading philanthropists over 30 years. Terry spoke about why she chose SMUS for her three children and the important message of intergenerational giving back – to those to whom much is given, much is expected. We also heard from distinguished alumnus Nick Etheridge '61 regarding his classmate and dear friend Richard Hawkesworth '61. Richard left the school a very generous legacy which will help fund facilities in our new Campus Master Plan and support an endowment for financial aid.
We also had the opportunity to formally name our dining hall, the central component of the second floor within the Sun Centre, as Graves Hall. Brian Graves '41 left us generous sums over many years, and his final bequest gift was crucial in the delivery of the vision for a central dining facility, for which the school is enormously grateful. Graves Hall was looking resplendent for the dinner, complete with the flames of a warmly flickering fire in the Yu Family fireplace.
In addition, guests were able to see for the first time the very beautiful donor boards newly installed in the broad staircase leading to Graves Hall. These boards recognize our many donors who made such wonderful contributions to the Sun Centre building through their philanthropy.
It is perhaps worth mentioning that some of our lead donors are committed to the philosophy "education changes lives" and to supporting various forms of financial aid which provide opportunity to those who might otherwise be denied. Others contribute to the facilities we need to provide the education we deliver and for SMUS to remain a leader across Canada.
The Annual General Meeting of the Board of Governors, held remotely on the evening of Thursday, October 21, was the opportunity for the changing of the SMUS guard. New governors Karen Jawl '99, Karl-Eric Brière and Doug Freeman '88 were welcomed, along with faculty representative to the board, Adrian French. Special thanks was given to Tony Souza '72 who will remain as an Advisory Governor, and to outgoing faculty representative Mat Geddes '93 for his six years of service. This year we also had a change of Board Chair. Tim McGee QC, our departing chair, was thanked for his dedication to the SMUS cause over many years, as a parent, Board member and latterly in the seat as Chair. In keeping with Tim's passion for rowing, he was presented with a piece of SMUS rowing history: a decommissioned and framed rowing blade as a tribute from us all. The new Board Chair, David Longridge '88, officially took over his responsibilities.
At the Board Retreat, held on October 22 and 23, a number of members of the Senior Leadership Team made presentations on our Floreat journey, with the aim of reinforcing and enhancing our academic status. The Admissions Plan, in line with the mantra "better, better, better, not more, more, more," is aiming to cap our admissions total at approximately 1000 students, which will exacerbate the shortage of places, particularly at the Senior School.
We also heard an update from our Equity, Diversity and Inclusion (EDI) Working Group, under the wise guidance of Dr. Moussa Magassa, regarding the work the Advisory Committee has been doing over the past few months. This process supports our community growth and journey in this critically important priority.
There was also strong enthusiasm to move forward with the construction of the Junior School Annex. This important project was given the much-awaited green light by the Board of Governors. We will now move ahead with the award of contracts to begin construction so that this project may be completed by the planned deadline of September 2023. We will roll out a program of information evenings for Junior School parents in the near future. As part of the Journey for Life campaign appeal, our Advancement Department would be happy to speak with you about how you may contribute financially to this project. Please feel free to email Shara Campsall, Director of Advancement, to view our plans and learn more about how this exciting project will serve our junior students.
This time of the fall is known by Heads of Schools across the world as "conference season." I have been able to attend two conferences recently. One virtually, here in Canada, and one through personal attendance in the UK. Both conferences adopted a similar theme about "building back better." There was quite a discussion about what better actually means. Many future visionaries from the world of politics, commerce and cultural change are telling us that we are at a pivotal moment in history, and the future will be radically different. The old message is that fast change is the new constant. That is all very well, however, repeated questionnaires of independent school parents have said that the best hope for their children is in-person schooling with the freedom to play and learn, inspired by the highest quality of teaching. Our aim is to return to the latter as soon as restrictions allow, but also to identify those lessons from our experience over the last two years that can improve our performance and serve us into the future.
With best wishes,
Mark Turner