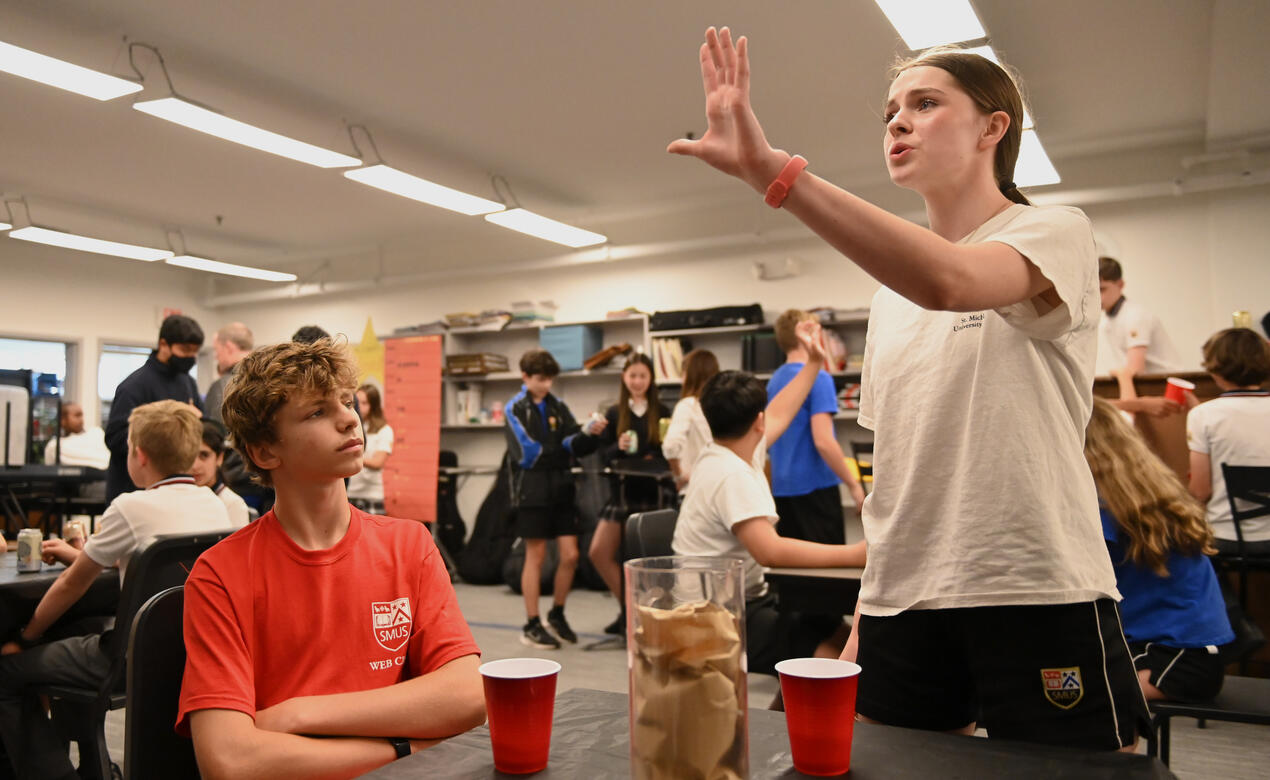 This year's Middle School musical theatre production, School of Rock, is on June 1 and 2 at the McPherson Playhouse, promising a fun and uplifting time. Grade 7 and 8 students have been putting their talents on display on stage and backstage.
We sat down to talk with two students, Sebastian E. and Isabella P. who are performing as actors, musicians, and playing lead roles. Sebastian E. will be playing Dewey, and Isabella P. will be playing Rosalie.
What is your background in musical theatre?
Seb - I haven't really done any acting before, this is kind of my first time acting. I've played trombone in band for three years in Middle School and when I was younger I played piano for a little bit, but I stopped that now. So I don't do too much music or acting, but it's been really fun doing the musical.
Isabella - I also don't have any experience acting, but I've played clarinet in band since Grade 6 and at the Junior School I played the violin.
As two people without musical theatre experience, why did you go for a lead role?
Isabella - I feel like I've always wanted to try acting. I just haven't really had the opportunity. In the Junior School I was going to be part of the Grade 5 musical but that got cancelled because of COVID. So I just wanted to go for it and try to do it even if I don't have any experience.
Seb - We were looking at some of the parts from the musical (in the movie), just short clips and I was like, whoa, Dewey's a cool guy. So I wanted to maybe see if I can be him in the musical. And then also my Mom was pushing me to do some acting stuff. She thinks I'm like a good actor or something [he chuckles]. 
How were you cast into your roles and how do you become those characters?
Seb - We started with, I think, choir class. We do run-throughs of the scene, just practicing a bit, learning them, and then everybody could choose a role that they wanted to try out for. Mr. Frater slowly narrowed it down until we only had a few people for the final roles. 
Dewey's like a really crazy guy, so I just try things and see what happens. There's really nothing he wouldn't do. I can go as loud or silly as possible and it still seems natural for him. I have a line I drop in songs: "There's no way you can stop the School of Rock!" I sing it really loud and sing out a big guitar solo and I go down on my knees and it's really fun to sing really loud I guess.
Isabella - There were auditions and then there were callbacks and I think in between the first audition and callbacks there was a workshop.
I just started thinking about what Rosalie would do in this situation. What emotions would she be feeling and just who she is. She has really cool character development and we can see how she changes throughout the play. Sometimes what Rosalie's displaying is different from what she feels inside, so, I feel like that has to affect the way you're acting. I really love "Where did the Rock go?" I just think it's a really cool moment for my character and to see who she really is in that scene 'cause throughout the play she's kind of putting on this persona and she's not ever really displaying who she truly feels inside. That song is her moment to shine. 
What do you enjoy most about being in the musical?
Isabella - I just think it's a really cool creative experience, just to be able to work with other people and figure stuff out and see how we can put out the best performance possible. I think it's cool to just experience it.
Seb - I think when we're working rehearsing it's like a really nice group that we have all working together. Mr. Enns, Arabella, Mr. Frater and all the actors working together and it's a good friendly group.
What is School of Rock about and why should people come to see it?
Seb - Dewey, a wannabe rock star is in a band until he gets kicked out of his band, and then he impersonates his best friend Ned to work at a prestigious private school and tries to teach the Grade 5 students rock music and eventually enters them into a competition. And yeah, they play in the competition. The whole of Grade 7 and 8 is performing and it's a really big production. We have everybody on the stage at some point, working together and it's gonna be epic.
Isabella - I think it's just a funny, exciting musical and I think it's gonna be really cool, 'cause there's just so much happening.
School of Rock tickets for the June 1 and 2 performances at 7:00 pm are available through the McPherson Playhouse Box Office.