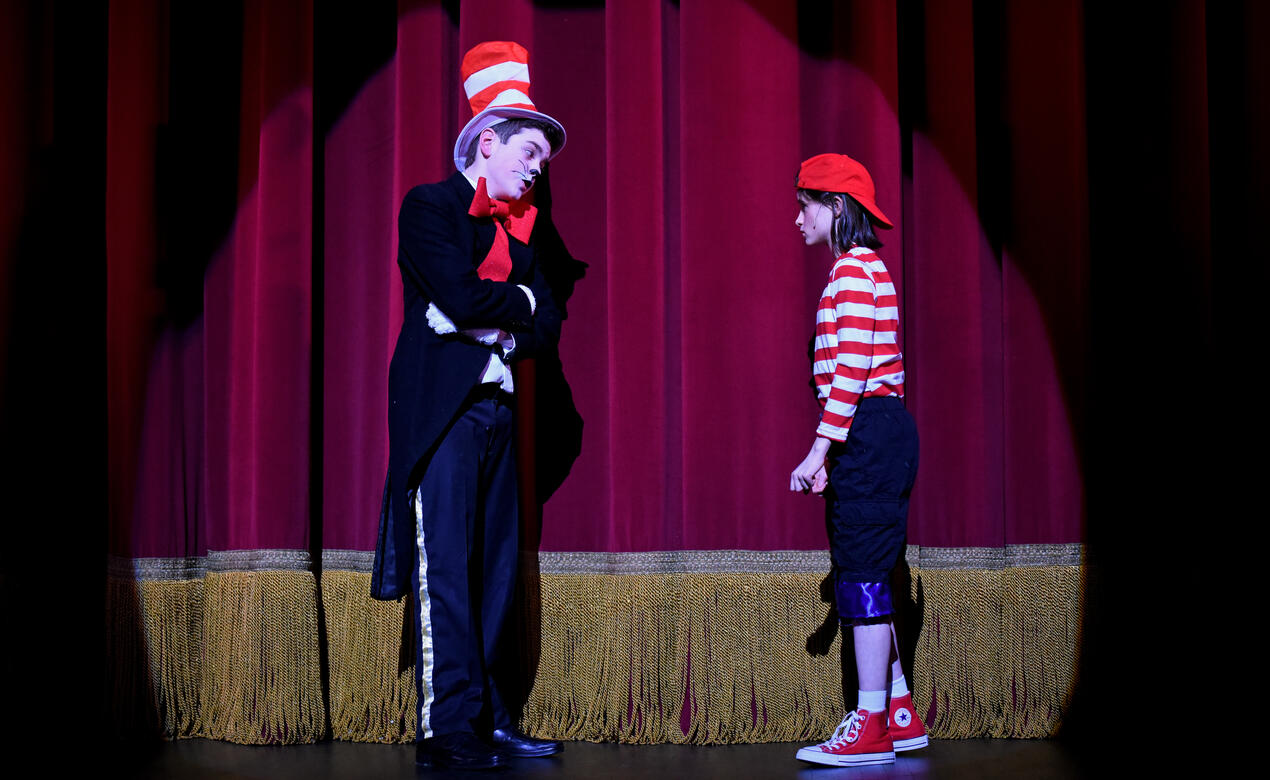 It's no easy feat putting on a musical. It's an even bigger undertaking when you put on a top-notch show involving more than 140 Grade 6-8 students in a variety of roles on- and off-stage. But that's what we do every two years at the Middle School, and this year's musical is a big one: Seussical!
Delve into the familiar pages of Dr. Seuss's iconic children's stories as they all come together in this fantastical, bombastical and whimsical musical. The bright and colourful Seussian costumes and sets will bring all of these familiar characters to life.
Seussical takes the stage at the McPherson Playhouse on Friday, March 8 and runs until Sunday, March 10.
The SMUSpaper sat down with four student performers – Ryan K. (Grade 8), Arjun P. (Grade 8), Talia P. (Grade 8) and Chelsea L. (Grade 6) – to chat about what it's like being in the Middle School musical.
Who do you play in Seussical?
Ryan – I'm the Cat in the Hat. My main role would be a narrator of the musical but I'm also sort of controlling the story. As the Cat in the Hat I play 10 or so little parts, which involves a lot of costume changes. I'm supposed to be this mischievous trickster.
Arjun – I play one of the cadets. We are a group and we have no opinions, we have no thoughts – we've just succumbed to the will of General Schmitz. Our part is more of a dance with some singing and chanting.
Talia – I play General Genghis Kahn Schmitz. To me, the only thing that matters is the war. And the war is the Butter Battle, which is a war against people who eat their toast butter side down. And it's important to me that you can't have your own thoughts.
Chelsea – I play Jojo who is a very creative person. Jojo doesn't know their way in life but through the story, and with the help of the Cat in the Hat, I find it.
What's it like being in the musical?
Ryan – In the last couple musicals and plays we've done I've been a background character or a small role, but I've always wanted to be up front getting more attention. I'm really glad that's what I got this year. It's a big commitment, but I planned for that. It's so fun getting to do all of this – the singing, dancing, acting; it's all enjoyable to me. I never dread going to rehearsal because the process itself is really fun to me.
Arjun – It's really fun and I having a role but not a lead role. I like being in the group of cadets so I have other people around me who I can work with and have fun with.
Talia – It was really great in Grade 6 getting the opportunity to play a lead [as Charlie in Willy Wonka] but this time it's also really nice taking on a smaller role. I like that I get to still be really involved in the rehearsals and have fun putting in the time. It's such a fun musical to be a part of!
Chelsea – I love it! We did the Grade 5 opera last year, which didn't involve nearly as many people as Seussical. I really didn't expect to get a big role when I auditioned because I'm in Grade 6 but I'm so happy I tried out. I love it!
Why should people come see Seussical?
Ryan – Our Middle School productions are always big theatrical performances. One thing I didn't expect coming into Grade 6 was how much effort goes into it. Seussical is such a fun musical; there's so much going on, there's so much to take in visually and there's something for everyone in the show!
Arjun – I think there's something really great about seeing a group of kids put on a show like this; it's authentic. Performing in public is a very new experience for all of us so you'll get to enjoy watching us go through that process, too.
Talia – You should come because it has a great set, it has great costumes, there are great people performing in the show. Everything is so out there and so fun; it's really colourful and bright and happy! And it's worth coming because a lot of people have spent a lot of time making the show come together. Not just the students, but thank you to Mr. Enns, Arabella, Ms. Haydock and all of the teachers and parents and people in the orchestra for helping us out.
Chelsea – I think that people should come because Seussical has a lot of flair and pizzazz. I'm so happy to have a main role in the musical but I also want to be in the audience to watch it because we have so much fun on stage and I think that will come across to people in the audience.
Seussical runs from March 8-10 at the McPherson Playhouse. There are two evening shows (March 8 and 9) and one matinee (March 10).