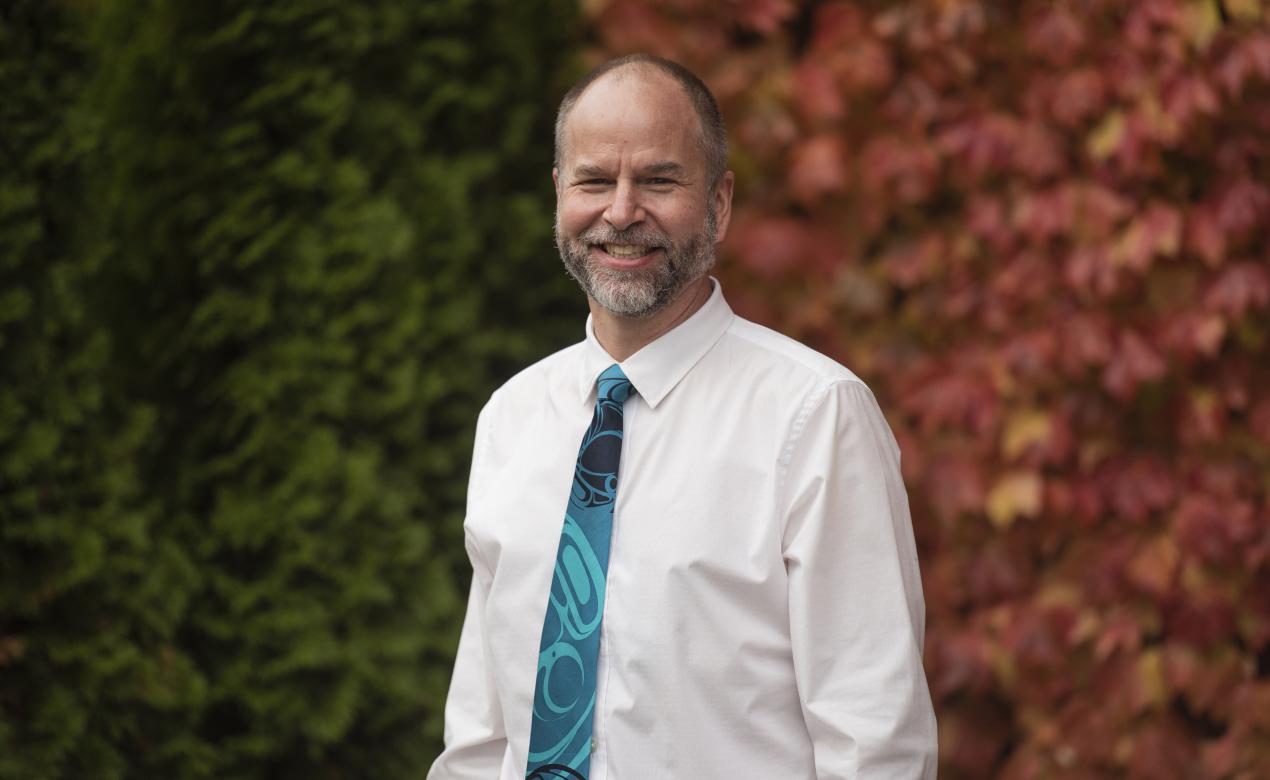 Our community aspires to build with local Indigenous Peoples a relationship where their people and culture are present in our communal life in ways that are authentic, visible, respectful, and integrated. We want our approach to reflect the living nature of our local communities, along with the highest understanding of what it means to be a good neighbour.
In 2017, St. Michaels University School started on an intentional journey to build authentic and respectful relationships with our local Indigenous Peoples. The purpose was to deepen our community's understanding of the history behind our relationship and what it means to be on a path of reconciliation today.
This endeavour is supported by Floreat, our strategic plan, where we have committed ourselves to Honour our Indigenous Connections. It also aligns with our core values and the spirit of our ongoing work around Equity, Diversity, and Inclusion. Our recognition statement directly links one of those values to how we should be in relationship with local peoples:
One of the core Values of St. Michaels University School is respect.
With this in mind, we acknowledge that our school rests in the heart of Straits Salish territory, a living culture with its own rites, ceremonies, and unfolding history.
We honour the Esquimalt, Songhees, and W̱SÁNEĆ peoples - whose homelands we share
and whom we recognize as our neighbours.
Key to this journey since the outset has been a focus on relationships. We have sought guidance from First Nations elders who are respected within their communities and traditionally trained in the ways of their people. Much of the last four years has been spent laying this groundwork, particularly with the Coast Salish and Kwakwaka'wakw communities on Vancouver Island.
The eminent Coast Salish Elder Bill White, from the Snuneymuxw First Nation, joined us early on to be our First Nations Guide. Bill's thoughtful and knowledgeable guidance has allowed us to move this journey forward, and we are delighted to now be in a place where we can share details on some of the pieces that are ongoing or will soon be in place at SMUS.
10 Strands
After drawing on conversations with members of our local traditional community, along with advice from diversity leaders and other independent schools who are further along this path,10 interrelated strands were identified as central to our being good neighbours. With these in place, SMUS will be well positioned to welcome Indigenous visitors, staff, and students into our school. Of course, as we move forward, we'll adapt the strands as our own understanding deepens.
Access to a First Nations Guide
Access to a broader Council of Elders
Access to an Indigenous Personal Counsellor
Appointment of an Indigenous Scholar
Appointment of Indigenous Faculty and Practicum Students
Appointment of an Indigenous Liaison
Appointment of an Indigenous Liaison Administrator
Installation of Culturally Significant Pieces
Establishment of basic Indigenous Cultural Literacy Among All Staff
Establishment of Indigenous Knowledge and Perspective Throughout the Curriculum
Work on all of these strands is in place or in process. To offer a sampling, here are updates on three of them.
Establishment of Basic Indigenous Cultural Literacy Among All Staff
By the end of June, all staff employed directly by SMUS will have completed a tailor-made, 3.5-hour Indigenous Cultural Literacy course. At the time of writing, all faculty have already done so. Future staff members will take the units as part of their onboarding. Our goal is to ensure that every staff member shares a basic understanding of our local communities and the role schools can play in the reconciliation process.
The four-unit course begins with an in-depth look at the school's approach and explaining the 10 Strands that we are working on to build meaningful relationships. Unit 2 provides information and background on the Coast and Straits Salish Peoples, including personal histories and an outlining of traditional values and protocols. Units 3 and 4 delve into the Truth and Reconciliation Commission of Canada (TRC), which looked into the legacy and impacts of the residential school system, resulting in the 94 Calls to Action. A speech from the TRC chair, retired senator Murray Sinclair, highlights how every Canadian has a role to play in the reconciliation process.
Through all four units, members of different Indigenous communities share videoed stories and experiences to provide greater understanding.
The residential school system is not bygone history; it remains present in our collective experience and our relationships as Canadians. In order to teach our students differently than we were taught, our school recognizes that our faculty and staff first need to learn differently than what we were taught.
Installation of Culturally Significant Pieces
In consultation with local Elders, the school was encouraged to have visual representations of local First Nations culture on our campuses.
We have commissioned artist Dylan Thomas, from the Lyackson First Nation, to create four Spindle Whorls that will become an integral part of our community. Spindle Whorls were historically used by the Coast Salish to spin wool, and many featured carved artwork. These four pieces of art for SMUS will reinterpret our School Values – respect, courage, honesty and service – and will live at our Junior School, Middle School, Senior School and in the Chapel.
Four times a year, based on seasons identified by our local First Nations communities, the Spindle Whorls will be moved and rotated between campuses. They will also be brought together for significant community events, such as graduation. As part of the formal protocol when the Spindle Whorls are moved, a Salish song has been written for our school and will be sung by students who receive special instruction.
Our first celebration with the Spindle Whorls will take place early in the 2021-22 school year.
Appointment of an Indigenous Scholar
Another priority identified by local Elders and other leading independent schools was the importance of having members of our local First Nations communities on campus.
This September the school will launch the Indigenous Scholar program, inviting a member of the Indigenous community to work with students and staff across all three schools. Each Indigenous Scholar will offer a different area of specialty or series of gifts to the school. To respect their ongoing commitment to their own communities and ongoing careers, Scholars will be available to us half-time.
We're thrilled that our Indigenous Scholar for the 2021-22 school year will be Dylan Thomas, who is well-respected within the traditional Coast Salish community. In addition to his skills as an artist in a variety of mediums, he brings to SMUS a deep knowledge of his culture that can be applied across a diverse array of subject areas.
He will work with students on a series of projects at the Junior, Middle and Senior Schools, including carving a welcome pole for the Richmond Road campus. Tied to the protocols associated with the ceremony surrounding his Spindle Whorls, Dylan will work with students to paint four drums with imagery that is closely connected to his Spindle Whorl designs.
What's Next?
Being a good neighbour is a process and we have much to learn. Our hope is that our campuses become a place where members of the Indigenous community feel consistently welcomed and valued.
In the coming year, we'll seek to broaden and deepen our connections with First Nations Elders, knowledge keepers, and leaders. We're currently entering into conversations with members of the Metis community and building ties with Indigenous leaders in the public school system. Of course, all of this work eventually impacts the experience of our students, captured in the 10th Strand. I'm grateful to my colleagues for the thoughtful and creative ways they continue to bring Indigenous knowledge and ways of learning into their classrooms.
As Murray Sinclair makes clear, seven generations of students moved through the residential school system and we shouldn't be surprised that the reconciliation process will also take generations. We're under no illusion that becoming a good neighbour happens overnight. At the same time, we're committed to playing our part.
If you have questions or comments, feel free to reach out to me.