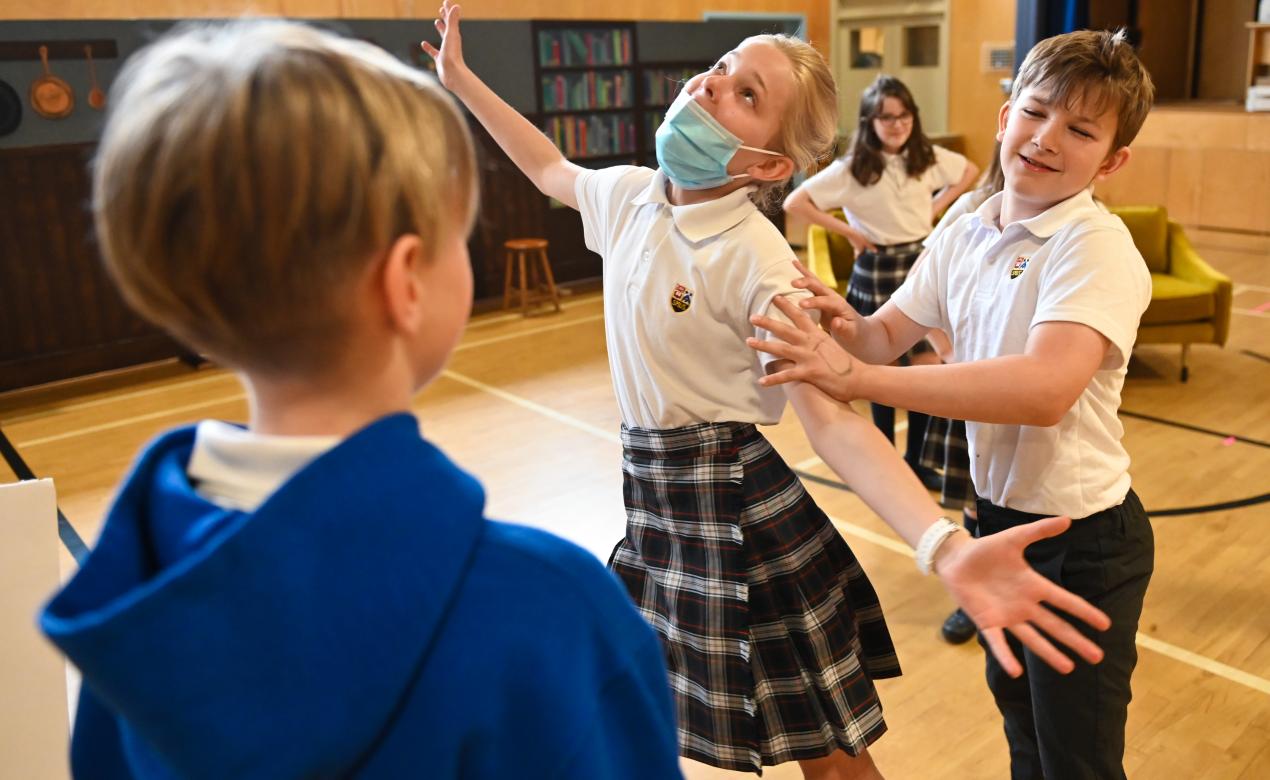 Get ready for a Cinderella story unlike any other you've seen.
Our Grade 5 students are staging Cinderella: A Family Pantomime at the McPherson Playhouse (get your tickets now!), and they are excited to bring this hilarious and modernized version to life!
"I'm really excited. It's my first musical I've ever done and it's just so funny," says Matthew S., who plays the king. "And it's a pantomime so it's really interactive with the audience."
"The audience plays a part in the play. We interact with them a lot and we bring audience members up on stage two times to take a role," says Laurel G., who plays Cinderella. "Going through rehearsals, we are also planning on specific reactions that the audience might make, but we always have a backup if things don't go according to plan."
This retelling of Cinderella includes lots of new SMUS-specific and Victoria-specific jokes. And unlike the Disney version, the songs in this pantomime are more familiar pop tunes, including Elvis Presley, Celine Dion and Aqua, and music from Star Wars.
And tied closely to the fact that this is a pantomime, there are also lots of instances when the actors break the fourth wall.
The show has been double-cast this year, allowing all Grade 5 students the opportunity to enjoy playing a larger role – and a larger-than-life role – in the show. 
"The characters have to be really silly and exaggerated because it's funnier that way," says Olivia S., who plays Henrietta, one of the stepsisters. "I like that we get to play this person who is completely different than how we normally act."
"I'm really excited to do this show because I enjoy acting and singing," says Lauren L., who plays the queen. "I have a lot of scenes so I get to do a lot of that. And I love playing a character who's very sassy  – I think that's a lot of fun!"
The Grade 5s also say they are enjoying the opportunity to finally get to perform in a SMUS musical, as many of them have been here since Kindergarten and have seen past Grade 5 musicals. They also love that they're now in a position to have some of their younger schoolmates look up to them, too.
"I feel like now the little kids will look up to us when they watch us and get excited for when they're in Grade 5," says Andrew M., who plays the prince. "My brother is in Kindergarten and he's really, really excited to watch me perform."
Beyond the contributions of the talented Grade 5 students, we wish to thank Duncan Frater, Brandon Hawes and Stephanie Geehan, along with the countless parent volunteers and additional Junior School staff for helping bring Cinderella: A Family Pantomime to life. 
The show runs June 2 and June 3 at the McPherson Playhouse at 7 pm both nights. Tickets are available online through the Royal and McPherson Theatre box office.
"We really hope lots of people come because we've all worked really, really hard on it," says Christopher, who plays Cinderella's brother, Steve. "It's a really fun and funny version of Cinderella and it's good for all ages!"