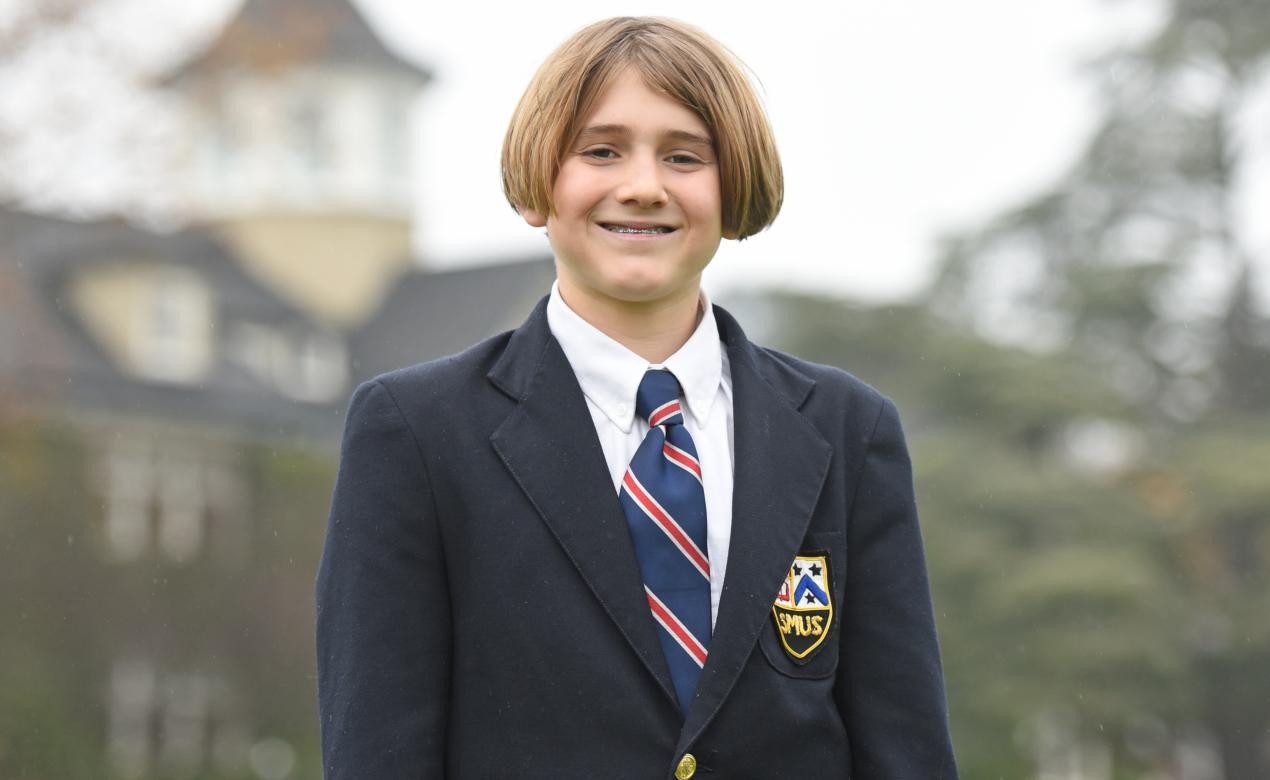 We are excited to share that Grade 8 student Andrei Marti was named a recipient of the BC Medal of Good Citizenship this week for his selflessness raising tens of thousands of dollars for charity. He is the second youngest recipient ever.
At just five years old, Andrei got very sick which led to his pancreas shutting down and a Type 1 diabetes diagnosis. Through this challenging period, the Help Fill A Dream Foundation stepped in and provided financial support to his family. When he was 6, and life was a little more settled and he was managing his diabetes, Andrei was inspired to give back to help other families in similar situations.
"If everyone is just doing things for themselves, it's very hard to move forward and make solutions to many world problems that we have, and it's very hard to be a community," he says. "When you help someone, I think they are more inclined to help again, and it's kind of like a domino effect. Yeah. I think one person can start that effect and that trickles on."
His fundraising began with a small bottle drive in his Cordova Bay neighbourhood and, over the last seven years, has grown to include a variety of fundraisers that have netted more than $50,000 for Help Fill a Dream and JDRF Canada (Juvenile Diabetes Research Foundation).
This week's announcement of Andrei's citizenship medal from the Province of BC is one in a long line of awards and recognitions for a truly selfless individual.
Last month, Andrei was named to the Giving Hearts Honour Roll on Vancouver Island – for the third straight year – on National Philanthropy Day. He has twice won the Youth in Philanthropy Award, in 2016 and 2018 at age 7 and 9. And earlier this year, he received an Honorary Citizen Award from the City of Victoria.
"It feels really good inside, but all of these things that it was able to do take a community. None of this would be possible if it weren't for the people in our community dropping off bottles and by giving in different ways so we can raise money and spread awareness, and my mom and dad," Andrei says.
There is also a scholarship in Andrei's name at Camosun College, awarded to a student who demonstrates community involvement and leadership.
Andrei's Fundraising Journey
At six years old, Andrei recalls wheeling a cart through his neighbourhood every week collecting bottles and cans.
"We'd get a bag a week, and I'd collect maybe $20 a month, and I did that for a couple of years. We moved to Brentwood Bay when I was 7 and my parents put a message out to the whole community to drop off bottles for a good cause, and then we were getting maybe $100 a month then," he recalls.
At 9 years old, Andrei got himself a busking permit and, using the skills he had – doing handstands – starting busking in the summers in downtown Victoria. He says that was a turning point for his fundraising, which was bringing in about $100 an hour.
"That was incredible!" Andrei says. He partnered with BC Transit to match donations and fellow buskers would come and perform alongside him as he showed off his skills.
"Everyone really came together."
Advocating for a Cure
Ask him about living with Type 1 diabetes, and Andrei is an open book.
"As a Type 1, I can still do everything that everyone else can; I play soccer at a pretty high level and I enjoy doing everything else my friends do. But I have to be mindful and careful. I have to carry juice with me just in case my blood sugar goes too low. I have to have my insulin pump with me in case my blood sugar goes too high. It doesn't stop me from doing what I want to do, but it definitely makes it harder."
There's a lot of monitoring and tracking when you have Type 1 diabetes, but even at 13 years old, Andrei recognizes he has a high level of responsibility that comes with the diagnosis.
"It's one of those things where I know that I have the ability to keep it in check. And if I do that, then the rest of my life will be a lot easier."
His candor and confidence also recently helped land him a trip to Ottawa to advocate to Members of Parliament to support research into Type 1 diabetes with the ultimate goal of finding a cure.
Andrei met directly with MPs from Vancouver Island and the Lower Mainland, and shared his story and experience of living with Type 1 diabetes.
"There's a huge number of people with Type 1. I feel like going to these events helps us get that much closer to a cure. And when we do reach that final cure, the amount of lives it will affect is crazy," he says. "Being part of that journey and being with other people to work our way to a cure is pretty amazing.
"A cure would mean so much freedom for so many people. Yes, there are ways to cope with it – like the pump and the continuous glucose monitor – that make living with Type 1 that much easier, but a cure, if it's accessible to everyone around the world, would mean they don't have to choose between insulin and putting food on the table, or paying rent."
We are incredibly proud of Andrei for all of his fundraising and advocacy work, and for all of his accomplishments and deserved recognitions!