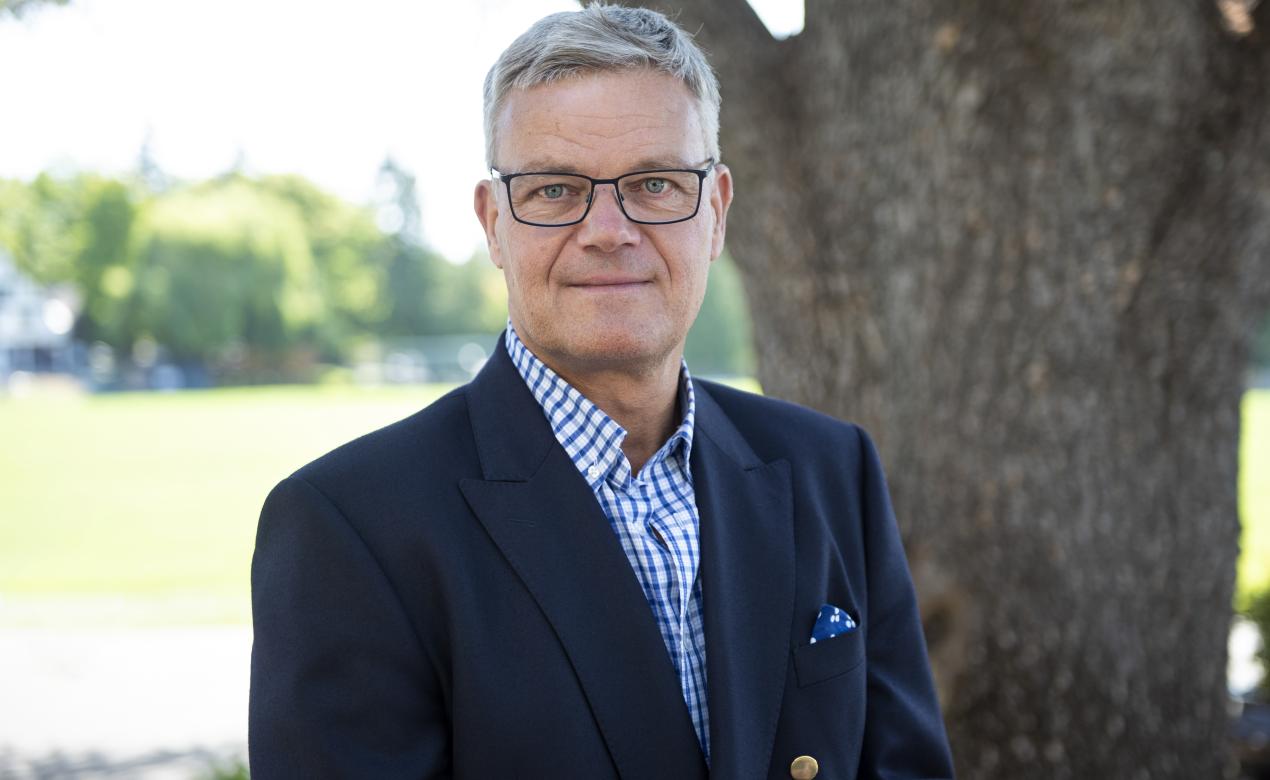 Dear Parents and Guardians,
As we complete our early morning and evening dog walks, dew gets thicker, the shadows are lengthening, and the intensity of summer heat is beginning to wane. After a revitalizing few months, I trust that you will all be anticipating the start of this new school year with renewed energy and enthusiasm for the challenges and opportunities that lie ahead.
This summer, Elizabeth and I enjoyed visiting the Kootenays and various U.S. states from Washington to Wyoming. What struck me most was the way that geography, history, culture and ideology combined to create contrasting perspectives on life, even from town to town. We often talk of "the rich tapestry of life" – we experienced it first-hand.
A few days ago, I was fortunate enough to be given an individual impromptu lesson in chiseling by Indigenous Scholar Dylan Thomas. At the start of a fresh academic year as we welcome a record 26 new members of faculty and staff, and over 200 new students from 28 countries around the world, it was wonderful to be involved in a small, symbolic and significant contribution to our intricately carved Welcome Post. We hope to unveil this wonderful project, the result of many hours of skillful carving last year by students under Dylan's expert guidance, when it is completed over the next few months. I would like to pass on our sincere thanks to the Parents' Auxiliary and supporters of our Annual Fund who have generously funded and supported this unique project. At the start of a new school year, the post captures our warm welcome back to one and all.
As most of us have been relishing time away from SMUS, many members of our community have been negotiating the pressures of their busy season. I congratulate and thank our External Programs team who have roared back from the COVID doldrums with an impressive season of activities providing enriching experiences for over 1,000 students, in programs covering a full range of athletic and intellectual options. Our finance department successfully negotiated their annual audit process, which confirms that the school anticipates the challenges of the immediate economic future on exceptionally strong financial foundations. The maintenance and grounds crews have, as always, worked tirelessly to ensure that our campuses are presented in the highest order. Our Admissions department has ensured that the school is full to capacity with what looks set to be an exceptional cohort of new students. This year, a challenge has been to keep school numbers down, in line with one of the aims of Floreat: "better, better, better" not "more, more, more." We open with 1,023 students and with strong interest in 2023.
We are pleased to report that the Junior School Annex project is building momentum towards opening in September 2023. This $10-million investment in state-of-the-art facilities in support of excellent teaching and learning at the Junior School will radically transform the education that we offer. It is wonderful to hear that expressions of interest in the new Junior Kindergarten program are already well ahead of target.
Work is also moving on with the planning of the Middle School refurbishment due to open in September 2025.
We will also be moving on with once in a generation plans to refurbish our boarding accommodation, in support of our aim to provide the best boarding facilities in British Columbia.
At our recent Senior Leadership Team retreat, we discussed the challenges that result from the ever-proliferating range of ways to communicate. I would draw your attention to a new Official Communications Channels policy in our Family Handbook, confirming what channels of communication are officially sanctioned by the school. I would also remind all members of our community – parents and guardians, faculty and staff, and students – that anything posted in the public domain should satisfy the highest standards of respect and factual accuracy, representing the values that we strive to instill in our students every day.
This year, after several years of disruption, we are planning to launch the school year with in-person receptions for various groups of new parents, and social gatherings in support of our Annual Fund. Our carefully chosen new slogan is 'The Power of Participation'. I look forward to meeting in person as we intentionally break out of our COVID cocoons.
As we start the new school year, we are reminded that sincere, positive contributions, however small, build momentum and will enable our great school to achieve its objectives, and in so doing, will provide the best possible individual experience for every one of our students. It is truly 'the power of participation' that will count for the year ahead.
With best wishes,
Mark Turner
Head of School