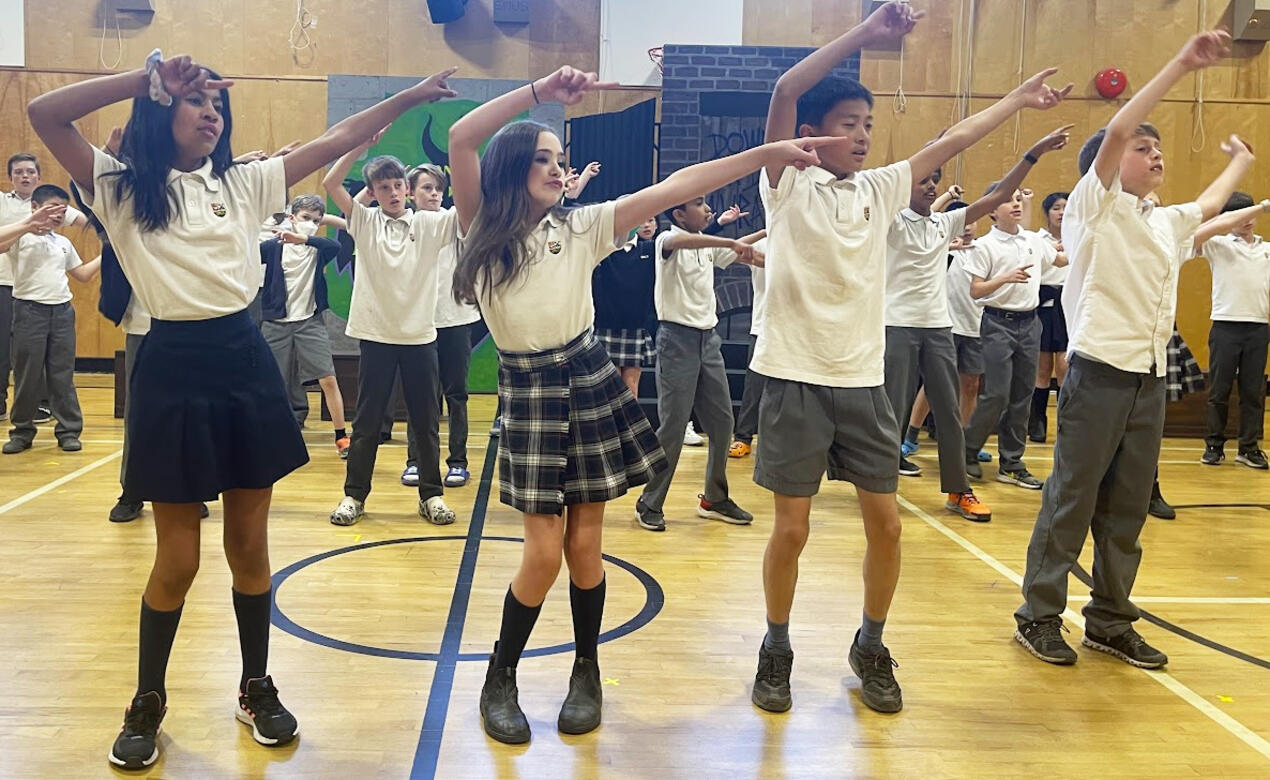 The Junior School is a flurry of costumes, set pieces, and kids running into their places as they get ready for this year's musical, Disney's Descendants. In the midst of all this, there's a buzz of excitement and enthusiasm radiating from the teachers and students alike. We sat down with Grade 5 students Mae R. and Grady D. who play two large role's in the production, to hear what this process has been like-- and why you should come see it! 
Tell us a little bit about The Descendants, what's it about?
Mae - It's about all the kids of the Disney villains and princesses, but mostly the villain's. The people of Auradon are like Prince Charming and Cinderella's son, Mulan's daughter, and then there's the villain's kids, like Cruella De Vil's son and Maleficent's daughter, and they're all teenagers and go to a new school together in Auradon. And it's about how even though we've come from different backgrounds and we're all different, we should all accept each other. I think it has a good message, but then it's also like funny and it's a musical. I was a big super fan of the movies before I even knew we were doing it for school.
Grady - Yeah, I freaked out when I heard. I saw it recommended on Apple TV once, and I was like, hmm, what's this? And I watched it, and loved it. I think I've watched all the movies like three times now, the songs are so catchy. We're kind of doing all of The Descendants movies in one musical, so it's risky listening to the movies now since they're different from what we're doing. But a lot of it is the same, the message is still the same, how The Descendants are all really friends and all support each other.
What was the audition process like for your characters?
Mae - At the beginning of the audition, you tell Madam Geehan three characters you want to be. There were a lot of people who wanted to get big roles, including Mal, the daughter of Maleficent, which I really wanted. I think everybody was a little bit nervous on audition day, but I think then when everybody sat down and started playing a piano, everyone started to get comfortable. I was so excited on the day I was told I got Mal! She doesn't have the best connection with her mom, since her mom is evil, and Mal feels a lot of pressure from her mom. But she kind of learns to love, and what love is... she still has her moments, but she becomes very nice.
Grady - Carlos is absolutely my favourite person in the play, he's Cruella De Vil's son and he's kind of the comic relief of the group, and I feel like he fits me right. But I had no clue what was going to happen right after auditions. I was like, 'oh shoot, what if I don't get a big role at all?' So when I found out I did get Carlos, I was just stoked and it was awesome. At the start he's really afraid of dogs, and Cruella only really kept Carlos to be her servant, fluff her coat. 
How have rehearsals been going? Is it nerve-wracking? Exciting?
Grady - I was stressed out at first, memorizing lines was difficult. It was nerve-wracking, there are so many lines. But then I just found that Carlos' lines are kind of catchy. I would say he's probably the easiest to memorize out of all the boys in the play because of that. It's fun to do it with your friends though, because it feels really safe. If I was with anyone else and I messed up, I'd be so embarrassed, but everyone's just super nice about it, they're not laughing at you. It's just awesome to have people to like laugh along with when you mess up. It takes a lot of time though, to manage being in the musical, you need to practice a lot.
Mae - Yeah, you have to manage your school work or else you'll fall behind, but you get good at it. I have over 100 lines so it's a lot to memorize, but in rehearsals we try our best and just have fun, learning the moves and the dancing is hard, but it's a fun way to end going to the Junior School. You get to hang out with all your friends and dance and sing and act together, and all my friends are so proud of me.
What are you most looking forward to performing on stage?
Mae - I think it's gonna be a little bit scary, but overall super fun. I've done a lot of musicals before, and I think there's something really magical about being on stage and I'm just so excited to be up there and be with Grady and all my friends, it's like two things that I love combined. My costume is a lot of purple, Mal is very purple, including the wig - the costumes are super fun, and my dress is massive and has a frame. 
Grady - Same here. I'm really looking forward to performing the song Rotten to the Core, it's just a fun song and it's at the very beginning, so it's kind of showing all our personalities from the start. My costume's really cool too, I have a leather jacket, with checkered shoulders and red gloves, and the pants are hilariously fun. I get to use hairspray too, to make my hair part black and part white. We're going to get a suit from Value Village and paint it black and white too.
Why should people come see the show?
Grady - You'll never get bored of it, it doesn't matter what genre you normally like, you'll like this show. I can't categorize it, because it's just so much fun, it has everything in it that anyone would want.
Mae - It has a good message, great songs, and amazing script and characters, and it's just an awesome show. There's acting, singing, suspense... by the time intermission happens, we know the audience is going to want to see more. 
The Junior School's production of Disney's Descendants runs June 8 and 9 at the McPherson Playhouse. Tickets can be purchased at the McPherson McPherson Box Office.