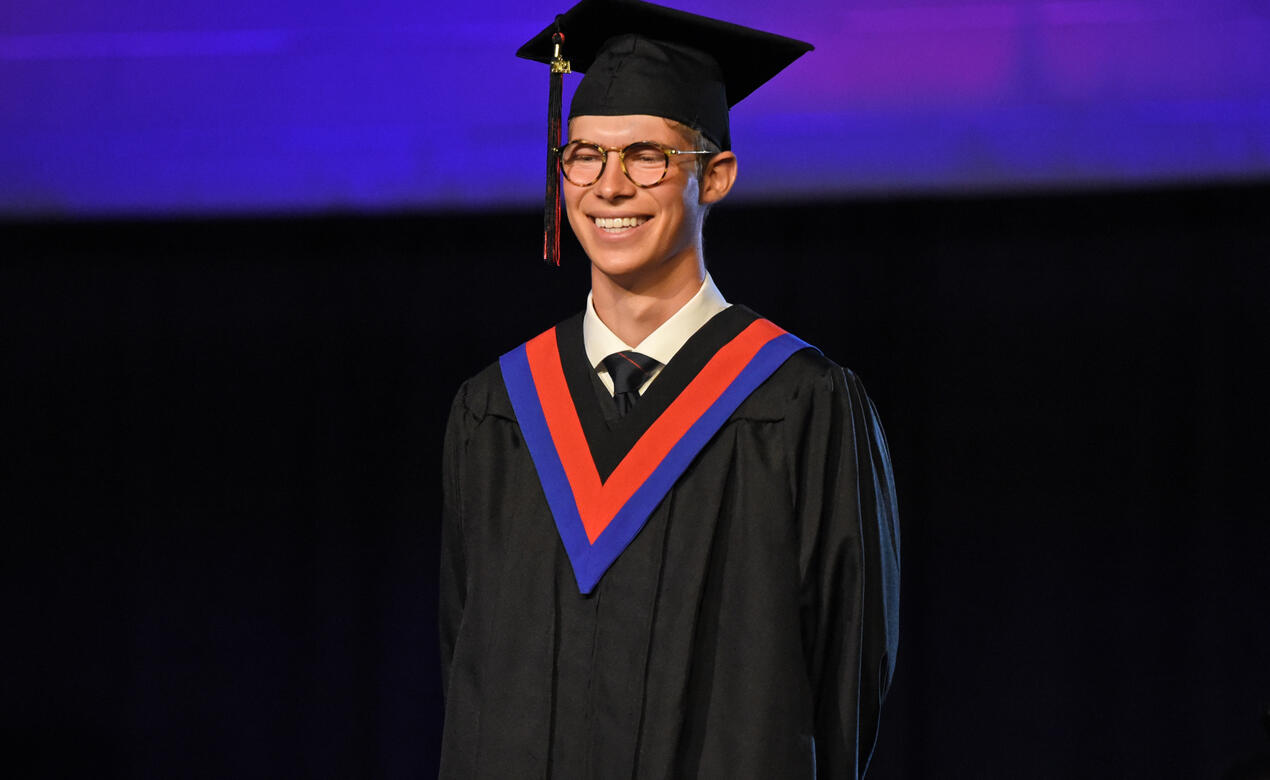 This story is part of a series of articles from our University Counsellors highlighting the stories of alumni and the paths they have taken after graduating from SMUS. You can find links to other stories in this series at the bottom of this post.
---
Paul Mueller is the kind of student who makes a positive first impression on everyone he meets, including those who knew him at SMUS. Take Admissions Associate Linda Vanderdonck, for one. She remembers meeting Paul for the first time in Heidelberg, Germany, when he and his parents were considering sending him to SMUS. "I had already reviewed his academic reports, so I knew I was meeting a smart young man," she recalls. "But his smile and natural kind demeanour really stood out. From the time he arrived on campus to graduation, Paul's friendliness, spontaneity and helpful ways never lessened – in fact they shone throughout his many successes."
Now, after three memorable years at SMUS, Paul Mueller is back in his native Germany. He's studying molecular medicine in an elite research program at Freiburg, a university town in southern Germany, and one of the leading German universities for medicine and biochemistry.
Overcoming Challenges
Making the move from Canada back to Germany was a challenge. One hurdle was getting the Abitur, or German equivalent of the high school diploma. While the rules vary for each German province, generally speaking for the Abitur students need at least four APs (with a minimum score of 3) in the subject areas of history, math, science, and language (French, German or Spanish.) The required courses within these subject areas vary, depending on a student's course of study at university. The Abitur is awarded on a case-by-case basis, and it is particularly hard to get where the student, like Paul, applies to study medicine.
In getting the Abitur, Paul was aided by his father, who fed authorities in their province of Baden-Wurttemberg with marks, progress updates, and information over the course of two years. The efforts of Paul and the Mueller family make them trailblazers for future students who are thinking of attending SMUS before making a similar move back to Germany. 
Paul's positive attitude was helpful in overcoming another hurdle in his academic plans. Despite achieving excellent assessment levels, he still did not quite qualify for direct entry into his chosen German medical school. But being the resilient person he is, Paul found that the research program he entered instead turned out to be a wonderful place for him. He says he will likely choose to stay where he is, rather than make the move into medicine, even though that is now an option for him.
As challenging as it was for Paul to make the move back to Germany, he believes it was worth the effort. With the solid academic foundation his time at SMUS provided, Paul was rewarded with some prestigious scholarships and awards on his return, including the "Karl-von-Frisch-Preis" scholarship award from the German Life Sciences Association, awarded to just 57 students annually.
Paul loves his studies. His favourite class is biochemistry. "Right now, I think proteins are super-interesting," he declares, whereas he's not as keen on lipids. Feeling "super-legit" in his lab coat and goggles, he recently performed a polymerase chain reaction ("PCR") test, the same kind used to test for COVID-19. His program also requires tutorial sessions, called Propäedeutikum where, after a presentation, students exchange ideas and ask questions of eminent professor-scientists, leaders in various fields of biomedical research. After COVID-19 restrictions, Paul emphasizes how exciting it is for students "to be all in one room!" Tuition is another aspect of his studies that makes him smile: he pays just 161 Euros per semester.
After completing his degree, Paul plans to do a doctorate. He hopes to work on developing vaccines in the future, either in a university setting or with a pharmaceutical company. Unabashedly pro-vaccine, Paul and others from his program make posters and stage counter-protests against the vocal anti-COVID vaccine demonstrations in and around Freiburg. 
Reflections of SMUS
Paul is very grateful for the opportunities offered by SMUS, especially for the "many things I got to experience there." A highlight for him was his boarding trip to Hawaii. He also says his Outdoor Leadership courses in Grades 11 and 12 fostered in him a passion for nature, reinforced by hiking the coastal trail in Sooke and telemark skiing in Manning Park. He even enjoyed his avalanche safety course.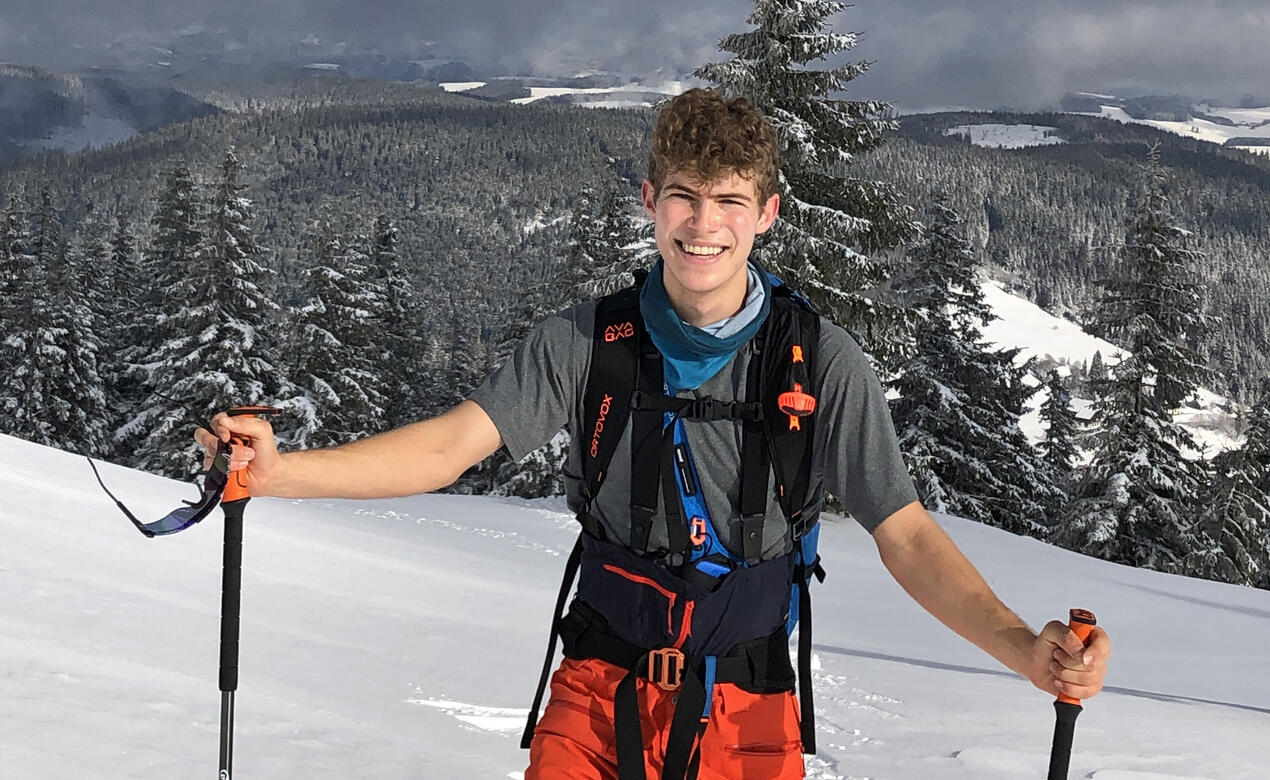 What's it like being back in Germany? "It's so fun!" Paul chose Freiburg, in part, because of its proximity to the mountains, making it easy to go ski-touring. He and his friends love to head to the Black Forest in the morning, walk up a mountain and ski down. It's an inexpensive and healthy break, and they can still make it back for class in the afternoon. 
We are delighted that Paul is doing so well in Germany, but we still miss him. Linda Vanderdonck puts it best when she says, "In Admissions we meet so many incredible students from all over the world. A few in particular tend to stand out from the first moment you meet them, and for me Paul Mueller will always be one of those students."
---
Other stories in this series
Maggie Helmke '18: Food for Thought
Ariel Khoo '21: SMUS Connections, Lessons Continue to Run Deep