American Friends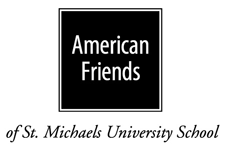 The American Friends of SMUS organization was established in 2000.
It facilitates donations by US-based donors and allows IRA-approved tax receipts to be issued to them for eligible gifts.  Historically the American Friends Board has included alumni of the school who are US citizens, the Chair of the SMUS Board of Governors (representing that Board), and the Head of School.  
The Director of Advancement has and continues to act as President of the organization, with a shared objective to support engagement with families and alumni in the USA, as well as the flow of US donations to SMUS.
Donations from the USA
American Friends of St. Michaels University School, Inc. is a US non-profit corporation and qualifies as a charity under US tax law. You can therefore receive a US income tax receipt for your donation to SMUS so long as it is in accordance with US tax law.
US tax law requires that gifts must be unrestricted, to be used by American Friends of St. Michaels University School for its charitable purposes in such manner as its Board of Directors may at their discretion determine.  Donors may, however, make a non-binding request regarding the designation of their gifts; when the Board of Directors of American Friends of SMUS determine that such requests will further its charitable purposes, the donor requests will normally be honored.
American Friends Board Members
Michael Throne '72, Chair & Treasurer
Shara Campsall, President
Phil McCune '83, Secretary
Fiona Donald '82
Daniel Duke '88
Wen Finamore
David Hancock '72
Renton Leversedge '93
David Longridge '88, SMUS Board Chair
Mark Turner, Head of School