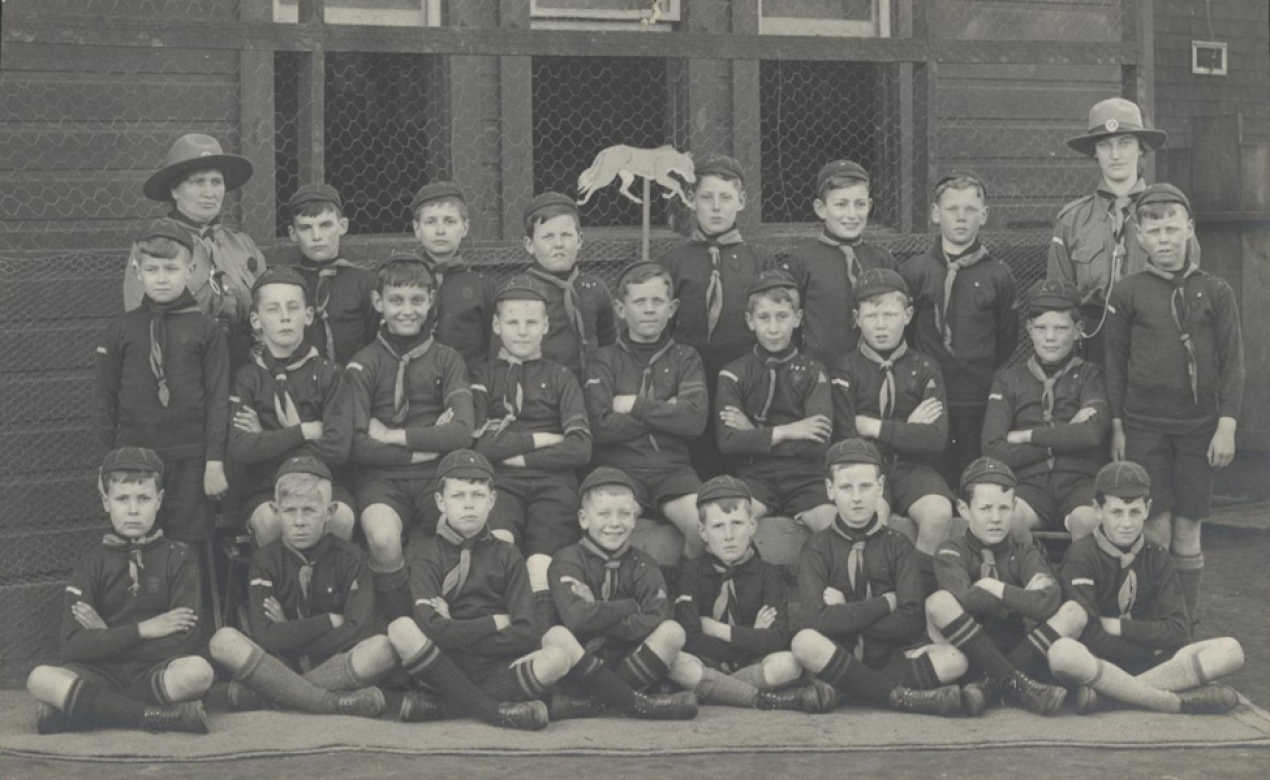 One of our Jubilee year projects is "Waiting to Be Remembered - Stories from St. Michael's School," a collection of incredible stories of connection and coincidence involving St. Michael's School Old Boys, researched and authored by Michael Nation (SMS '70).
Between January and June 2022, we will release stories by Michael Nation and we hope you will enjoy reading them.
Check out the Spring 2022 issue of School Ties to see more photos that accompany this story.
---
The scouting movement was initiated in Britain by Lord Robert Baden-Powell in 1907. In 1908 it spread to India, Australia, New Zealand and other countries in the empire. This included Canada, with two troops in Ontario and one in Nova Scotia. Chile was the first non-British Empire nation to begin scouting, in 1909, and France, the Scandinavian countries and the United States took it up the following year. In 1912 the Boy Scout Association was granted a royal charter throughout the Commonwealth by King George V. 
The movement expanded in other ways. Baden-Powell's sister Agnes formed the Girl Guides in 1910. Sea Scouts started the same year, Wolf Cubs were inaugurated in 1916, and Rovers two years after that. Though the age ranges have varied a little, cubs were usually eight to 11 years of age, and scouts 12 to 14 or older. 
Scouting became part of St. Michael School soon after that school's founding in 1910. In the memoir written by the Old Head, Kyrle C. Symons, the first mention of scouts is in the summer of 1915, the first of cubs in the autumn of 1917: "We were honoured by a visit from Mr. Randolph Bruce, then Lieutenant-Governor, whom we welcomed with a ceremonial turn out of Scouts and Cubs…." 
But as far as I know these were associations with local groups. The first scout troop based at the school was formed at the start of the 1920-21 school year, with an Old Boy, Drennan Hincks (no. 18 on the roll), as scoutmaster. Baden-Powell, of course, was very active in promoting the movement. He first visited Victoria in 1909, then again in April 1923. On the latter occasion Lord Baden-Powell noticed the Albert Medal worn by Anthony Farrer. 
Many masters and friends of the school took on the leadership duties over the years: Doug Southworth, Percy Wilkinson, Jack Aldis, and "Middy" Mackenzie in the 1920s. Then for almost two decades (1928 to 1946) "Sonny" (K.W.) Symons was scoutmaster. K.W. was followed by Lt.-Col. Reginald ("Barney") Girard—who was also a master at University School – starting in 1948-49. Kyrle Symons again took responsibility around 1952-53, then into the 1960s the troop was led by another Old Boy, Philip Salmon. And, in what may have been the final year of its existence, Ken Burkholder was scoutmaster in 1964-65. 
Rudyard Kipling was a friend of Baden-Powell's, and the movement chief took his inspiration and nomenclature for Wolf Cubs – the junior branch of the Boy Scout Movement – from The Jungle Book. Cub pack leaders were titled after various prominent characters in the Jungle stories: Akela (the Lone Wolf), Baloo (a bear), and Bagheera (black panther). 
The school established its own cub pack when the "mother" of the school, Edith Symons, "held her first meeting for a Cub pack" on November 8, 1923. The pack was led by a number of cub mistresses: Mrs. Joan Symons, the Misses Barbara Gordon, Marjorie Stirling, Mary Money, Rosemary Bridgman, Beryl Nation and Winona Worsley – all sisters of boys who had attended St. Michael's. Mr. "Ned" (E.J.) Symons took control of the school pack for most of the 1930s and the late 1940s. From 1949 through the 1950s, several leaders gave many years of dedicated service: Mrs. Naomi Simpson, a young Brian Carr-Harris (mid-1950s), Mrs. Constance Pettit, Mrs. "Muffet" McGowan, Miss Sally Ball/Mrs. Sally Burrows, and Mrs. Sylvia Nixon. Simpson, Pettit and McGowan were mothers of St. Michael's boys. The indefatigable Mrs. McGowan oversaw the cub pack's activities to its end in 1977-78, several years after St. Michael's School's amalgamation with University School. 
In the opinion of an Old Boy with 50 years' experience in the movement, as a school St. Michael's was "unique" in having its own cub pack and scout troop. With organizational changes to the scouting movement in the mid- to late-1950s, the troop was designated the 2nd Garry Oak, rather than just being named after the school. 
The aim of the Movement 
Baden-Powell wanted to make boys dependable and self-reliant, so he developed a program of activities which he called "Scouting for Boys." Scouting prepared boys for "fun and adventure in the great out-of-doors." It quickly became the largest uniformed volunteer boys' organization in the world. 
The Movement took particular care to explain that scout training was cooperative rather than competitive. "Competition usually involves winning by one and losing by another; in Scouting, however, there are no losers. The Scout badge is…evidence rather of a standard attained and no matter how often a boy fails it is still open for his final achievement." 
A 1919 document — Policy, Organization and Rules for Canada — described the aim of scouting: 
The aim of the Boy Scouts Association is to develop good citizenship among boys by forming their Character – training them in habits of observation, obedience and self-reliance — inculcating loyalty and thoughtfulness for others — teaching them services useful to the public and handicrafts useful to themselves and promoting their moral and physical development by true comradeship and by healthy open air pursuits and games. The motto of the Association is "Be Prepared," which means that the Scout is to be always in a state of readiness in mind and body to do his duty and meet any emergency. 
At the heart of scouting were the Promise and the Law. The promise was: "On my honour I promise that I will do my best – to do my duty to God and the King [or Queen], to help other people at all times, to obey the scout law." The Scout Law (in the language of the time) was: 
A Scout's honour is to be trusted. 
A Scout is loyal to the King [or Queen], and to his [or her] officers, and to his parents, his country, his employers, or to his employees, and his comrades. 
A Scout's duty is to be useful and to help others. 
A Scout is a friend to all, and a brother to every other scout. 
A Scout is courteous. 
A Scout is a friend to animals. 
A Scout obeys orders of his parents, patrol leader, or scoutmaster without question. 
A Scout smiles and whistles under all difficulties. 
A Scout is thrifty. 
A Scout is clean in thought, word, and deed. 
The scouting movement has continually evolved since its inception, but the aim today is not much different, albeit adapted to the current social context (2016): 
Scouts Canada…engage[s] youth in the process of their own development, …to help them become self-reliant, confident, caring, responsible and committed to the world around them. 
The Scout Promise, as of 2016, is, except for one phrase, exactly the same as it was a century earlier: "On my honour I promise that I will do my best to do my duty to God and the Queen, to help other people at all times, and to carry out the spirit of the Scout Law." 
The current Scout Law for Canada has been considerably shortened: "A Scout is helpful and trustworthy, kind and cheerful, considerate and clean, wise in the use of all resources." 
The cub uniform, grades and ranks
Both junior and senior branches of the scouting movement were uniquely identifiable by their uniforms, insignia, badges, salutes, signs and oaths. These evolved a little over the decades (as can be seen in the photographs accompanying this article). A good illustration of the cub uniform as it was in the 1957 handbook can be found on page 11 of this document.
The uniform started with the cap, green with yellow piping, the neckerchief knotted at the throat by a "woggle," a circle of leather or woven plastic. The grey, green or navy blue jersey was worn outside the dark shorts above knee stockings with garter tabs, and black or brown shoes. 
A boy could progress up through the grades and ranks of cubs and then of scouts. In cubs, the grades were: new chum, tenderpad, first star or "eye" and second "eye." To advance from new chum to second star, there were several requirements or tests necessary to achieve each step. One- and two-star cubs were eligible to earn proficiency badges. The ranks to which a wolf cub could be appointed were second(er), sixer, and finally senior sixer. In the latter 1960s and 1970s, there were usually five sixes in the St. Michael's pack, but it depended on the number of boys enrolled each year. 
On reaching 12 years of age, with sufficient training cubs had learned enough to become eligible to be a Boy Scout and participate in outdoor activities. 
The scout uniform, grades and ranks 
The scout uniform was a little more 'military' with the presence of epaulettes, lanyards, and the broad, flat-brimmed hat. The hat is the famous Stetson worn by the Canadian Mounted Infantry and Artillery in the South African (Boer) war – in which Robert Baden-Powell first made a household name for himself – and later by the Royal Canadian Mounted Police, khaki in colour with four dents, one in front, one at the back and one at each side. A neckerchief of the troop colour, the blue, khaki, green or grey shirt, belt, shorts, stockings and boots or shoes completed the outfit. 
As in cubs there were various grades to pass through: tenderfoot, second class, first class, and finally a King's or Queen's Scout. There were badges or insignia on the uniform for each of these steps. 
Scouts were encouraged to reach First Class before trying to earn proficiency badges, but Second Classers could qualify for some. In earlier years, some of these were serious! From the 1919 handbook for Canadian scouts: 
Blacksmith
To obtain the Blacksmith proficiency badge a Scout had to: 
make an open link ⅜ inch stock. 
forge a chain hook out of ¾ x ⅜ inch soft steel, or ¾ inch round iron. 
bend and weld three links to be fastened by a ring to the hook made as above, links and ring to be made of ⅜ inch round iron. 
make a bolt of ½ inch stock; make a straight lap weld of ¼ x 1 inch stock. 
make a cold chisel out of ⅝ inch hexagonal tool steel. 
temper a rock drill and explain how to harden and temper a cold chisel. 
Farmer 
have a knowledge gained by practise of ploughing, cultivation, drilling, hedging, fencing and draining. 
have a general knowledge of farm machinery, hay-making, reaping, loading and stacking, and an acquaintance with the routine seasonal work on a farm, including the care of cattle, horses, sheep and pigs. 
know how to lay down fire guards. 
Interpreter 
Be able to carry on a simple conversation, write a simple letter on subject given by examiner, read and translate a passage from a book or newspaper, in any language other than that of his own country. 
Leatherworker 
Have a knowledge of tanning and curing and know the source of the different kinds and grades of leather, and either (a) be able to sole and heel a pair of boots, sewn or nailed, and make general repairs to boots and shoes, or, (b) be able to dress a saddle, repair traces, stirrup leathers and harness, and know the various parts of harness, or (c) design and tool an article in leather such as a mat, table cover, magazine cover, blotter, desk pad, belt, etc. 
Salute and sign
A Scout salutes with his right hand, to the right side of his head, either with or without a hat. The three straight fingers (like the three points of the Scout badge) remind him of the three parts of the Scout Promise. The sign is the three fingers held straight up at shoulder height. 
When scouts shake hands with one another, they use the left hand. 
King's or Queen's Scouts (now Queen's Venturer award) 
With the accession of Her Majesty, Queen Elizabeth II to the throne, the time-honoured rank of King's Scout, became Queen's Scout (QS), with Her Majesty's gracious approval. 
The significance of the rank of Queen's Scout is sometimes forgotten. It is the top grade and honour in Scout training, for it literally means what the name implies, a Scout who has passed certain tests of proficiency qualifying him for "the Queen's service," in times of national emergency, and who has assumed the obligation always to Be Prepared for such service.
At least two St. Michael's boys, Phil Salmon and David Field, became King's or Queen's scouts after leaving the school. In 1954, with half a dozen other BC Queen's Scouts, David participated in the 9th World Scout Jamboree in Sutton Coldfield, England, in August 1957—a "very big adventure," and an "eye opener" for travel.
Certain proficiency badges had to be achieved to qualify as a QS. These qualifying badges were designed to fit the youth for service to his community. That was what a QS was, a First Class Scout who had specially fitted himself for service.
A complete list of 74 proficiency tests was given in a 1940 badge reference book; it is very likely the list which guided these young scouts. The badges marked with an asterisk (*) were required to qualify for the grade of QS; those marked with a sword (†) had to be passed annually. Proficiency in even several of these skills would demonstrate a scout's extraordinary usefulness to his community during an emergency.
Airman
Ambulance Man*†
Angler
Archer
Artist
Athlete†
Basket worker
Bee-keeper
Bird warden
Blacksmith
Boat builder
Boatman
Bookbinder
Camp cook
Camper
Canoeman
Carpenter
Citizen
Coast Watchman*†
Cyclist*(alt.)†
Dairyman
Debater
Electrician
Engineer (auto mechanic)
Entertainer
Explorer
Farmer
Fireman*†
Forester
Friend to animals
Gardener
Handyman
Healthy man
Horseman*(alt.)
Interpreter*†
Journalist
Knotter
Laundryman
Leatherworker
Marksman
Mason
Master-at-Arms
Metalworker
Miner
Missioner
Musician
Naturalist
Pathfinder*†
Photographer
Pilot*†
Pioneer
Piper
Plumber
Poultryman
Printer
Prospector
Public Health Man*†
Radio Man
Reader
Rescuer*†
Rigger
Safety Man
Signaller*†
Stalker
Starman
Stockman
Surveyor
Swimmer
Tailor
Tracker
Weatherman
Winter sports (skiing, or skating, or snowshoeing)
World Friendship

In 1955, the requirements for a Queen's Scout were revised: the boy had to be a First Class Scout, qualified to wear four of the following badges of which Ambulance Man and either Pathfinder or Coast Watchman were obligatory: Ambulance Man, Coast Watchman, Cyclist, Fireman, Horseman, Interpreter, Pathfinder, Pilot, Public Health Man, Rescuer, Signaller. The QS had to be re-examined annually for his Ambulance Man's badge and had to cease to wear the QS Badge should he fail it.
The names of some of these proficiencies sound rather "old-fashioned." Yet in February 1968 three cubs (not scouts) were awarded their interpreter's badge, the two Barker brothers in French and Nicky Pelvay in Hungarian. The "Mexicans" could not have qualified as Queen's Scouts without theirs either, and that was probably in Spanish. 
The two activities were central to the life of the school, as they were to Canadian society in general. Not only did cubbing and scouting instil self-reliance and outdoor skills, but packs and troops gave boys a head-start in many fields of life, particularly if they wished to enter any of Canada's armed services. 
Old Boy cubs and scouts canvassed for this article observed the following about their experiences in the movement: 
Brian Carr-Harris valued scouting's "focus on ethics and community service;" this was echoed by a former cub: "the oath, the motto and the slogan stuck with me" 
they particularly remembered weekend camping adventures, being taken by Phil Salmon's boat to islands around greater Victoria 
David Field, during his college years, joined the University Naval Training Division and subsequently was commissioned as a sub-lieutenant; he continued his scouting career as a cub leader and firmly believed that his membership in the St. Michael's Cub Pack had a "major effect on the years following – my career, my life and my skills as a knotter and fire starter" 
one friend (but not a St. Michael's Old Boy) who became a QS said "scouting was a way to be with my friends and share good experiences together" and he remembers being part of a search party for a girl that went missing (she was never found), which was a very powerful experience 
for the same person "scouting turned out to be very formative in terms of becoming an environmentalist many years later (not a term that was in use back then)"
one old St. Michael's scout "really believed in the value of belonging to such sub-groups of the school" as an extra little community of comrades to belong to, and one which provided a little more scope for independent behaviour. 
To quote the 2016 manual: "Scouting is the foundational symbolic framework adopted by Lord Baden-Powell when he wrote Scouting for Boys (1908). In his book, he invited youth to see themselves as explorers out in the world, forging their own path, using their powers of observation, engaging adventure and building qualities in resourcefulness, healthy living and leadership in the great outdoors." 
On occasion there was a very direct practical consequence for the school. The Old Head wrote in his school memoir, That Amazing Institution, that prompt action by some members of the scout troop prevented serious property damage in October 1929: they put out a "mysterious" fire in the school basement. Not really such a mystery: the headmaster's actual diary entry for Wednesday, October 2, "Fire in basement," is followed by "Smoking by boarders"!
Although there is no longer a pack or troop at SMUS, according to Wikipedia as of 2019, there were over 46 million registered Scouts and as of 2020 9 million registered Guides around the world, from 216 countries and territories. 
---
In Grade 3 Michael Nation (SMS '70) was refused entry to the school cub pack on the basis of age (too young). In a fit of pique, he boycotted the pack for the rest of his eligible years, but his wife attests that he has since earned his camping proficiency badge.
Michael Nation has been volunteering in The Wilson Archives identifying boys in the series of St. Michael's School photographs going back to its beginning in 1910. If any reader knows another St. Michael's School story which should be resurrected, please contact him through The Wilson Archives.