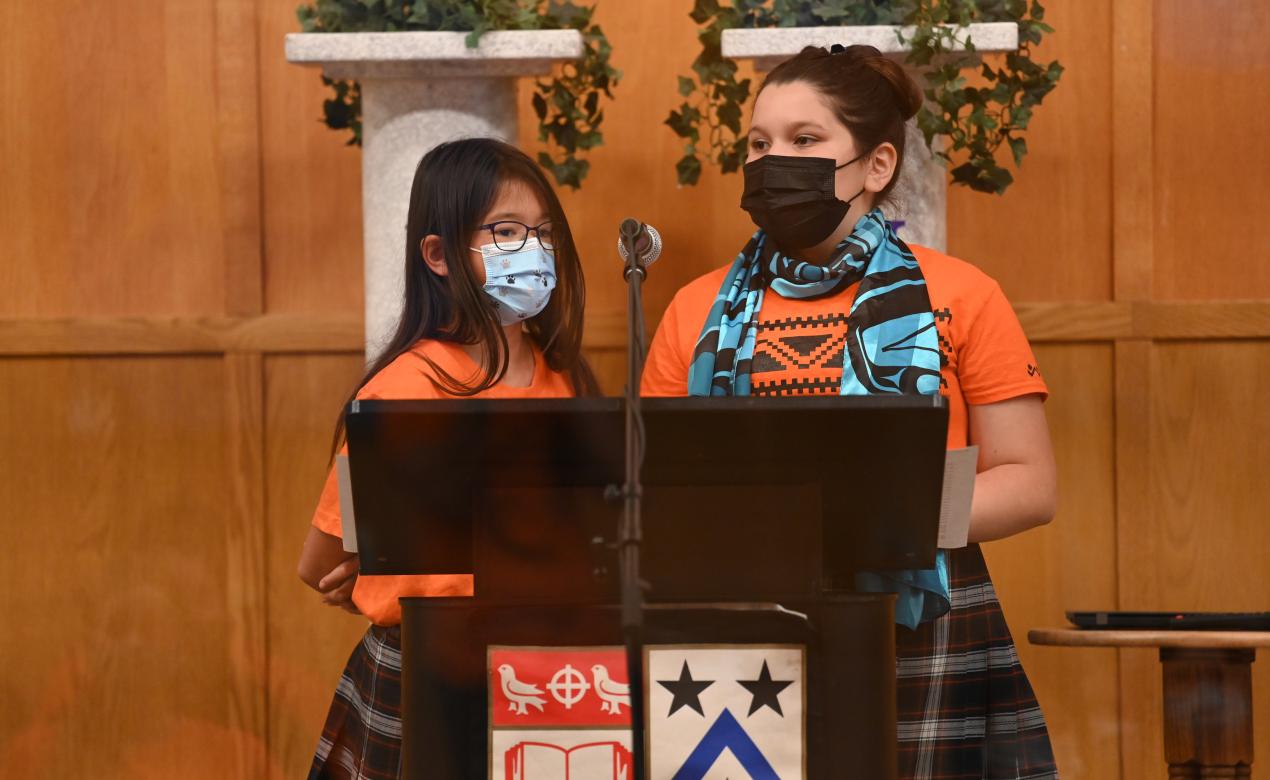 On September 30, our community recognized National Day for Truth and Reconciliation. In years past, we had marked Orange Shirt Day – a day to reflect on the intergenerational impacts of the residential school system – on September 30 as a school community. However, earlier this year the Canadian government established a new federal holiday, National Day for Truth and Reconciliation, as a day for reflection and learning.
The purpose of honouring this day at all three schools was to ensure there was an opportunity for students to learn about the history of Indigenous Peoples in Canada and residential schools, but also to reflect and sit together as a community to process the gravity and importance of the day.
"One of the important things in building our relationship as good neighbours is to be willing to listen. One of the downfalls of what's been done before is assuming that we know what is best. And when we're reestablishing that relationship, it's important to hear what actually is meaningful for the other person, in this case members of the Indigenous community," says Keven Fletcher, the school's Indigenous Liaison. On that front, the school worked closely with our Indigenous Guide, Coast Salish Elder Bill White from the Snuneymuxw First Nation, to plan age-appropriate content for students.
At the Junior School, Kindergarten to Grade 2 students read and discussed David Robertson's book When We Were Alone, which touches on the residential school system.
Grades 3-5 and all Middle School students attended chapel sessions hosted by a group of Middle School students, which also centred around When We Were Alone. Wes Edwards, from the Malahat Nation and Cowichan Tribes, and Indigenous Guide Bill White also participated in these chapels. Bill offered a welcome to those in attendance, and Wes led us in traditional drumming and singing. Grade 5 student Abigail demonstrated a Métis dance, the Red River Jig. Middle School students also enjoyed a talk led by our Indigenous Scholar, Dylan Thomas.
At the Senior School, homeroom teachers worked with students all morning on learning and reflecting, courtesy of videos, readings and discussion topics. Their day ended with a presentation from guest speaker Kim Recalma-Clutesi, from the Qualicum First Nation, who led a talk on truth and reconciliation. Kim also led a professional development workshop with all faculty in the afternoon.
Thank you to Bill White, Wes Edwards and Kim Recalma-Clutesi for their time participating in our school's recognition of National Day for Truth and Reconciliation.