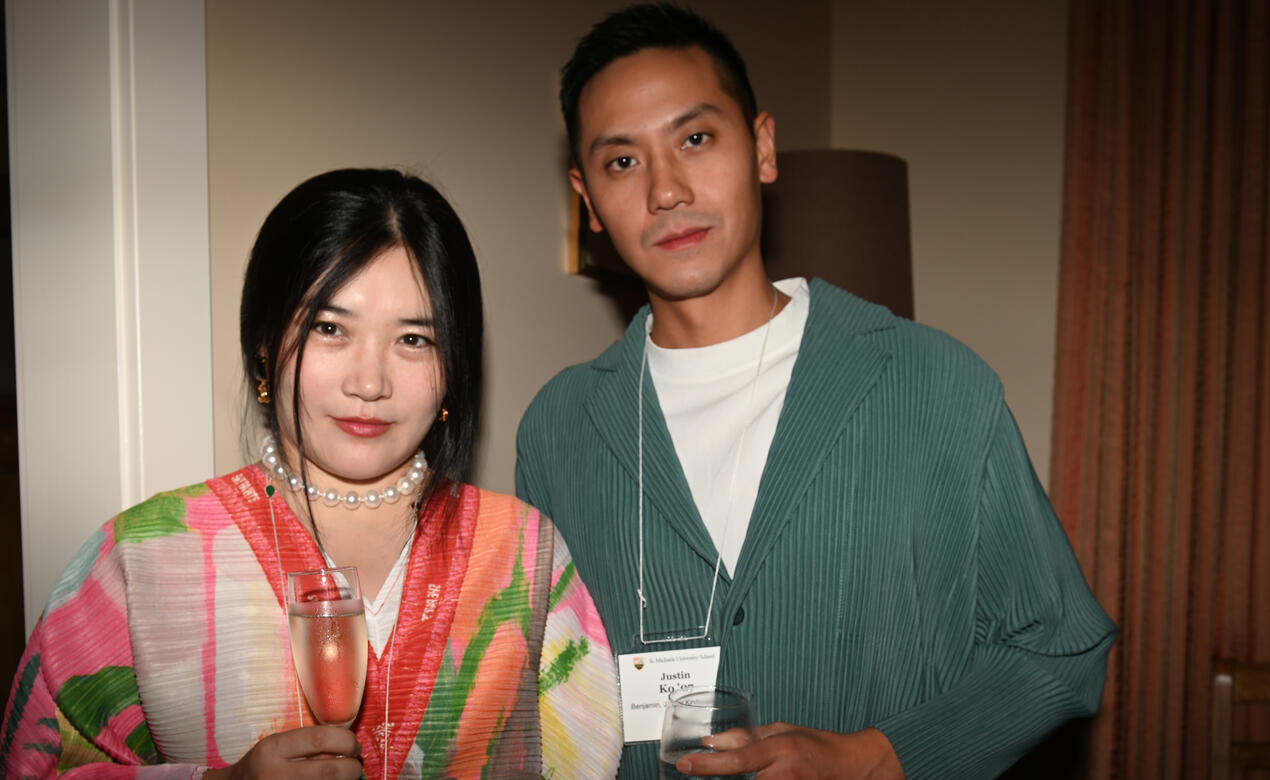 By Justin Ko '07
When I was five years old, going into Grade 1 at SMUS, I remember my father driving me to school every morning to the Junior School. I remember we had to wear shorts as part of the uniform back in the day, and I recall how bitterly cold the winters would feel on my bare knees.
Since having a family of my own, I now have the opportunity to drive my own four-year-old son, Benjamin, to the Junior School every morning—only, nowadays, no shorts are required. I'm sure his knees will be just fine when the first snow day hits.
Actually, the Junior School hasn't changed all that much since I attended SMUS. While there have been a few renovations in the building—like the new Trottier-Morgan Annex—some of the teachers who taught me back in the day are still there, and, some of them still remember me today!
Despite the new facade in places, it's interesting to see that the school I remember is pretty much the same. As a SMUS Lifer, sending my son to the new Junior Kindergarten program is really exciting. I have so many good memories from growing up there, such as running across the court and trying not to trip because I was afraid the older kids playing might accidentally hit me with the basketballs. Unfortunately, there were numerous times where I would make it across the court and, yet, still end up with bruises or cuts on my knees. Come to think of it, SMUS was a danger zone for my knees back then!
The Spectacle of Time
The playground was also memorable, especially when I started wearing glasses in Grade 4, and all the girls in my class curiously wanted to try them on. 
The long-run sand pit was also a good, laughable memory, like the time when somebody in my class went so far as to take a shovel and dig out cat poop—and then sat there wondering what it was. 
Funny, the things we remember from when we were young.
Now that Benji's in the new Junior School, in SMUS' inaugural Junior Kindergarten class, I hope that he, too, will one day recall his own trove of memorable school experiences.
Middle School was a tough transition for me. The international students brought more cultural diversity to the school and I was going through a particularly challenging self-identity phase. Growing up as a Canadian-born Chinese, made it difficult to connect to some international classmates as I did not fully understand my own culture, and the language barrier was also an issue for me. But now that my young son is already bilingual, at the age of four, I am confident he will sail smoothly through the difficult times, whatever they may be.
Recently, when I watched [my son] play, both independently and together with his little peers, enjoying the many fun and creative activities SMUS' JK program provides them, I knew he was off to a great start.
Purpose, Passion, and Acoustics
Senior School was much easier for me, and equally unforgettable, as I had learned so much more about myself by then. Music was a huge part of my life as a teenager—and still is today. In Grade 12, I was able to join the high school musical, playing the lead role of Frederic in Gilbert and Sullivan's Pirates of Penzance. Other fun events were Keep the Beat—a music-themed program to promote awareness for War Child, and children affected by war.
I also discovered my passion for performing in acoustic concerts, with many of my own original songs, such as "Withdrawal," a song about global warming that I wrote in Grade 12, and for which I also won the 2007 top-talent award in a singing competition, performing my song for Vancouver-based Fairchild Radio.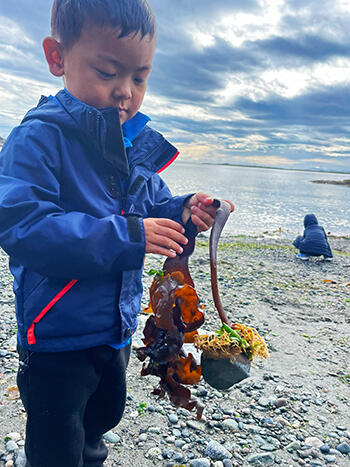 As of now, I don't have any big expectations for my son in terms of what I want him to excel at during his time at SMUS. But, recently, when I watched him play, both independently and together with his little peers, enjoying the many fun and creative activities SMUS' JK program provides them, I knew he was off to a great start. For example, you can never be too young to explore the beach and the great outdoors—something Benji's class did earlier this month. I can't help but hope that, whether it's this year or next (or, like it was for me, not until he reaches his teenage years), that Benjamin's new school will be that similar catalyst for him, as it was for me, to find his own true passion as he grows alongside his SMUS family.
---
 - Justin Ko '07 lives in Victoria with his wife, Fenghua Cui, and their two kids. Before returning to his hometown Victoria, he lived in China to work on his music career, travelling and studying Chinese on his own. Justin is currently a realtor, but also an avid musician (singer songwriter/producer) who released many of his songs when he was in Beijing—some of it landing on western music platforms such as Spotify and YouTube. His song "Colour" was previously on the Top-10 music list on TikTok China, with more than 50,000 users of his song. Last year, Justin made it to the national Top-20 in Voice of China overseas in Canada. And, in Vancouver, he won first place in a Shui Li Fang Bei singing competition, and third place for am1470's Jade Solid Gold singing competition. 
Stay tuned to hear more great stories on SMUS' newest Junior Kindergarten space, where  children are learning, playing, engaging, and getting creatively messy—all the while loving their teachers.