Senior School Facilities and Spaces
The Richmond Road campus is home to our Senior School and boarding facilities, which blend historic and modern architecture with state-of-the-art classrooms and buildings.
The central building on our beautiful Richmond Road campus is School House. School House is a stunning heritage building, recognized for its historic and architectural value. Once a boarding house, it's now home to many campus services, as well as our math classrooms and Campus Shop. It also houses Brown Hall, our former dining hall, part of which has been repurposed into a great design lab for drafting and ceramics. 
The Snowden Library, a modern two-storey library, is part of School House. This is a 21st-century learning space, complete with books, magazines, eBooks and devices, as well as quiet and comfortable rooms for working and studying.
The Crothall Centre is our main classroom block, and is home to Senior School humanities and the arts. There are 22 classrooms, including two art rooms, a drama room and an Innovation Lab for robotics and 3D design.
The Science Block is home to our expansive science program, which includes biology, chemistry, physics, marine science and more. The Science Block has seven classroom labs, a computer lab and modern equipment to support students.
The Sun Centre is our newest building on campus. It's home to our stately Graves Hall dining room and beautiful student commons where you can socialize and relax with friends. You'll also find our University Counselling and Personal Counselling departments in the Sun Centre. 
Schaffter Hall was specially built for our music program. It houses three large purpose-built music rooms for band, choir and strings, private practice rooms and rehearsal studios. There are a variety of instruments for you to use – from grand pianos to drum kits – in all of the music rooms.
The 135-seat Copeland Lecture Theatre is one of the cultural centres of the campus. It's where students gather for university-style classes, guest speakers, presentations, plays and more.
Monkman Athletic Complex is home to all things sports. Inside you'll find two gymnasiums, including three full-size basketball courts, a fitness centre and four squash courts. Just outside, at the front of our campus, are our sports fields. There are four, beautifully manicured fields where students play soccer, rugby, lacrosse and more.
There's also an outdoor quad which features many great spots where students can socialize. The Christine Duke Theatre is an amphitheatre-style space, often used for concerts and explosive science experiments.
We have an on-campus Chapel, deemed the centre of community on campus. Chapel serves as a place for students to reflect, listen and learn from other cultures. We are a non-denominational school that welcomes all faiths and beliefs.
There are three boarding residences on campus, which house 258 boarding students from more than 25 countries in three houses. Boarding students share private, bright and furnished rooms with one other roommate. Each room has its own bathroom. Boys and girls live in separate houses but share a common room, where you'll find comfy furniture, a kitchen, TVs and games.
We also share a campus and some facilities with our Middle School, for Grade 6-8 students.
Off-campus, but only a 10-minute drive, the SMUS Rowing Centre is situated on the Gorge Waterway. It's home to our rowing programs and where our athletes train using modern boats and equipment, from single sculls to eights.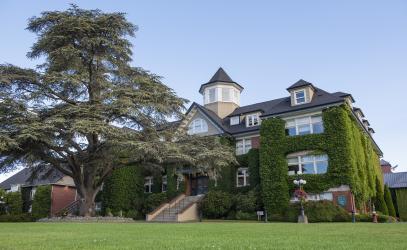 Learn more about the beautiful place that is the Richmond Road campus on The Campuses webpages.
Learn more