Your House
At SMUS, boarders live in communities called houses with 40 other students and several houseparents.
When you become a boarding student at SMUS, you will join one of six houses. Each house is a community of about 40 students and several houseparents. It is where you will live, create friendships, and develop house pride with fellow boarders living right down the hallway.
There are six houses named after prominent figures in the school's past: Barnacle, Bolton, Harvey, Symons, Timmis and Winslow. Each house has its own unique sense of community and characteristics, with weekend activities and house games planned to help you form friendships and have fun.
You will be a member of the same house for the entire time you're at SMUS. You and your housemates and houseparents will become like a second family, creating connections that last a lifetime.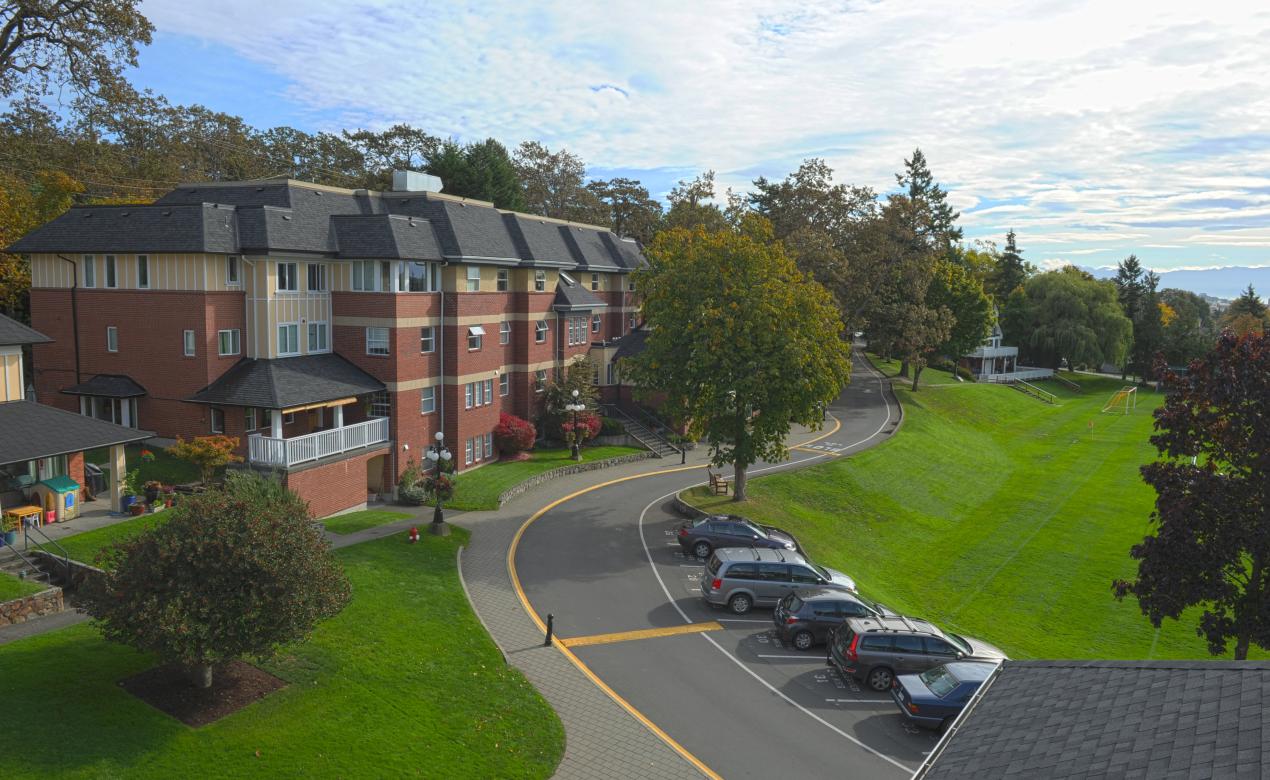 House Buildings
The three modern, purpose-built buildings on campus hold just over 250 boarding students during the school year.  The buildings are divided into two wings, with a common room in between and houseparents living at the end of each wing.
The design of the houses is an important and unique aspect of boarding at SMUS that means your living experience allows for students to interact in a respectful and healthy social atmosphere. 
The common areas have fridges and cooking facilities for making light meals and snacks, pool and ping-pong tables, a piano, computers, a TV with DVD library, and other ways that you and your fellow boarders can relax and hang out.
Each house also has washers and dryers (in addition to the school's laundry service) as well as secure storage facilities for your larger items like suitcases and bikes.
House Safety
Our campus is located in a quiet suburb and you will rarely need to leave campus to eat or go to class. However, that does not mean that we are relaxed when it comes to your safety.
In addition to having at least two sets of adult houseparents living just down the hall, the boarding houses are locked 24/7 with access only with a swipe card. Security guards patrol the campus and the campus gates are locked every night.
Houseparents keep track of where you are with a sign-in and sign-out system that allows for supervised independence. They all have up-to-date first aid training in case of emergencies.
House Prefects
As you gain more experience as a boarding student, you will have additional opportunities to take on leadership roles within your house and the boarding community.
There are a variety of Clubs and Councils that you can join to have a say in certain aspects of boarding life – like the House Games Council, where you'll help plan and organize the fun boarding competitions. You can also become a House Prefect or the student Head of House, playing a very important role as a spokesperson for boarding students to the school's faculty and administration, and helping to ensure your fellow boarders are happy and having a great time in boarding.