Your Room
SMUS boarders live in bright, furnished rooms that are shared between two students. Each room has its own private bathroom.
If you're thinking about attending boarding school, your biggest question is probably, "Where will I live?"
SMUS boarders live in bright, furnished rooms that are shared between two roommates (you and one other student). You don't have to share an overpopulated dorm and there are no bunk-beds. We are serious about your privacy, so your room also has a private bathroom – that means no communal showers and no large dormitory bathrooms at SMUS – which is uncommon for a boarding school.
There are 21 rooms in each boarding house. Students share a common room where you will find TVs, games, computers, a kitchen and lots of great friends to socialize with.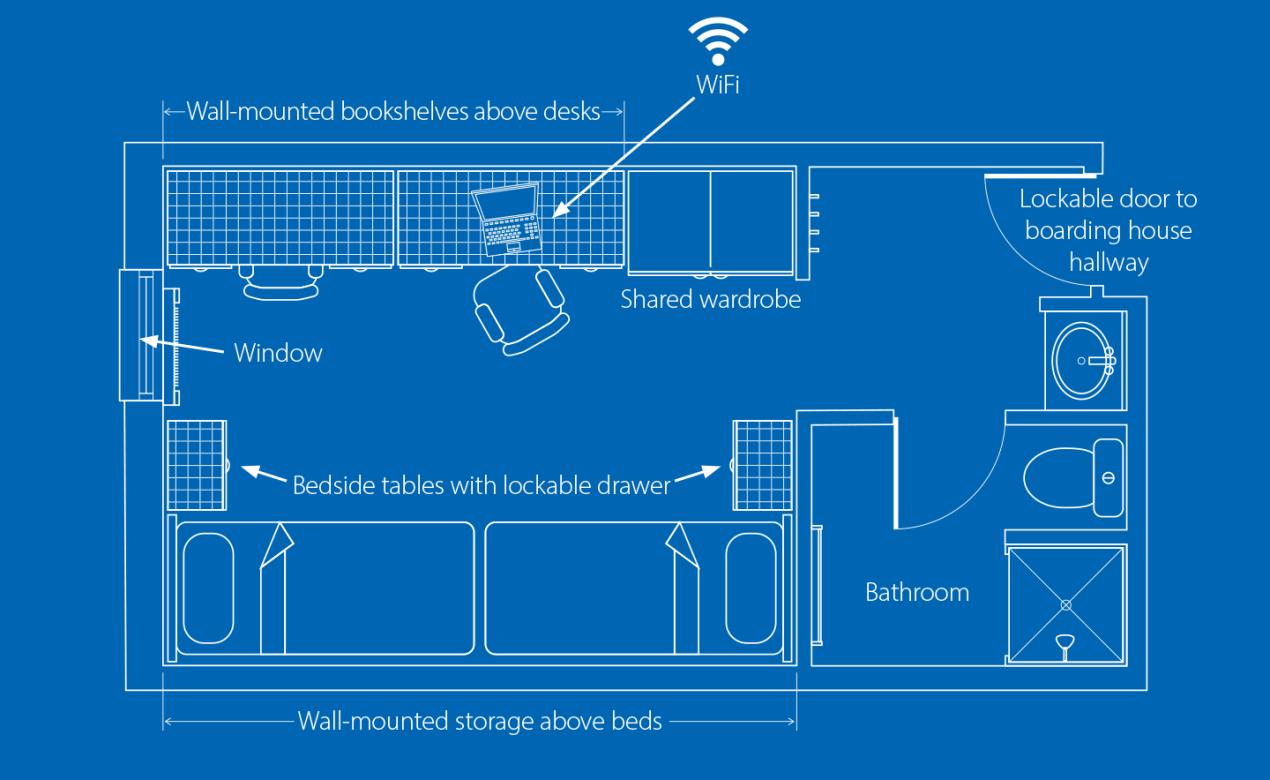 What is in Each Room?
As a boarding student at SMUS you will have:
Your own room key
An extra-long single bed (no bunk-beds at SMUS)
A bedside table with lockable drawer
A desk with lockable drawer
A chair
Wall-mounted bookshelves and storage
A wardrobe for your clothes
A bulletin board
Each boarding room at SMUS has:
A private bathroom (with a sink, shower, toilet and mirror)
High-speed internet connection and WiFi
A telephone connection
A thermostat to control the temperature of your room
A large window (with blinds) for natural light
Decorating Your Room
"I like that when you go into somebody's room at SMUS you can tell a lot about who they are and what they're in to. Even though all the rooms are pretty much the same, there's a lot of opportunity to make it your own – so every room resonates with the personality of the people living there." — Kitty from Vancouver, BC
Privacy and Security
Personal space and privacy is important for students to have to live safely while at SMUS. Boarding houses are monitored and electronically locked, with a keycard required for entrance. Boarding students all have keycards for their building and wing, and only roommates have keys to their own rooms.
What to Bring
There's a full list of required and suggested items to bring, like bedding and bath towels, in the Family Handbook.
Personal electronics, like laptops, tablets and cell-phones, are allowed. Students should be aware that when it's lights-out or a scheduled study prep time cellphone use is sometimes restricted.
As you go into the older grades you will gain more privileges, such as being allowed video games and mini-fridges. There are also a few things – for safety and social reasons – that you're not allowed. These include cooking appliances, hot plates, candles, giant monitors, TVs and subwoofers.
There is storage for bicycles and suitcases, however, you should check with boarding staff before bringing anything big.
Students cannot bring any dangerous or harmful items, contraband substances, or alcohol into the boarding houses. If a student is found with any object that violates the school's rules, they may be asked to leave the school.